An Astronaut's Guide to Life on Earth: What Going to Space Taught Me About Ingenuity, Determination, and Being Prepared for Anything (Paperback)
Now Open for Prepaid Curbside Pickup at Colfax Avenue. Phone Ordering and Inquires. Limited Hours.
For your safety and ours, our stores are still closed to the public. Our website is now open (24/7).
We're also offering Prepaid Curbside Pick up at our Colfax Avenue location only. Pick up hours will be 12:00 pm to 6:00 pm on Tuesday through Friday and 10:00 am to 2:00 pm on Saturday.
Please wait for confirmation that your order is ready before coming to the store. We cannot promise same day order and pick up, but we will process your request as fast as we can. We appreciate your patience.
Also, our Colfax Avenue phone lines are now open 10:00 am to 4:00 pm on weekdays for inquiries and ordering. 303-322-7727. We look forward to hearing from you!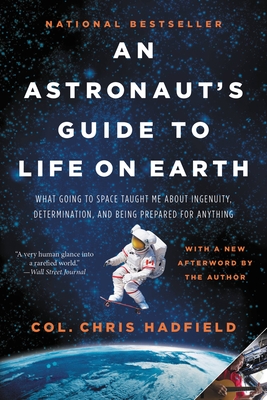 Please email or write store for pricing and availability information.
Special Request - May Not Be Available
Description
---
Colonel Chris Hadfield has spent decades training as an astronaut and has logged nearly 4000 hours in space. During this time he has broken into a Space Station with a Swiss army knife, disposed of a live snake while piloting a plane, and been temporarily blinded while clinging to the exterior of an orbiting spacecraft. The secret to Col. Hadfield's success-and survival-is an unconventional philosophy he learned at NASA: prepare for the worst- and enjoy every moment of it.

In An Astronaut's Guide to Life on Earth, Col. Hadfield takes readers deep into his years of training and space exploration to show how to make the impossible possible. Through eye-opening, entertaining stories filled with the adrenaline of launch, the mesmerizing wonder of spacewalks, and the measured, calm responses mandated by crises, he explains how conventional wisdom can get in the way of achievement-and happiness. His own extraordinary education in space has taught him some counterintuitive lessons: don't visualize success, do care what others think, and always sweat the small stuff.

You might never be able to build a robot, pilot a spacecraft, make a music video or perform basic surgery in zero gravity like Col. Hadfield. But his vivid and refreshing insights will teach you how to think like an astronaut, and will change, completely, the way you view life on Earth-especially your own.
About the Author
---
Chris Hadfield, one of the world's most seasoned and accomplished astronauts, is the author of the #1 international bestseller An Astronaut's Guide to Life on Earth. The top graduate of the U.S. Air Force Test Pilot School in 1988 and the U.S. Navy Test Pilot of the Year in 1991, Hadfield was selected to be an astronaut in 1992. He was Chief CAPCOM at NASA for twenty-five shuttle missions and served as Director of Operations for NASA in Star City, Russia, from 2001 to 2003; Chief of Robotics for the NASA Astronaut Office in Houston from 2003 to 2006; and Chief of International Space Station Operations for the NASA Astronaut Office from 2006 to 2008.

Hadfield most recently served as Commander of the International Space Station, where, while conducting a record-setting number of scientific experiments and overseeing an emergency spacewalk, he gained worldwide acclaim for his breathtaking photographs and educational videos about life in space. His online videos, including a zero-gravity version of David Bowie's "Space Oddity," have collectively received more than fifty million views.
Praise For…
---
A Slate Staff Pick for Best Books 2013

"A very human glance into a rarified world.... The vacuum of space is unforgiving and brutal. Life on earth isn't easy, either. Mr. Hadfield has genuinely and refreshingly increased our understanding of how to thrive in both places."—The Wall Street Journal

"Hadfield is a genius, a man of science and technology and no first-timer to the universe."—New York Post

"A satisfying behind-the-scenes look at the life of an astronaut.... A page-turning memoir of life as a decorated astronaut."—Kirkus Reviews

"Houston, we have a superstar."—Washington Post

"This memoir is part fascinating view, part Boy Scout manual."—New York Times

"Hadfield proves himself to be not only a fierce explorer of the universe, but also a deeply thoughtful explorer of the human condition, capable of articulating those most universal of inquiries in simple yet profound language.... The book itself is absolutely spectacular."—Brain Pickings

"Lessons from his new book, AN ASTRONAUT'S GUIDE TO LIFE, are so inspiring that it's hard to decide which one to tell you about."—USA Today

"Our planet's one-man ambassador to the universe."—Gothamist

"Thoroughly engaging.... In a low-key style, he makes a persuasive case that the oft-derided Space Station is both a marvel of engineering and a triumph for science, and he paints the cartoon heroism of the NASA astronaut corps in a much more realistic, and yet in many ways even more admirable, light."—Corey S. Powell, American Scientist

"Hadfield is a good writer with an engaging style.... From his photos of Earth from space to his videos showing the daily grind of life on a 100-meter wide orbiting tin can, he is all about real life."—Slate

"Riveting, dramatic and intensely engrossing, Hadfield's engaging style as a writer puts you right alongside this almost absurdly compelling gentleman as he climbs the ladder from Canadian fighter pilot through two space shuttle missions and, ultimately, his serving as commander of the ISS."—The Huntington Beach Independent

"Hadfield takes readers on a fascinating and exciting journey while offering insightful-if somewhat unconventional -- wisdom applicable to everyday life here on Earth."—Bookpage

"His book is an autobiography as well as a lesson to the reader on what he's learned throughout his life and travels. And in his particular distillation of 'success,' he is wonderfully counterintuitive in his interpretation of common sense.... A startlingly intimate and warmhearted view of an arcane world, one which he makes plain even to those not educated in fields of scientific inquiry."—Ryan Downer, The California Aggie

"The book is more than just a compilation of intriguing stories and details about life in space....In addition to providing irresistible descriptions of his work, the book--which has been translated into 20 languages--also acts as a self-help guide, with Hadfield offering practical applications to what he has learned over the years."—Connie Ogle, Miami Herald