McCarthy's Bar: A Journey of Discovery In Ireland (Hardcover)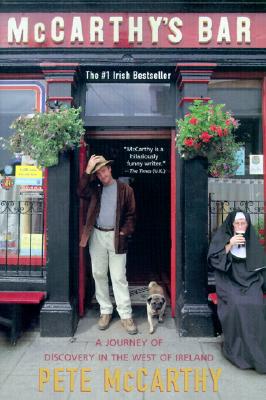 Please email or write store for pricing and availability information.
Special Request - May Not Be Available
Description
---
"It was half past five in the morning as I lurched through the front door of the B&B. Mrs. O'Sullivan appeared just in time to see me pause to admire the luminous Virgin holy water stand with integral night-light, and knock it off the wall. Politely declining the six rounds of ham sandwiches on the tray she was holding, I edged gingerly along the hallway to the wrong bedroom door and opened it."
Despite the many exotic places Peter McCarthy has visited, he finds that nowhere else can match the particular magic of Ireland, his mother's homeland. In "McCarthy's Bar," his journey begins in Cork and continues along the west coast to Donegal in the north. Traveling through spectacular landscapes, but at all times obeying the rule, "never pass a bar that has your name on it," he encounters McCarthy's bars up and down the land, meeting fascinating people before pleading to be let out at four o'clock in the morning.
Through adventures with English hippies who have colonized a desolate mountain; roots-seeking, buffet-devouring American tourists; priests for whom the word "father" has a loaded meaning; enthusiastic Germans who "here since many years holidays are making;" and his fellow barefoot pilgrims on an island called Purgatory, Peter pursues the secrets of Ireland's global popularity and his own confused Irish-Anglo identity.
Written by someone who is at once an insider and an outsider, "McCarthy's Bar" is a wonderfully funny and affectionate portrait of a rapidly changing country.

About the Author
---
Pete McCarthy was born in England to an Irish mother and an English father. He was the writer and performer of many travel series for radio and television in the United Kingdom. A bestseller in Ireland, Australia, and the United Kingdom, "McCarthy's Bar" is his first book.
Praise For…
---
"The funniest book I've read this year."--John Walsh, The Independent (U.K.)

"A travelogue of Ireland told through great set pieces and jokes...The author seems to have a natural aptitude for meeting funny, strange, and fascinating people. This book will make you laugh out loud."--The Irish News (Belfast)

"McCarthy's Bar is so unrelentingly funny it needs to be taken in small doses...When it comes to playing stooge in ridiculous travel situations, he makes Michael Palin look shy and Bill Bryson positively somber."--The Australian