Birds of America: Stories (Paperback)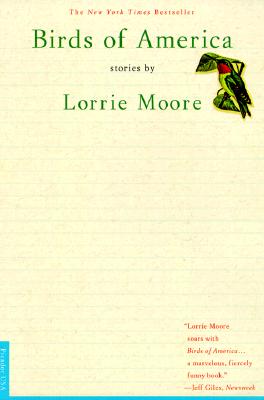 Please email or write store for pricing and availability information.
Special Request - May Not Be Available
Description
---
A National Book Critics Circle Award Finalist
A New York Times Editors' Choice
A Pulishers Weekly Best Book of the Year

Birds of America is a stunning collection of twelve stories by Lorrie Moore, one of our finest authors at work today. With her characteristic wit and piercing intelligence she unfolds a series of portraits of the lost and unsettled of America, and with a trademark humor that fuels each story with pathos and understanding.
About the Author
---
Lorrie Moore is the author of the story collections "Like Life" and "Self-Help," and the novels "Who Will Run the Frog Hospital?" and "Anagrams." Her work has appeared in "The New Yorker," " The Best American Short Stories," and "Prize Stories: The O. Henry Awards." She is a professor of English at the University of Wisconsin in Madison.
Praise For…
---
"Lorrie Moore has something that many writers of her generation don't have: She is truly odd . . . [But] Moore's stories don't leave us in the solitary confinement that oddity can create, the way Diane Arbus did in her photographs, or Flannery O'Connor in her stories. They are the dance halls and constellations in which eccentricity becomes uniqueness."--Susan Salter Reynolds, Los Angeles Times

"These are memorable and absorbing stories."--Gabriella Stern, The Wall Street Journal

"Lorrie Moore's wonderful Birds of America should establish her as one of America's best short-story writers . . . These stories impart such terrifying truths."--Susan Miron, Philadelphia Inquirer

"A fine collection . . . the reader will be forever susceptible to seeing absurdity everywhere."--Rachel Hall, Chicago Tribune

"Lorrie Moore's reputation as one of the country's most engaging writers of short fiction will be confirmed with this new collection . . . Her prose bristles with precisely observed detail; her insights are both sharp and complex . . . vibrant . . . imbued with acid wit and humane insight."--Elizabeth Shostak, The Boston Book Review

"The humor of Birds of America does more than make us laugh . . . [Moore] skirts around the emotions and decision which her tales hinge, and for that reason her characters' blind spots and realizations are all the more nuanced."--The Village Voice (25 Favorite Books of the Year)

"Lorrie Moore soars with Birds of America . . . A marvelous, fiercely funny book about great and tiny jolts of the heart, about the push and pull of relationships, about the way loved ones, slowly or suddenly, become unrecognizable . . . One of her generation's wittiest and shrewdest writers."--Jeff Giles, Newsweek

"Fluid, cracked, mordant, colloquial, Moore's sentences hold, even startle . . . Birds of America, while often lighthearted and steadily hilarious, is a sublimely dark book . . . Her most potent work so far . . . [it] will stand by itself as one of our funniest, most telling anatomies of human love and vulnerability."--James McManus, The New York Times Book Review

"A marvelous collection, deeper than anything Moore has written and yet underscored by that trademark humor in the face of familiar awfulness. Her stories are tough, lean, funny, and metaphysical . . . Birds of America has about it a wild beauty that simply makes one feel more connected to life."--Gail Caldwell, The Boston Globe

"One could be trapped in an elevator with people like Moore's men, or especially her women, and feel the luckier for it."--Erika Milvy, San Francisco Chronicle

"Moore peers into America's loneliest perches, but her delicate touch turns absurdity into a warming vitality."--The New Yorker

"At once sad, funny, lyrical and prickly, Birds of America attests to the deepening emotional chiaroscuro of her wise and beguiling work."--Michiko Kakutani, The New York Times

"Her depth of focus has increased, and with it her emotional seriousness . . . wise . . . [and] exciting."--Julian Barnes, The New York Review of Books

"Her richest work to date...These new stories sparkle; they are keenly and poignantly mindful of the idioms, banalities and canards of contemporary American society, and they hum with Moore's earmark droll and incisive banter, her astonishing ability to render the intricacy of character in a few sharply focused details."--Harvey Grossinger, Houston Chronicle