Shocked: My Mother, Schiaparelli, and Me (Hardcover)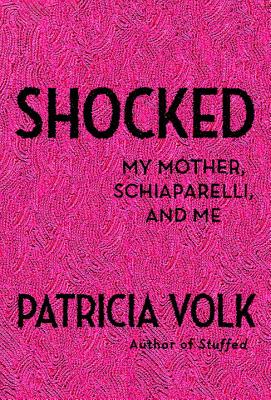 Please email or write store for pricing and availability information.
Special Request - May Not Be Available
Description
---
From the acclaimed author of Stuffed: an intimate, richly illustrated memoir, written with charm and panache, that juxtaposes two fascinating lives—the iconoclastic designer Elsa Schiaparelli and the author's own mother—to explore how a girl fashions herself into a woman.

Audrey Morgen Volk, an upper-middle-class New Yorker, was a great beauty and the polished hostess at her family's garment district restaurant. Elsa Schiaparelli—"Schiap"—the haute couture designer whose creations shocked the world, blurred the line between fashion and art, and believed that everything, even a button, has the potential to delight.

Audrey's daughter Patricia read Schiap's autobiography, Shocking Life, at a tender age, and was transformed by it. These two women—volatile, opinionated, and brilliant each in her own way—offered Patricia contrasting lessons about womanhood and personal style that allowed her to plot her own course.

Moving seamlessly between the Volks' Manhattan and Florida milieux and Schiap's life in Rome and Paris (among friends such as Dalí, Duchamp, and Picasso), Shocked weaves Audrey's traditional notions of domesticity with Schiaparelli's often outrageous ideas into a marvel-filled, meditation on beauty, and on being a daughter, sister, and mother, while demonstrating how a single book can change a life.
About the Author
---
Patricia Volk is the author of the memoir "Stuffed: Adventures of a Restaurant Family" and four works of fiction. A recipient of a Guggenheim Fellowship, she has written for "The New York Times, The Atlantic, The New Yorker, "and "Playboy." She lives in New York City.
Praise For…
---
"Volk weaves together stories about her mother (a great beauty who worked as a hostess at her husband's Garment District restaurant Morgen's West) and Schiaparelli. The designer was thought of as a belle laide, which translates literally as 'pretty ugly' but means a woman who is striking, rather than beautiful. Volk's mother took her beauty very seriously and considered her face her fortune. The Surrealist-influenced Schiaparelli compensated for her less-than-classically-lovely appearance by becoming a designer whose extreme personal chic and original designs made her a style leader. There are many photographs in the book that depict Volk's family and Schiaparelli's friends and pivotal designs. . . . The new book, of course, is encased in a jacket of shocking pink (Schiap's signature color)." —Women's Wear Daily
 
"Novelist and memoirist Volk's sophisticated vision unfolds with the study of two very different but very glamorous women . . . As funny as it is poignant, Volk's work employs a combination of words to live by, rich vignettes, and photographs to show how she learned what it meant to be a woman, and how all it takes is one book to transform a young person's world. Full of high fashion, mink furs, and family, the book manages to weave a tale that is sure to stick with readers long after the last page." —Melissa Culbertson, Library Journal (starred review)
"At the beginning of Shocked, Volk offers an intriguing premise: that each of us during childhood, usually somewhere between the ages of ten and twelve, happens upon a book whose contents prove transformative. A book that suggests that we need not follow any path in life set before us by parents, teachers, or others in authority, but may instead find both success and happiness by blazing our own trail. At the end of her book, Volk kindly lists some of the transformative books of notable persons. And we learn that for President Barack Obama, that book was The Power Broker by Robert Caro. For his wife Michelle, Toni Morrison's Song of Solomon; for Hillary Clinton, Orwell's 1984. And for Elvis, The Prophet. For Steve Jobs it was Moby Dick. In between the premise and the lists, Volk offers the beautifully rendered story of her own life, of her all-important relationship with her mother, and of the book that was, for her, a touchstone.  . . . In a marketplace sodden with memoirs, many of which feature some horrific variant on 'mother'—crazy mothers, druggy mothers, icy mothers, violent mothers, criminal mothers—Shocked stands out both by virtue of its premise (that wonderful word that carries the idea of 'defusing' the impact of the parental bond) and because of the incandescence of its language . . . Shocked is hard to categorize. It is as much a biography of the mother and of the famed designer [Schiaparelli] as it is an autobiography. In the case of each, it is a consideration of the path that that individual had to walk in order to become an adult woman, [and] the cost of each decision made along the way. But while Schiaparelli provides the dream, it is the reality of the toxic relationship between Audrey and Patricia Volk that resonates. . . . It is hard to image that any reader, especially a female reader, will be able to finish Shocked without a match being struck to the dry tinder of their own memories of childhood, setting things ablaze. Shocked is a brilliant thing, well considered, well wrought, and wonderfully well written." —Vinton Rafe McCabe, New York Journal of Books
 
"Humor . . . emotional complexity . . . smarts. [Shocked is] a brilliant, boisterous memoir that breaks new ground in terms of the memoir form and also the archetypal story of the mother-daughter bond. Shocked, which comes encased in an eye-popping deep pink book jacket, triumphantly lives up to its title. [It] zig-zags between the two titanic female figures—Volk's mother and [Elsa] Schiaparelli—who impressed their ideas of beauty and womanhood on her. . . . I cannot tell you, apart from its other virtues, how much fun this memoir is to read. Volk has caught something of Schiaparelli's surrealist approach to art: Her narrative structure is exuberantly loopy, and the gorgeous color illustrations and photos scattered throughout the book don't just supplement the text, but extend it outward . . . The in-joke photo here of Wallis Simpson posing in Schiaparelli's 'lobster dress' is alone worth the price of this book. Audrey Volk could have easily turned out to be the heavy of this tale and Schiap the madcap mistress of misrule, but Volk is much too nuanced a memoirist to settle for easy categories. Both of her female role models are contradictory, and both give the young Patricia Volk provocatively mixed messages on work, family and how to consciously fashion herself into a woman. With its vivid cover and lush illustrations, Shocked is a physically beautiful book, but like Schiaparelli's designs, it commands deeper attention because of the wit and originality that inspire its composition." —Maureen Corrigan, NPR
 
"Many avid readers can name a book they read in their youth that changed how they looked at life. For Volk, growing up in fashionable New York in the 1950s with a beautiful and narcissistic mother, that book was Shocking Life, by the avant-garde couturier Schiaparelli. Finess[ing] a construct that could have been forced, Volk expertly juxtaposes the details of her family's midcentury Manhattan upper-middle-class life with the life Schiaparelli was leading in Rome and Paris. There, she was an artist as much as a fashion designer, one inspired by friends such as Salvador Dali and Marcel Duchamp. . . . Volk doesn't disparage her mother, though she unflinchingly recounts her casual cruelties. The reader is left to wonder, while Audrey moved smoothly through her milieu: what might she have accomplished if all the energy and effort she put into her beauty and self-control had been unleashed?" —Evelyn Theiss, Cleveland Plain Dealer
 
"When Patricia Volk was 10, she read Shocking Life, the 1954 autobiography of fashion designer Elsa Schiaparelli, which her mother had left on the hall table. It turned her world upside down. Schiaparelli had created a hat out of a shoe. A jacket with drawers for pockets. A long white silk dress painted with a giant red lobster. She made things real that existed only in dreams, writes Volk in her disarming, eccentric memoir. . . . Shocked juxtaposes the lives of the two figures who most shaped her views of what a woman could and should be. Both women were opinionated, secretive, imposing, hot-tempered, charismatic and crazy about clothes. Audrey Morgen Volk was a beauty with a keen eye for fashion, a New Yorker who lived on Riverside Drive and was the stylish hostess at her family's restaurant in the garment district . . . Schiaparelli lived in Rome and Paris and became the most influential dress designer between the two world wars (along with her rival Coco Chanel); her creations, strongly influenced by Surrealism, crossed the line into art. But while Audrey pursued a genteel existence of 'safe domesticity' (and was given to remarks such as, 'You only get to make a first impression once'), Schiap, as she was called, was 'alive to newness.' She loved nothing more than to take risks, the wilder the better. Of course, the young Patricia adored Schiap. What 10-year-old wouldn't? . . . Volk is thoroughly likable, warm and generous, with a well-tuned ear and a vivid sense of humor. She captures her mother perfectly. . . . There's a fizzy Mel Brooks daftness to Volk's prose. . . . [Her] delightful book draws you in right at the start with a scene familiar to many a young girl (including me): a mother's mystifying rituals at the dressing table, where the adjustable mirrors go on to infinity and the makeup tray contains all manner of alluring substances you're not supposed to touch." —Moira Hodgson, The Wall Street Journal
 
"What's a 10-year-old girl with an impossibly beautiful, uncompromising and explosive mother to do? Get a second one, which is what Patricia Volk, author of the new memoir Shocked, did. In fashion designer Elsa Schiaparelli, Volk found an inspiring, rule-defying role model. But what makes their relationship—and this book—unusual is that this bond existed only in Volk's mind and arose after she read Schiap's biography. . . . Volk was cursed with a beautiful mother . . . and while Audrey was loving and attentive, she also demanded perfection from herself and her children . . . But thanks to Schiaparelli, the author writes, 'Audrey's disappointments in me stopped being my disappointments in me. . . .' For the reader, the beauty of Shocked lies in the details about the two female forces in Patricia Volk's life . . . Just as the author learned how to be a woman from Audrey and Schiap, you can't help leaving the book without being influenced by them. You'll stand a bit straighter, be a bit bolder. Or you might go further and think about whom you'd like to appoint as your second mom." —Daryl Chen, Dujour
"Part memoir, part biography, Shocked tells the story of two women: the author's mother, a 'great beauty' of 1950s New York who lived by rigid sartorial standards, and Elsa Schiaparelli, the surrealist 1930s designer whose collaborations with the likes of Salvador Dalí revolutionized the fashion industry. . . . Volk [stitches] together a visually evocative coming-of-age story about fashion, femininity, and the often complicated mother-daughter dynamic." —Bronwyn Barnes, Entertainment Weekly
 
"Warm, funny, sharp-eyed . . . Volk's beautiful mother is all about form, appearances, doing things right. . . . The unbeautiful Schiap turns rules on their head. . . . 'Schiap planted the idea that imagination trumped beauty, that being different might be a virtue,' Volk says. And that there is, after all, more than one way to be a woman." —Amanda Lovell, More Magazine
 
"Beauty can be a beast. That's one message from Volk's smart, fascinating book about her complex relationship with her beautiful, elegantly attired, hypercritical mother. . . . To facilitate the tricky business of capturing both her mother's beauty and less lovely side, Volk turns to a surprising foil: Shocking Life, the 1954 memoir by avant-garde couturier Elsa Schiaparelli. This was one of many books young Patty snatched from the pile that commandeered her mother's attention every afternoon when she returned from hostessing at the family restaurant, Morgen's. 'I want to know what is in those books that is better than spending time with me,' Volk writes. . . . Shocking Life became for Volk what she calls her all-important 'transformative book,' encountered at just the right time, prepuberty. . . .[Volk's] Shocked is rich in quirky, affectionate details, amusing family photos, and pictures of Schiaparelli's fantastic surrealist designs. But on a deeper level, Volk's concern is with the options open to pre-feminist women. 'My dazzling mother could have been anything. What stopped her?' she wonders, as she contrasts her mother's cautious life, 'blinkered by convention' and devoted to arduously preserving her looks, with that of daring Schiaparelli. It's fortunate for both Volk and her readers that with the help of Schiaparelli's iconoclastic example, she found the courage to break rules. . . . [A] stylish coming-of-age tale." —Heller McAlpin, NPR
"Bestselling author Volk is at the top of her game with this witty, nostalgic look at womanhood and style. She juxtaposes remembrances of her beautiful mother with the life of an iconic Italian fashion designer in a way that's charming and wholly original. More than 100 images of fashion, art, and family make for a treat." —Reader's Digest
 
"Rich with memory and history, Shocked is more than just biography. Through the experiences of Volk's mother and Schiaparelli, Shocked looks at the limited options available to women in the moment before feminism opened the world of opportunity to them. Volk's mother was known for her beauty . . . and appearances were everything to Audrey. [But] Volk often rebelled against her mother's strictures. In Shocked, descriptions of Audrey alternate with sections about Schiaparelli. Their lives often overlapped, and Schiaparelli's perfume in its distinctive bottle was Volk's mother's signature scent. .. . . Schiaparelli palled around with Duchamp, Dalí, and other famous artists, and she incorporated surrealism into her designs. She was behind many of the 'modern' ideas of the 20th century—everything from the knitted hat she dubbed a Mad Cap to underwear for women that didn't require ironing . . . . Volk did copious research including traveling to Paris to visit Schiaparelli's 21 Place Vendôme atelier. . . . [She] displays rigorous (though never gratuitous or malicious) honesty [and] an unsentimental tone—not one word feels dubious or coy." —Natalie Danford, Publishers Weekly Author Profile
 
"Shocked links the lives of the Italian fashion designer Elsa Schiaparelli and her mother, Audrey Morgen Volk, a glamorous woman who worked in the family's restaurant. The author credits these two very different women, each very opinionated, with inspiring her own ideas about personal style and womanhood. Volk again portrays her family with great humor and love." —Sandee Brawarsky, The Jewish Week
 
"Presenting an unusual memoir, Volk writes eloquently of her mother, a very fashionable, well-off Manhattanite, and of another woman of fashion who also influenced Volk's life, who happened to be her mother's polar opposite, Elsa Schiaparelli, the famous Parisian couturier and devil-may-care pal of artists Salvador Dalí and Jean Cocteau (and others). Young Volk secretly read Shocking Life, Schiaparelli's autobiography, imbibing with gusto the scent of a risky life. She used both women—both polestars—in leading her to becoming a writer. Progressing through both women's lives, Volk's chapters center on one specific topic per chapter: gambling, and attitudes toward clothing and sex. . . . The contrast between Audrey and Elsa couldn't be more startling or poignant . . . but parallels also abound, and through Volk's history and memories, we get the best of both women and their impact on the author." —Barbara Jacobs, Booklist
"It will never be known if the dual subjects of Volk's latest memoir, Shocked, would have liked each other had they met, but they had at least one thing in common: They captivated and inspired the author. Volk's gorgeous socialite mother, Audrey, exhibited a '"buttoned up," edited to the bone' look that radiated 'high-polished meticulosity.' She worshipped at the altar of seemliness [and] prized convention and domesticity . . . On the other hand, Italian-born design rebel Elsa Schiaparelli was a Coco Chanel rival whose fearless approach to art, style, and life broke—smashed—all the rules, whether she was inventing a backless swimsuit or amusing party guests with a hot air balloon in her apartment building's courtyard. . . . We feel life's potential swirling around Volk as she lovingly chronicles the unique paths of her two muses. Volk ultimately embraces her mother's love, but is now also able to break free, to see 'the ripe kaleidoscopic pure pleasure of looking,' Schiap-style." —Diane Goodman, O, The Oprah Magazine
"Volk has a talent for unearthing meaning in the seemingly mundane. She works off the theory that everyone reads one influential book before puberty that leaves an indelible mark. Hers was Shocking Life, outré fashion designer Elsa Schiaparelli's memoir, filched from a shelf before her voracious reader of a mother (deemed beautiful by everyone from the dentist to the hostess at Schrafft's) could return it to the Upper West Side bookstore where she 'rented' books. This is no soft-focus hagiography, however. Volk is cheerfully honest about her mother's concern with what others think of her, and she bluntly calls Schiaparelli 'a terrible mother.' Including both personal photographs and depictions of Schiaparelli inventions such as women's underpants that didn't require ironing, this memoir is a compelling tribute to two ambitious women who were way ahead of their time." —Publishers Weekly (starred review)
"Witty, tender and vividly nostalgic. . . . a spirited account of how an encounter with a memoir by couturier Elsa Schiaparelli transformed a young girl's view of what it meant to be a woman. Volk adored her movie-star gorgeous mother Audrey. However, even as a child, she could never quite countenance the 'blind adherence to the mystifying virtue of 'seemly' (female) behavior' that Audrey demanded of her. She unexpectedly found [a] more subversive model for feminine behavior in Schiaparelli, whose autobiography Volk read at age 10. Like the author, 'Schiap' was a much-loved child. . . . [and] no great beauty, something Volk also understood. Yet she still managed to create an enduring legacy as an avant-garde fashion designer . . . Schiaparelli's remarkable story provided Volk the 'shock' she needed to grow away from Audrey's certitudes—about everything from clothes to men to life itself—and into her own, unique sensibilities. . . . Generously illustrated with images from the two worlds Volk depicts, the narrative that emerges from Volk's deft interweaving of lives is as sharp-eyed as it is wickedly funny. Her attention to detail, especially in her evocations of 1950s New York, is nothing short of delicious." —Kirkus
"This daring and irresistible catalog of the secrets of women cements Volk's reputation as one of our most amusing writers. What in academic circles might be called 'the construction of gender' is here brought vividly and hilariously to life. If God is in the details, then this is one of the godliest books I've read in ages, because the details are priceless." —Phillip Lopate
 
"You have to be very grown up to write a memoir as wise as Shocked. It helps to have a prose style as supple, elegant, witty, and modest as Patricia Volk's. This is a truthful, wholly original portrayal of mother-daughter love, and (incidentally) of the joys and limitations of a passion for fashion. It deserves to become a classic." —Kennedy Fraser
 
"Volk expresses a touch of heroine-worship for both her mother's glamorous pragmatism and Elsa Schiaparelli's functional extravagance. The women make an unlikely pair, but Volk's nostalgic voice wisely integrates the best of them both. It does so with such engaging generosity and kindness that this funny, melancholic memoir ultimately feels like an embrace." —Andrew Solomon, author of Far From the Tree
 
"An epic tale of love and liberation, which is to say a mother/daughter story. Patricia Volk is a wonder, and this memoir is as charming and wise as her larger-than-life mother." —Stacy Schiff, author of Cleopatra: A Life
 
"It's a pure joy to be in Patricia Volk's presence on the pages of her new book, Shocked. A diptych portrayal of her gorgeous and infuriating mother and the great fashion designer Elsa Schiaparelli, this is an irresistible tour de force that puts on display Volk's intelligence, wit and sparkling prose." —Louis Begley
Coverage from NPR