FREE shipping on book orders over $75.00
USPS Media Mail within USA
Gift Cards are easy! Click SHOP on the bar above and choose Gift Cards.
The A.O.C. Cookbook (Hardcover)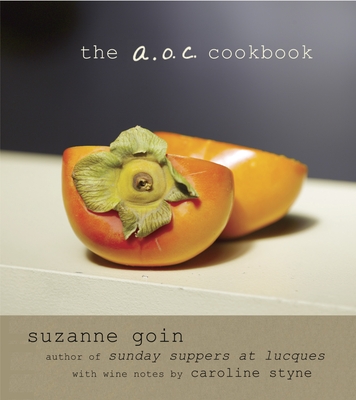 Please email or write store for pricing and availability information.
Special Request - May Not Be Available
Description
---
Since her James Beard Award-winning first book, Sunday Suppers at Lucques, Suzanne Goin and her Los Angeles empire of restaurants have blossomed and she has been lauded as one of the best chefs in the country. Now, she is bringing us the recipes from her sophomore restaurant, A.O.C., turning the small-plate, shared-style dishes that she made so famous into main courses for the home chef. Among her many recipes, you can expect her addictive Bacon-Wrapped Dates with Parmesan; Duck Sausage with Candied Kumquats; Dandelion and Roasted Carrot Salad with Black Olives and Ricotta Salata; California Sea Bass with Tomato Rice, Fried Egg, and Sopressata; Lamb Meatballs with Spiced Tomato Sauce, Mint, and Feta; Crème Fraîche Cake with Santa Rosa Plums and Pistachios in Olive Oil; and S'Mores with Caramel Popcorn and Chocolate Sorbet.   

But The A.O.C. Cookbook is much more than just a collection of recipes. Because Goin is a born teacher with a gift for pairing seasonal flavors, this book is full of wonderful, eye-opening information about the ingredients that she holds dear. She takes the time to talk you through each one of her culinary decisions, explaining her palate and how she gets the deeply developed flavor profiles, which make even the simplest dishes sing. More than anything, Goin wants you to understand her techniques so you enjoy yourself in the kitchen and have no problem achieving restaurant-quality results right at home.

And because wine and cheese are at the heart of A.O.C., there are two exciting additions. Caroline Styne, Goin's business partner and the wine director for her restaurants, presents a specific wine pairing for each dish. Styne explains why each varietal works well with the ingredients and which flavors she's trying to highlight, and she gives you room to experiment as well—showing how to shape the wine to your own palate. Whether you're just grabbing a glass to go with dinner or planning an entire menu, her expert notes are a real education in wine. At the back of the book, you'll find Goin's amazing glossary of cheeses—all featured at A.O.C.—along with the notes that are given to the waitstaff, explaining the sources, flavor profiles, and pairings.   
           
With more than 125 full-color photographs, The A.O.C. Cookbook brings Suzanne Goin's dishes to life as she continues to invite us into her kitchen and divulge the secrets about what makes her food so irresistibly delicious.   

About the Author
---
Suzanne Goin was born and raised in southern California and graduated from Brown University. In 2006 she was the recipient of two awards from the James Beard Foundation (Best Chef California and Best Cookbook from a Professional Viewpoint for Sunday Suppers at Lucques), and she has received five concurrent nominations for Outstanding Chef of the Year. Goin is the chef and owner of Lucques, A.O.C., Tavern, and The Larder, all in Los Angeles, where she lives with her husband, David Lentz.
 
Caroline Styne was raised in Los Angeles and has been in partnership with Suzanne Goin since the opening of their first restaurant, Lucques, in 1998. She runs the business operations of their five restaurants, and has been twice nominated for Outstanding Restaurateur by the James Beard Foundation. Styne also serves as the wine director for the entire restaurant group. She is married to art dealer Michael Kohn, with whom she was two children.
Praise For…
---
Praise for Suzanne Goin and The A.O.C. Cookbook
 
 
"Browsing the table of contents of Suzanne Goin's new The A.O.C. Cookbook from Knopf is like reading the menu at my very favorite kind of restaurants—the ones where choosing what to eat is almost impossible, because everything on the menu sounds so incredibly tempting. Nice problem to have."
—Epicurious.com
 
If Alice Waters is the matriarch of California cuisine, then Suzanne Goin may well be her heir apparent. Goin spent more than a year adapting her recipes for the home cook, dividing chapters by season and adding wine notes from her business partner, Caroline Styne. The result is a book you'll want to cook from again and again. It also provides a glimpse into her storied career: Each recipe is preceded by a clever and insightful anecdote detailing her journey from her early days at Chez Panisse to cooking for President Obama."
—TastingTable.com
 
"In her inspiring new book, chef Suzanne Goin offers 100-plus seasonal recipes for the vibrant fare served at her Los Angeles restaurant, A.O.C. Her secret to delivering deliciousness is so simple that it's mind boggling: She chooses excellent ingredients and combines them in brilliant ways. The chapters devoted to salads and vegetable dishes are especially exciting (and accessible)."
—Fine Cooking
 
"Do people write cookbooks like Los Angeles chef Suzanne Goin's A.O.C. Cookbook any more? There's just so much information in this thing: pages-long intros to each chapter, paragraphs-long intros to each dish. Most recipes are several pages long and, not for nothing, appear to have been actually tested by real live human beings. There's also a 56-page long guide to cheese in the back of the book. It brings to mind cookbooks of a few years back that had some time sunk into them, like Judy Rodger's Zuni Cafe Cookbook. . . . [Goin] mentions that "If I am asking the reader to do something the 'hard way' it really does make a difference." This is all too rare a sentiment in cookbooks; while faithfully recreating the process a restaurant uses is a valuable record, far too few chefs consider why they are requesting home cooks do it the same way."
—Eater.com
 
"Goin, James Beard winner and chef/owner of four Los Angewles restaurants (Lucques, A.O.C., Tavern, and the Larder), brings readers recipes from A.O.C., her restaurant known for its relaxed atmosphere and small dishes, meant to be shared. (A.O.C. stands for Appellation d'Origine Controlee, the French government's system for regulating and designating wine, cheese, and other artisanal products). This is a very intimate cookbook, and Goin (along with her business partner and wine director, Styne) shares personal anecdotes and explains how she chooses ingredients. Goin admits that "this is not the easiest cookbook you will use," however passionate cooks who are not intimidated by recipes that require some time and effort will not be disappointed. Fresh, innovative, and vibrant, Goin's collection includes sumptuous recipes for the entire year. The book opens with sections on cheese (bacon-wrapped dates with parmesan) and charcuterie (foie gras terrine with sweet and sour prunes). Chapters on salads, fish, meat, vegetables, and desserts are organized by season. Standouts in this fantastic collection include sweet pea pancakes with dungeness crab and red onion crème fraiche; pork cheeks with polenta, mustard cream, and horseradish gremolata; and s'mores with caramel popcorn and chocolate sorbet. A specific wine pairing for each dish, provided by Styne, is included, as is a wonderful glossary of cheeses."
—Publishers Weekly (starred)
 
"The A.O.C. Cookbook truly reflects Suzanne's undeniable talent. Her passion for delicious food is clearly evident in her thoughtful and creative dishes. Suzanne shares recipes served at A.O.C that readers can now enjoy from their home. This is an educational cookbook that will inspire everyone in the kitchen!"
—Eric Ripert 
 
"In her wonderful new cookbook, Suzanne demonstrates once again her extraordinary gift for layering flavors with a colorful palette of seasonal ingredients. Her deceptively simple recipes always sparkle withsure-handed, humorous, passionate brilliance."
—David Tanis, author of A Platter of Figs, Heart of the Artichoke, and One Good Dish
 
"Suzanne Goin makes ********************************************************************************************************************************************************************************************************************************************************************************************************************************************************************************************************************************************************************************************************************************************************************************************************************************************************************************************************************************************************************************************************************************************************************************************************************************************************************************************************************************************************************************************************************************************************************************************************************************************************************************************************************************************************************************************************************************************************************************************************************************************************************************************************************************************************************************************************************************************************************************************************************************************************************************************************************************************************************************************************************************************************************************************************************************************************************************************************************************************************************************************************************************************************************************************************************************************************************************************************************************************************************************************************************************************************************************************************************************************************************************************************************************************************************************************************************************************************************************************************************************************************************************************************************************************************************************************************************************************************************************************************************************************************************************************************************************************************************************************************************************************************************************************************************************************************************************************************************************************************************************************************************************************************************************************************************************************************************************************************************************************************************************************************************************************************************************************************************************************************************************************************************************************************************************************************************************************************************************************************************************************************************************************************************************************************************************************************************************************************************************some of my favorite food in the world—vibrant and eclectic, but always using seasonal, pure ingredients. These uncomplicated dishes will surely become classics!"
—Alice Waters
 
"I love to cook—that's no secret—and I can think of no better way to spend an evening than in the kitchen, cooking for my family. But, sometimes even the most passionate chefs need to be cooked for, as well! The first time I sat down at Suzanne¹s table at A.O.C., the food tasted like it was made just for me and I have been a big fanever since. My fave? The Orata . . . and I always save room for the the S'mores with Caramel Popcorn and Chocolate Sorbet!" 
—Giada DeLaurentiis
 
"As soon as I read this book I was ready to jump on a plane to L.A.! Suzanne Goin has a marvelous ability to deliver a sense of a place in ingredients and few words. A.O.C's ethos of excellence and casual delight comes to life brilliantly through her selection of seasonal produce (and when Suzanne says seasonal she really means seasonal) and her great precision in matching flavors."  
—Yotam Ottolenghi