Freedom Manifesto: Why Free Markets Are Moral and Big Government Isn't (Hardcover)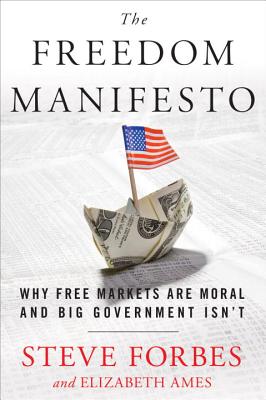 Please email or write store for pricing and availability information.
Special Request - May Not Be Available
Description
---
From Steve Forbes, the iconic editor in chief of Forbes Media, and Elizabeth Ames coauthors of "How Capitalism Will Save Us" comes a new way of thinking about the role of government and the morality of free markets.
Americans today are at a turning point. Are we a country founded on the values of freedom and limited government, as envisioned by the founding fathers in the Declaration of Independence and the Constitution? Or do we want to become a European-style socialist democracy? What best serves the public good freedom or Big Government?
In "Freedom Manifesto," Forbes and Ames offer a new twist on this historic debate. Today's bloated and bureaucratic government, they argue, is anything but a force for compassion. Instead of assuring fairness, it promotes favoritism. Instead of furthering opportunity, it stifles economic growth. Instead of unleashing innovation and material abundance, its regulations and price controls create rigidity and scarcity. Not only are Big Government's inefficient and ever-expanding bureaucracies ill-equipped to deliver on their promises they are often guilty of the very greed, excess, and corruption routinely ascribed to the private sector.""
The only way to a truly fair and moral society, the authors say, is through economic freedom free people and free markets. Throughout history, open markets have helped the poor and everyone else by unleashing unprecedented creativity, generating wealth, and raising living standards. Promoting trust, generosity, and democracy, economic freedom has been a more powerful force for individual rights, self-determination and humanity than any government bureaucracy.
""
"Freedom Manifesto "captures the spirit of a new movement that is questioning old ideas about the morality of government and markets for the first time since the Great Depression. Going beyond the familiar explanations and sound bites, the authors provide a fully developed framework of first principles for a true understanding of the real moral and ethical distinctions between more and less government. This timely and provocative book shows why free markets and liberty are the only way to a better future and a fair and humane society.
About the Author
---
STEVE FORBES is chairman and editor in chief of Forbes Media and an internationally respected authority in the worlds of economics, finance, and corporate leadership. He campaigned twice for the Republican nomination for the presidency. His previous books include the "Wall Street Journal "bestseller "How Capitalism Will Save Us," the "New York Times "bestseller "Power Ambition Glory, Flat Tax Revolution, "and "A New Birth of Freedom.

"

ELIZABETH AMES coauthored "How Capitalism Will Save Us "with Steve Forbes. She is the founder of BOLDE Communications, which advises corporate and individual clients on communications strategies. Her journalism and commentary have appeared in a wide range of publications."