The Undertow (Paperback)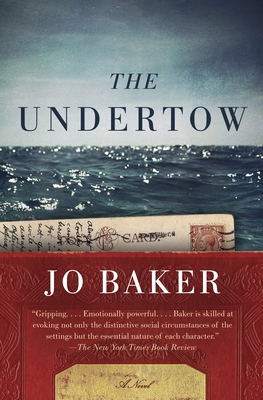 Please email or write store for pricing and availability information.
Special Request - May Not Be Available
Description
---
The American debut of an enthralling new voice in fiction -- a vivid, indelibly told novel that follows four generations of a family against the backdrop of a century of turmoil.
The Undertow
traces the lives of the Hastings family, from the eve of the First World War to the present day: William, a young factory worker preparing to join the navy; his son Billy, who cycles into the D-Day landings; his grandson Will, an Oxford professor in the 1960s; and his great-granddaughter, Billie, an artist in contemporary London. Here Jo Baker reveals the Hastings' legacy of choices made, chances lost, and truths long buried in what is an enthralling story of inheritance, fate, passion, and what it means to truly break free of the past.
About the Author
---
JO BAKER was born in Lancashire and educated at Oxford University and Queen's University Belfast. The Undertow is her first publication in the United States. She is the author of three previous novels published in the United Kingdom: Offcomer, The Mermaid's Child, and The Telling. She lives in Lancaster.
Praise For…
---
"Gripping. . . . Emotionally powerful. . . . Baker is skilled at evoking not only the distinctive social circumstances of the settings but the essential nature of each character. . . . You can't walk away from her book." 
—The New York Times Book Review

"Jo Baker is a novelist with a gift for intimate and atmospheric storytelling. . . . [She] skillfully delineates the currents of social change and the essential human drama that persists. . . . The result is an agile, keenly observed novel that evokes the minuscule rewards and disappointments of the everyday."
—The Financial Times

"Engaging . . . . The Hastings family must fend off adversity of all kinds and from every side. Their challenges—so movingly detailed here—provide a profound sense of the whole tumultuous century." —The Washington Post

"A poignant, emotionally intense read that illuminates the legacies of love and loss for ordinary people." 
—Marie Claire

"Moving but never sentimental. . . . The Undertow has a quiet, cumulative power; you read it not quite realizing how it's burrowing under your skin."
—The Seattle Times

"Intricate, sensitive. . . . What is the legacy of four generations of loss? For Americans without a direct link to the current conflicts overseas or who get their war news from TV and Twitter, the question can seem like a distant concept. . . . However, this tightly crafted English novel, tracing a family from World War I to Iraq, brings it to life."
—Oprah.com (Book of the Week)

"Some writers let you know you're in safe hands from the start, and Jo Baker is one of them. . . . This drama-rich saga unfolds as a series of intimate family portraits. . . . There are gripping set-pieces, from childbirth to battlefield, all related in cut-glass prose and embedded with telling period detail."
—The Independent 

"Emotionally charged. . . . Baker's saga about four generations of the British Hastings family, beginning with a young William sailing off to WWI, explores the effects of war, poverty, dreams, and the difficulties of love."
—Publishers Weekly

"Richly evocative . . . Its fast-flowing style, sparky dialogue and lean narrative hops through decades, taking in wars, deaths, births, hardships and dark family secrets. . . . Well crafted and highly readable, [The Undertow] places Baker at the top end of the list of emerging British literary talent."
—Time Out London 

"Deeply affecting. . . . A sweeping drama with real emotional depth."
—Daily Mail 

"An exceptional 20th-century saga. . . . A four-generational span of extraordinary history and ordinary lives, eloquent about the unshared interior worlds of individuals even when connected by the closest of bonds. . . . This searchingly observant work captures a huge terrain of personal aspiration against a shifting historical and social background. Impressive." 
—Kirkus Reviews (starred) 

"The Undertow, so deeply and richly imagined, is one of those books that make you forget to turn off the bedside light. I found myself thinking, just one more page, and then, just one more chapter. If what you love is a larger-than-life story with epic dimensions that pulls you in and won't let you go, this is your book." 
—Kim Barnes, author of In the Kingdom of Men