Ten Letters: The Stories Americans Tell Their President (Paperback)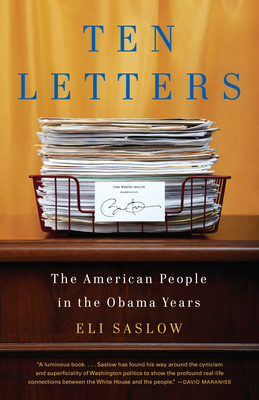 Please email or write store for pricing and availability information.
Special Request - May Not Be Available
Description
---
Every day, President Obama read ten of the letters he received from citizens across America. Here are ten of those letters, along with President Obama's responses and the stories behind them.

The letters come from people of all ages, walks of life, and political points of view. Some are heart­breaking, some angry, some hopeful. Indeed, Obama reads as many letters addressed "Dear Jackass" as "Dear Mr. President." Eli Saslow, a young and rising star at the Washington Post, became fascinated by the power of these letters and set out to find the stories behind them. 

Through the lens of ten letters to which Obama responded personally, this exceptionally relevant and poignant book explores those individual stories, taking an in-depth look at the misfortunes, needs, opinions, and, yes, anger over the current state of the country that inspired ten people to put pen to paper. Surprisingly, what also emerges from these affecting personal narratives is a story about the astounding endurance and optimism of the American people. 

Ten Letters is an inspiring and important book about ordi­nary people and the issues they face every day—the very issues that are shaping America's future. This is not an insider Washington book by any means, but a book for the times that tells the real American stories of today.
About the Author
---
ELI SASLOW is a Pulitzer Prize-winning Washington Post staff writer and author of Ten Letters: The Stories Americans Tell Their President. He won the Pulitzer Prize for Explanatory Reporting in 2014 for a story on food stamp recipients and has twice been a finalist for the Pulitzer Prize for feature reporting. He also won a James Beard Award for Food Writing.
Praise For…
---
Praise for Ten Letters:

"A luminous book. . . . Saslow has found his way around the cynicism and superficiality of Washington politics to show the profound real-life connections between the White House and the people."
—David Maraniss
 
"Saslow has a feel for the tender spots in these people's stories. . . . The plainspokenness, decency and human dignity they display leave a lasting impression."
—Washington Post 

"Saslow is a master at evoking the authors' stories through vivid dialogue, vignettes of daily life, and powerful language. . . . [He] does not romanticize these individuals; the people Saslow introduces his readers to are those they run into on the street every day. . . . Ten Letters gently reminds us of those defining elements that remain as true as ever in Americans' relationship to their president."
—Harvard Political Review

"In this testament to the power of the written word, the country's most vexing challenges, from immigration to education, healthcare to housing, are seen through the eyes of both persons directly affected by them and one person uniquely positioned to do something about them."
—Booklist

"[The stories] offer an intimate glimpse into the lives of people who are hopeful, and sometimes desperate, to be heard."
—Kirkus Reviews
  
"Exceptionally relevant and poignant . . . an in-depth look at the misfortunes, needs, opinions, and, yes, anger over the current state of the country that inspired ten people to put pen to paper. . . .  Inspiring and important."
—FrogenYozurt.com Online Magazine