In-Flight Entertainment (Vintage Contemporaries) (Paperback)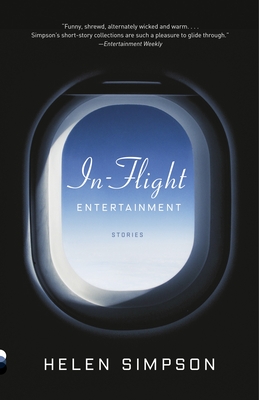 Please email or write store for pricing and availability information.
Special Request - May Not Be Available
Description
---
A dazzling collection of stories from internationally acclaimed writer Helen Simpson, touching on everything from global warming and technology to health and aging to marriage and family life. Whether Simpson's subject is single women or wives, marriage or motherhood, youth, young love, homework or history, In-Flight Entertainment is addictive reading that walks a line between being wickedly funny and dark. These thirteen stories brilliantly share the small details of interaction that reveal larger secrets and inner conflicts of contemporary living. They unerringly capture a type, a social class, a pattern of behavior, a generation.
About the Author
---
Helen Simpson is the author of four previous collections of short stories, Getting a Life, Four Bare Legs in a Bed (winner of the Somerset Maugham Award), Dear George, and In the Driver's Seat, as well as one novel, Flesh and Grass, and A Bunch of Fives: Selected Stories. She is the recipient of the E. M. Forster Award from the American Academy of Arts and Letters. She lives in London.
Praise For…
---
Praise for Helen Simpson's In-Flight Entertainment:

"Funny, shrewd, alternately wicked and warm. . . . Simpson's short-story collections are such a pleasure to glide through."
—Entertainment Weekly
 
"All lovers of the short story will recognize this collection as brilliant examples of the genre. . . . A book to savor and think about for a long time."
—The Washington Times
 
"Fearless, funny writing shadowed with dread. . . . The hat trick Simpson scores here is to render characters who could have been straw men fully three-dimensional, make organic a debate that might have seemed ginned up, and—most astonishingly—shield the reader, with wryness and sharp observation, from feeling oppressed."
—The Boston Globe
 
"Simpson has proven her mastery of a difficult form."
—Booklist 

"Simpson revels in the undomesticated part of domestic life. . . . There's not a moment of preciousness or sentimentality in these stories. It's enough to give everyday life its good name back."
—The Philadelphia Inquirer
 
"[Simpson's] dark humor will keep you reading. . . . A wicked take on domesticity. . . . There's delight . . . in her mood-enhancing drop-ins: lines of poetry, descriptions of paintings, evocations of music—treats you might want more of on your own."
—The Dallas Morning News
 
"For anyone who savors the acerbic literary likes of Evelyn Waugh or the Amises, father and son, Helen Simpson is just the ticket. . . . The stories assembled here are filled with crisp observations about mortality, infidelity and the looming apocalypse of climate change. Melancholy subjects, to be sure, and Simpson accords them their emotional weight; but one suspects that even as the ice caps melt, Simpson's hardy strain of Brit wit might well be wheezing out a rueful quip or two."
—NPR
 
"Simpson's writing is spare and intentional; you never doubt you're in the hands of a master."
—Ploughshares
 
"On first glance the prose appears lilting, unfussy, harmlessly sly. Quickly, though, a steady theme clarifies: that of the planet's self-annihilation."
—San Francisco Chronicle
 
"Simpson suggests that society is too busy with minutiae to deal with critical issues. . . . In-Flight Entertainment provides a bumpy, often jarring flight in which the captain is warning us to prepare for a crash."
—Houston Chronicle 
 
"Short and sharp, the latest stories from the award-winning British author are as pointed as ever."
—Kirkus Reviews 
 
"These 13 new stories showcase the work of one of the finest contemporary writers in the form . . . If there's a flaw to be found in Simpson's latest collection of stories, it's that they're so clever they can distract readers from the characters as they admire the author's technique. Simpson's prose is crisp, her insights unsparing, her passions transparent."
—Publishers Weekly (starred review)
 
"Simpson's wit, and her insight into birth, mortality, marriage and families, certainly mark her out as a writer whose ambition is both constrained and enhanced by choosing this most modest of fictional forms. There are other female writers today who work this territory in novels . . . but Simpson's art is more refined for being so seemingly effortless, unforced and entertaining."
—New Statesman
 
"A new collection from one of our finest exponents of the form. . . . She merits comparison with Flannery O'Connor and Alice Munro. Why read it? Because she's the real deal."
—Tatler
 
"The appearance of another book of short stories by Helen Simpson always causes the heart to lift and this year's In-Flight Entertainment gave me particular pleasure. Its elegant slenderness contains more subtle intelligence and emotional truth than many a bloated novel."
—Anne Chisholm, Sunday Telegraph
 
"In-Flight Entertainment is quite delectable, confirming Simpson as the queen of the comic short story."  
—David Robson, Sunday Telegraph
 
"It is a blissful relief to turn to the coolness and clarity of Helen Simpson. . . . Simpson is, to my mind, the best short story writer now working in English."
—Ed Crooks, Financial Times
 
"Simpson's gifts are a lyrical vocabulary, an authoritative form, a special funny-sad quality and a subtlety of understanding.  Add in political argument, and she is a key voice for our time."
—Margaret Reynolds, The Times
 
"Wickedly funny and painfully true. . . . Dangerously close to perfection."
—Kate Saunders, The Times
 
"Superbly crafted morality tales, such being Simpson's speciality. . . . [Simpson's] stories, like the best stories, give the impression of being the last word on the subject, even if, or especially if, that word is enigmatic and open-ended. She ends her stories beautifully, and never quite the same way twice."
—The Guardian  
 
"Very black comedy. . . . Simpson is a wry, humane and brilliant observer of our peculiar condition."
—The Independent