Sex on the Moon: The Amazing Story Behind the Most Audacious Heist in History (Paperback)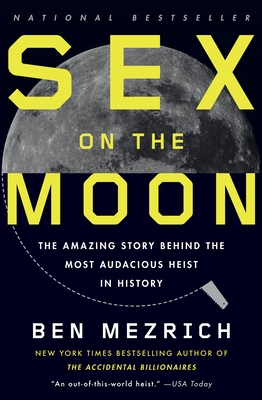 Please email or write store for pricing and availability information.
Special Request - May Not Be Available
Description
---
From the bestselling author of The Accidental Billionaires and Bringing Down the House, this is the incredible true story of how a college student and two female accomplices stole some of the rarest objects on the planet--moon rocks--from an "impregnable" high-tech vault.
But breaking into a highly secure laboratory wasn't easy. Thad Roberts, an intern in a prestigious NASA training program, would have to concoct a meticulous plan to get past security checkpoints, an electronically locked door with cipher security codes, and camera-lined hallways even before he could get his hands on the 600-pound safe. And then how was he supposed to get it out? And what does one do with an item so valuable that it's illegal even to own? With his signature high-velocity style, Mezrich reconstructs the outlandish heist and tells a story of genius, love, and duplicity that reads like a Hollywood thrill ride.
About the Author
---
Ben Mezrichis theNew York Timesbestselling author ofThe Accidental Billionaires, Bringing Down the House, andSex on the Moonin addition to thirteen other books. The film21, starring Kevin Spacey, was based onBringing Down the House.The Social Network, which won an Oscar for best adaptation, was based onThe Accidental Billionaires."
Praise For…
---
"An out-of-this-world heist."
—USA Today 
 
"Mezrich has uncovered another high-stakes, fascinating true story. . . . Part love story, part madcap caper, part astro-geekery, the book is one of the summer's most fun reads."
—NPR 
 
"Movie-worthy treatment to the guy who stole moon rocks from NASA."
—The New York Daily News
 
"Mezrich is a genius at using characters and dialogue. . . to turn nonfiction into something as compelling as any thriller."
—The Chronicle Herald 

"[An] in-depth look at Thad Roberts, who along with three other NASA interns, stole pieces of lunar rock to impress his girlfriend. Mezrich has done extensive research to recreate the story of how an aspiring astronaut ended up getting caught for stealing over 100 pieces of the moon."
—The Atlantic Monthly

"A fast and furious read, powered along by Mezrich's desire never to take his eyes off the story."
—Chicago Post-Tribune

"Ben Mezrich's latest straight-to-the-big-screen book. . . . a rollicking summertime page-turner crackling with sex, astronauts, stolen dinosaur bones and international cyber-intrigue."
—The Miami Herald

"A breathless, credulous style. . . . memorable supporting characters. . . . adventure, sex, romance, a hero who is equal parts Clifford Irving from The Hoax, Frank Abagnale from Catch Me If You Can, and George Bailey from It's a Wonderful Life."
—The Boston Globe

"[A] thrilling account of space rock heist. . . fun, breezy action."
—Tampa Tribune

"Eloquent prose and a direct view into the characters' mind. . . the access to Roberts and re-creation of his motivation and personality are Sex On The Moon's best qualities."
—The Onion

"[A] fascinating story. . . . has the readability of popular fiction, a ripping story, and great characters. . . . Another winner from an extremely talented writer."
—Booklist, starred review

"Out of this world heist. . . . one of the summer's most buzzed-about books."
—CNN.com

"Page-turner. . . . engaging read."
—San Antonio Express-News

"Ben Mezrich, the gonzo-inspired biographer of Ivy League geeks. . . . [brings us a] stranger-than-fiction, true-life thriller of a man who went where no man has gone before. . . . [the] story ticked all the boxes: a charismatic dreamer with a troubled past, a Romeo-and-Juliet love story, a geek-alicious high-tech setting, an ingenious Oceans 11-style heist—and perhaps the most boneheaded mistake any man ever made to impress a girl. Even better, it was a journalist's Holy Grail: a truly uncovered story."
—BookPage

"Deliciously readable."
—Baltimore Jewish Times

"Ben Mezrich goes to incredible lengths to bring readers a story that is both accurate and spellbinding, honest and riveting."
—Portsmouth Wire

"A pulse-pounding tale."
—Patriot Ledger

"This is the incredible story of a crime truly out of this world, told with verve by Mezrich."
—News of the World

"Compelling."
—Atlanta Jewish Times

"Enthusiastically re-creates this oddball 2002 moon-rock heist."
—Kirkus Reviews