The Mass: The Glory, the Mystery, the Tradition (Hardcover)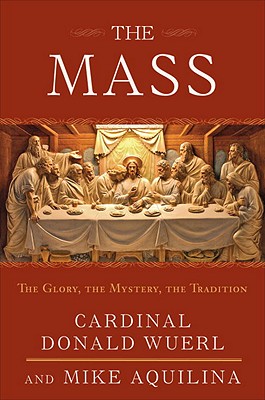 Please email or write store for pricing and availability information.
Special Request - May Not Be Available
Description
---
An insightful and practical exploration of Catholicism's most sacred tradition.
The Mass: The Glory, the Mystery, the Tradition is an engaging and authoritative guide to Catholicism's most distinctive practice. And now, with the Church introducing revised language for the Mass, Catholics have a perfect opportunity to renew their understanding of this beautiful and beloved celebration.
With eloquent prose and elegant black-and-white photography, bestselling authors Archbishop Donald Wuerl and Mike Aquilina guide readers through the different parts of the Mass, from the entrance procession to the blessing and dismissal, capturing the deep meaning of elements that are at once ordinary and mysterious: bread and wine, water and candles, altar cloths and ceremonial books.
Step by step, they explain the specifics, such as the order of the Mass, the vessels used, the unique clothing worn, the prayers and responses, the postures and the gestures. Then they explore the rich historical, spiritual and theological background to each. Prayerful but practical, fact-filled but readable, The Mass prepares readers to participate more fully and appreciatively in the sacred rite at the heart of Catholic life.
About the Author
---
DONALD CARDINAL WUERL is the Archbishop of Washington, D.C., and the bestselling author of The Catholic Way. He is known nationally for his catechetical and teaching ministry and for his efforts on behalf of Catholic education. MIKE AQUILINA is the author of over 20 books, including The Mass of the Early Christians and Fire of God's Love: 120 Reflections on the Eucharist. He appears regularly on EWTN with Scott Hahn.
Praise For…
---
"Here we find the Mass accurately and lovingly explained down the last prayer – indeed, the last gesture. Using excellent historical and biblical references as well as quotations from the Fathers of the Church, the authors lead the reader step by step into the great mystery of God's love for us that is the Mass."
– Fr. Benedict J. Groeschel, CFR

"There is genius in Catholicism and nothing demonstrates that more tangibly than the Mass. At the same time it is impossible to ignore the fact that millions of Catholics don't have such an appreciation for the Mass. Is it a big problem? Yes. Is there a simple solution to that big problem? Yes. If every Catholic in America would read this book I think it would be a great first step in our quest to engage disengaged Catholics and turn the tide for Catholicism in America."
– Matthew Kelly, New York Times bestselling author of Rediscover Catholicism and founder of DynamicCatholic.com
 
"This is an ingenious, deeply satisfying exploration of the Mass – its history, its elements and its meaning.  The authors blend the best of priestly and lay wisdom about the central act of Catholic worship into a volume that is simultaneously rich in detail, wonderfully readable in style, and a marvelous resource for nourishing one's faith."
– Most Reverend Charles J. Chaput, O.F.M. Cap., Archbishop of Philadelphia 

 "Excellent, inspiring, and practical. I recommend this book to everyone (particularly at this time of confusing press coverage.)"
– Fr. Michael Scanlan, Chancellor of Franciscan University
 
"It's the 'source and summit' of our Christian life, so to understand, love, and appreciate the Mass is imperative for anybody serious about discipleship. This excellent book is a great place to start."
– Most Reverend Timothy M. Dolan, Archbishop of New York
 
"The Mass: The Glory, The Mystery, The Tradition is an ideal introduction to all the aspects of the Mass."
– Fr. Peter John Cameron, O.P., Editor-in-chief of Magnificat

"This is a book for all believers who want to enrich their knowledge, understanding and love for the Mass."
– Most Reverened David A. Zubik, Bishop of Pittsburg

"What an inviting—and refreshing—guide to the Mass! Whether you are a Catholic or non-Catholic, a church-goer thirsty for a deeper understanding of the celebration you have attended so many times, or are simply curious about the Catholic Mass, this book is your passport to a new, deeper, richer experience with the Mass, and with Christ in the Eucharist."
– Carl A. Anderson, Supreme Knight of the Knights of Columbus and the New York Times bestselling author of Our Lady of Guadalupe