Sylvia's Table: Fresh, Seasonal Recipes from Our Farm to Your Family (Hardcover)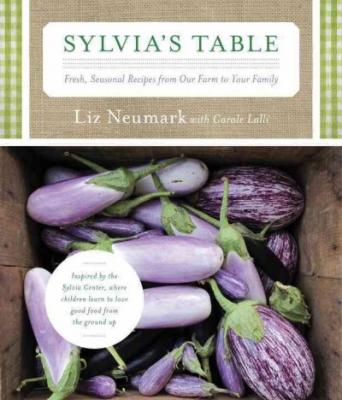 Please email or write store for pricing and availability information.
Special Request - May Not Be Available
Description
---
Every year children flock to the Sylvia Center at Katchkie Farm in upstate New York to learn firsthand about where fresh food comes from--how to grow it, how to harvest it, and how to use it to prepare great-tasting meals. Now Sylvia's Table brings these lessons and recipes straight from the farm to your kitchen in a deliciously unique cookbook for families. From Homemade Apple Roll-Ups to Butternut Squash Bread Pudding and from Spinach and Strawberry Salad to Grilled Tamarind Turkey Burgers and Baked Sweet Potato Fries, here are almost two hundred recipes that you and your family will enjoy.
Featuring recipes from "the friends of Katchkie Farm"--chefs like Michael Romano of Union Square Cafe and Jonathan Waxman of Barbuto; culinary experts including
Food & Wine
's Dana Cowin; cookbook authors Giuliano Bugialli, Rozanne Gold, Deborah Madison, and, Sara Moulton; and many others--this is a family cookbook
guaranteed to be loved by cooks (and kids) of all ages.
About the Author
---
Liz Neumark is CEO and founder of Great Performances, rated Zagat's top catering company in New York City. Originally intended as a staffing service for women in the arts, Great Performances has evolved into one of the nation's most recognized and trendsetting catering companies. Liz's commitment to supporting sustainable agriculture and good earth practices led her to establish Katchkie Farm, her sixty-acre organic farm in upstate New York, in 2006. As well as providing fresh produce for catering events, Katchkie Farm is home of the Sylvia Center, a garden-to-table culinary-based program that inspires young people to discover good food and flavors on the farm and in the kitchen. Liz's experience in the food world has shaped her advocacy efforts: she serves on the boards of several groups on food policy and the food system, such as Just Food and GrowNYC, and she is the recipient of numerous awards, including Food Arts Silver Spoon Award and Crain's 100 Most Influential Women. In her spare time, Liz can be found exploring farm stands and food shops, and spending time with her husband and three grown children.

Carole Lalli has worked as a food writer and as an editor specializing in cookbooks at Simon & Schuster and Rizzoli; she also was editor in chief of "Food & Wine" magazine and is the author of three cookbooks.
Praise For…
---
"Rarely do we appreciate cooking for what it is: an act of sharing. That's exactly what Liz Neumark reminds us in this remarkable book. With its generous blend of storytelling and farm-to-table wisdom, Sylvia's Table is less a cookbook than an invitation—into Liz's family, her work (as a New York caterer, farm owner and pioneering advocate for children's health), and most important, her kitchen. It's a vibrant and inspiring place to be." 
—Dan Barber, executive chef and co-owner, Blue Hill

"There's no shortage of seasonal locavore cookbooks out there, but Sylvia's Table is especially appealing on other counts. Many of the recipes are uncomplicated and use farm-fresh ingredients, and are explained in a way that children can prepare them. . . . Take the book into the kitchen for the shiitake, corn and fava-bean salad; mint pesto for lamb on the grill, and a caramelized peach and ginger crisp. The book is also filled with historic tidbits and basic cooking tips, like making stock. . . . For Budding Locavores."
—Florence Fabricant, The New York Times

"Liz Neumark is one of the most dynamic women in food—and her food is incredibly delicious to boot! She always knocks it out of the park with the freshest, seasonal and succulent ingredients straight from her farm to your table."
—Padma Lakshmi, author of Tangy, Tart, Hot & Sweet
 
"As a chef and a father with three kids of my own, I think it is so very important to educate kids and parents on healthy eating and to start good eating habits with children right from the start. I'm a huge supporter of what the Sylvia Center is doing and I hope you enjoy this cookbook and cooking with your family as much as I do. Happy cooking always!"
—Chef Todd English 

"[Sylvia's Table] is filled with beautiful photographs of Katchkie Farm in Kinderhook, New York, where children from the city go to fetch eggs and harvest eggplant and apples. . . . Almost every recipe has loving instructions for getting kids involved in the kitchen."
—Bloomberg Businessweek
 
"A beautiful, big collection of recipes and stories, with a tone that inspires the reader to visit a market and turn the harvest into good meals."
—The Montreal Gazette
 
"Introduce your children to healthy cooking with caterer Liz Neumark's new cookbook, Sylvia's Table, which is loaded with recipes that families can make together. . . . Listen up, kids: There's more to dining than Lunchables."
—New York Daily News
 
"A cookbook that's meant to be used—it's meant to be read out loud with your kids, picked over for recipes, splattered with sauce, and marked with notes. . . . You—and your kids—will discover something new every time you open this book. At first, you might be drawn to the familiar comfort foods like mac n' cheese and roasted chicken. But as you get comfortable with these, you'll notice recipes on the adjoining pages for things like sweet potato gnocchi and turkey burgers flavored with tamarind paste. Don't know how to cook with tamarind? No worries. You'll find a helpful descriptions for this and other key ingredients located right next to the recipe."
—TheKitchn.com
 
"Liz takes fresh seasonal ingredients and mixes them up with creative simple recipes.  It is exactly how I like to cook and eat.  Nothing is too complicated and each recipe is better than the next.  I am thinking about how many of them I can make in the next month. . . . Sylvia's Table celebrates food, family, health and life.  I highly recommend picking up this book."
—GothamGal.com

"Exuberant. . . . Neumark wants families not just to eat together, but to cook together and gain a real appreciation of what good food is and where it comes from. [Sylvia's Table is] a book for grownups who can share the hundreds of recipes that come from Neumark's personal collection. . . . Springing up among the recipes are lots of short essays that inform, entertain and spark your imagination." 
—BookPage