The Last Best Hope: Restoring Conservatism and America's Promise (Paperback)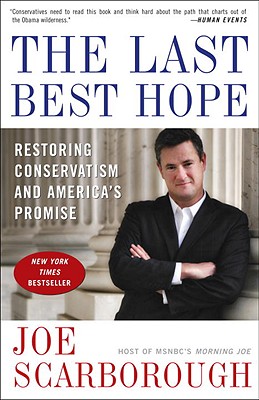 Please email or write store for pricing and availability information.
Special Request - May Not Be Available
Description
---
In this groundbreaking book, Joe Scarborough tells Republican Party bosses what they don't want to hear, explains why Democrats are making matters so much worse, and then shows leaders of both parties the way forward. The Last Best Hope draws on the forgotten genius of conservatism to offer a road map for the movement and the country. Delivering a searing indictment of the political leaders who have led us astray, Scarborough inspires conservatives to reclaim their heritage by drawing upon the strength of the movement's rich history.
With independent thinking and straight talk, Scarborough explains: - How Washington and Wall Street conspired to create the housing bubble that caused America's financial meltdown - How the "candidate of change" has not only maintained but accelerated the reckless spending policies that led us to this historic economic collapse - How Washington's bailout culture will cripple America's future if left unchecked - How Barack Obama's stimulus plan devolved into a socialist spending spree that would make FDR and LBJ shudder - And how conservatives need to take a closer look at Ronald Reagan's political career before claiming his great legacy A fearlessly argued conservative manifesto that brings American conservatism into the twenty-first century, The Last Best Hope is a must-read for all who care about the direction America is heading. From the Hardcover edition.
About the Author
---
JOE SCARBOROUGH is currently the host of MSNBC's Morning Joe and can be heard weekdays on The Joe Scarborough Show. He was elected to Congress in 1994, becoming the first Republican to represent northwest Florida since 1873, and was reelected three times with no serious opposition. In 2001, he retired from Congress and, in 2003, became an NBC political commentator and host. He is also the author of Rome Wasn't Burnt in a Day. From the Hardcover edition.
Praise For…
---
"Conservatives need to read this book. Joe Scarborough is a real conservative."
—Jed Babbin, Human Events

"In this engaging and timely book, Joe Scarborough undertakes a critical mission: the reinvigoration of conservatism in America. Aiming to take conservatives beyond reaction and beyond sentimentality, he asks the big questions, and does not shy away from offering answers. This is an important contribution to one of the most vital debates of the day."
—Jon Meacham

"Joe Scarborough can save the GOP. This is a lively, likeable and important book. So my fellow Republicans–rejoice. We have a face! Now let's get to work."
—Christopher Buckley

"The Last Best Hope is must reading for anyone who cares about the conservative movement."
—Peggy Noonan