The Walk: Clear Direction and Spiritual Power for Your Life (Hardcover)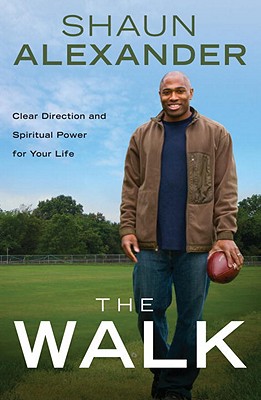 Please email or write store for pricing and availability information.
Special Request - May Not Be Available
Description
---
Are you walking with God, dragging your feet, or running ahead of Him? Take the first step in living at God's pace.
 
When you start walking with God, it's easy to misplace the emphasis. You might think it's about seeking perfection or impressing God with your level of commitment. But God isn't looking for perfection, and no matter how hard you try, you will never be able to impress him.

Walking with God is exactly what it says: God invites you to get in step with what he is doing in the world. When you walk with God, you allow him to set the pace for every aspect of your life. And that is when you discover faith and strength that overcome doubt, fear, and temptation.

Let Shaun Alexander help you get started on the greatest adventure possible. If you are ready to know God as your Walking Companion, you are ready to begin The Walk.

God invites you to grow through five stages of spiritual maturity

Walking with God is not a contest or a competition, and it has nothing to do with how you look in front of others. Your walk with Christ is the most extreme, dangerous, and  intimate adventure you will ever be part of. But all you have to do is walk, which takes you to a place where it's not about you—instead, you will become part of something that is much bigger than anything you canimagine.

God leads his followers through five stages of spiritual maturity. He begins by working in us even before we trust him, drawing us while we are still Unbelievers. He walks with us when we become Believers, training us so that we can grow to live as Examples of Christ. He works with Examples, showing them how to explain what they believe and making them Teachers. And God calls some Teachers to serve as Imparters, those who do the miraculous work of Jesus on earth.

While our tendency is to run ahead of God or lag behind, just walking with God through the stages of spiritual maturity will transform your life with biblical wisdom, God's direction, and the power of the Holy Spirit. With God at your side, your life will have an unprecedented impact on others.
About the Author
---
Shaun Alexander was drafted by the Seattle Seahawks after a standout football career at the University of Alabama. A three-time Pro Bowl selection, in 2005 he set an NFL record by scoring twenty-eight touchdowns. In the same season, he set a team record by gaining 1,880 rushing yards and leading his team to the Super Bowl. Today, Shaun travels the country speaking to business and military audiences, at sports camps, and at churches and Christian conferences--appearing in front of thousands of people. He is a gifted communicator and Bible teacher who points listeners toward exceptional achievement by aligning their lives with God's perfect will.
Praise For…
---
"I have profound respect for people who are better in person than they are in public. That is Shaun Alexander. He doesn't just talk the talk; he walks the walk. And that is what this book is all about."
—Mark Batterson, best-selling author of In a Pit with a Lion on a Snowy Day

"Shaun Alexander is an inspiration to those going through the 'walk' that we call our daily lives. His insight and wisdom will cause readers to look deep inside and seek after God. His candor and spiritual maturity teach us how to live happier, more purpose-filled lives. Once you start reading this book, you won't be able to put it down."
—Matthew Barnett, senior pastor of the Dream Center

"The Walk is a must-read for anyone who has questions about faith or who wonders what it would be like to have a more tangible relationship with God. It presents a picture of God we can connect with every day. From math tests to touchdowns, Shaun's incredible insights and personal stories will give you the practical tools you need to navigate through life's biggest challenges."
—Erica Greve, minister and conference speaker

"Shaun Alexander has been a model and a blessing to countless young people in the Communities In Schools program, offering students hope for a future. When Shaun writes about those who are Examples—'people who actually live what they claim to believe'—I see his face and hear his voice."
—Bill Milliken, founder and vice-chairman of Communities In Schools Inc. and author of The Last Dropout and Tough Love

"Ever since I first met Shaun at the Senior Bowl, I have been impressed by his consistency, his humility, and his teachable spirit. I have watched him mature as he has learned to live out his faith. This book will take you through some of the same steps he took in that growth process, and I know you will be challenged and blessed."
—Carey Casey, CEO of the National Center for Fathering and author of Championship Fathering

"Shaun lives with integrity and honor in the public eye. But it's the life he lives when no one is watching that amazes us. His relationship with God and intimate knowledge of the Scriptures have given him a strong foundation for his entire life. With The Walk, Shaun makes these insights available to people of all walks of life in order to deepen their walk with God."
—John and Lisa Bevere, authors, international speakers, and cofounders of Messenger International

"The greatness of Shaun Alexander running downfield with a football is but a glimpse of the greatness he walks in without a football. This man of God has written a phenomenal book that can spark the greatness in all of us. The Walk will allow us to start our walk toward a much better world, right from where we are."
—Michael Jr., Christian comedian