Love Food & Live Well: Lose Weight, Get Fit, & Taste Life at Its Very Best (Paperback)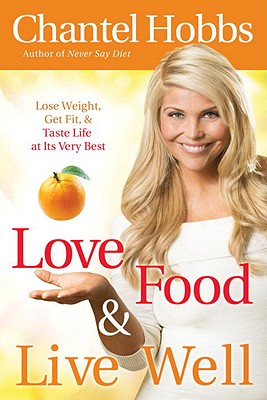 Please email or write store for pricing and availability information.
Special Request - May Not Be Available
Description
---
Go ahead. Get passionate about the food you eat
Don't fall for the lie that to lose weight you have to endure bland, uninspiring meals--and go hungry most of the time. Starting today you can love delicious food and lose weight at the same time The secret is knowing when to have carrot cake and when it's time for just a carrot.
Make food your ally by following Chantel Hobbs's 80/20 rule. A full 20 percent of the time, splurge on the foods you love and incorporate them into celebrations and social occasions. The remaining 80 percent of the time, choose food that delivers maximum health and fuel for your body.
Using personal inventories, food plans, and new exercises for strength training and aerobic fitness, you will enjoy getting fit and trim. Love Food and Live Well guarantees that you can love what you're eating while you lose weight.
About the Author
---
The author of The One-Day Way and Never Say Diet, Chantel Hobbs is a motivational speaker, life coach, personal trainer, marathon runner, wife, and mother of four. Her story has been featured on Oprah, The Today Show, Good Morning America, Fox & Friends, the 700 Club, and the covers of People and First magazines. Chantel is a featured expert on nationally syndicated radio programs, where she helps listeners pursue faith, food, and fitness for a lifetime.
Praise For…
---
Praise for Love Food and Live Well

"In Love Food and Live Well, Chantel Hobbs helps readers re-create their lives from the inside out. As you turn the pages of this book, you can't help but feel that Chantel is right there with you to guide and inspire every step in your quest to eat better, move more, and enjoy a more fulfilled and more healthful life."
—Elisa Zied, MS, RD, CDN, regular contributor to msnbc.com and GALTime.com; author of Nutrition at Your Fingertips and Feed Your Family Right!

"Behind Chantel's extraordinary story and unquestioned expertise is a heart that sets her apart. Regardless of whom she encounters, she lives for the opportunity to help them discover their fullest and fittest potential. As you read Love Food and Live Well, it will become clear that Chantel is doing what God created her to do. How refreshing to find a fitness expert who is devoted to changing lives on the inside as well as the outside!"
—Bob Coy, pastor of Calvary Chapel, Fort Lauderdale

"Chantel Hobbs uses wit, wisdom, and poignant insights to open our eyes regarding our health and well-being. With helpful tips, exercises, recipes, and workout plans, Chantel has put together a perfect plan that anyone can follow. And she points out that allowing God to take control is the only way to live a life that will make everything else fall into place."
—Mike Huckabee, former Arkansas governor; author of Quit Digging Your Grave with a Knife and Fork; host of Huckabee

"Love Food and Live Well inspires you to focus on what's good, what's true, and what works. If you have ever felt trapped and miserable, Chantel Hobbs will show you how to surrender your life and gain control of what matters most. Filled with real-life success stories, Love Food and Live Well will help you begin the journey that will change your life forever."
—Miles Mettler, PhD in exercise and wellness; general manager of Saint Mary's Center for Health and Fitness, Reno, Nevada