Lazarus Awakening: Finding Your Place in the Heart of God (Hardcover)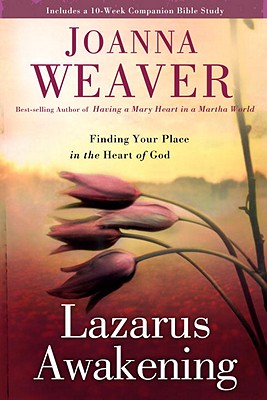 Please email or write store for pricing and availability information.
Special Request - May Not Be Available
Description
---
You believe that God loves the world…
but sometimes you wonder if He truly loves you.
 
For many of us, moving the truth of God's love from our heads to our hearts is a lifelong process. As we consider our inadequacies or grieve our shattered dreams, we find it difficult to believe that God cares for us personally.
 
In this life-giving book, Joanna Weaver shows you how to embrace the truth that Jesus loves you apart from anything you accomplish, apart from anything you bring. Just as He called Lazarus forth to new life, Jesus wants to free you to live fully in the light of His love, unbound from the graveclothes of fear, regret, and self-condemnation.
 
Love is calling your name.
 
Combining unforgettable real-life illustrations with unexpected biblical insights, Joanna Weaver invites you to experience a spiritual resurrection that will forever change your understanding of what it means to be the one Jesus loves.
 
Includes 10-week Bible study (adaptable for 8 weeks) for both individual reflection and group discussion.
About the Author
---
Joanna Weaver is the best-selling author of "Having a Mary Heart in a Martha World," "Having a Mary Spirit, "and the award-winning gift book "With This Ring. "Her articles have appeared in such publications as "Focus on the Family, Guideposts, "and "HomeLife. "Joanna and her pastor-husband, John, have three children and live in Montana. Visit her website at www.JoannaWeaverBooks.com.
Praise For…
---
Praise for Lazarus Awakening

"Joanna Weaver has done it again!  By revealing the profound love Jesus had for Lazarus and the shocking "life-after-death-on-earth" He lavished on His friend, she skillfully points the reader to a vibrant choice—ABUNDANT LIFE!  If you long to wake up to God's unrestricted mercy, unconditional love, and supernatural power, read this book!  Joanna reminds us: 'Grave clothes consist of layers.'  You can experience a true awakening if you embrace the process!"
—Carol Kent, Speaker and author of Between a Rock and a Grace Place

"I needed to read this book.  You need to read this book. Sometimes we can get stuck in sin sickness, living a Christian life that is neither glorious or free. Joanna Weaver reminds us of all that Jesus offers us when we step out of the tomb of our own making into the joyous life he has created us for. Lazarus Awakening awakened something in me."
—Susanna Foth Aughtmon author of My Bangs Look Good and Other Lies I Tell Myself:  The Tired Supergirl's Search for Truth

"Joanna Weaver has given us two insightful books about some of Jesus' closest friends—Martha and Mary. Lazarus Awakening completes the trilogy by taking an inspiring look at the life of their brother Lazarus. A closer look at his story will help you draw closer to Christ as his intimate friend. I recommend it."
—Ann Spangler, author of Praying the Names of God

"The word that wouldn't leave me when reading Lazarus Awakening is 'deep'. Joanna Weaver's words are rooted deep in Scripture, they dove deep into my heart, and they deeply impacted my emotions as I've come to a better understanding that Jesus loves me because of who I am, not what I've done. I cried many tears through these pages, as my own questions were tackled, my own fears revealed. In the end, I've come away with a deeper understand of what it means to be loved by God. I am blessed. I am loved, and Jesus means more to me than ever before. High recommended."
—Tricia Goyer author of 25 books, including Blue Like Play Dough

"I sat down to read Lazarus Awakening and quickly realized this wasn't going to be a fluffy read I'd soon forget. I needed a pen and a journal and time to take notes. Lazarus Awakening is full of life-changing truth and application. Through Joanna's beautiful teaching, God is calling us all to resurrected life!"
—Angela Thomas best-selling author and speaker