Freedom, Inc.: Free Your Employees and Let Them Lead Your Business to Higher Productivity, Profits, and Growth (Hardcover)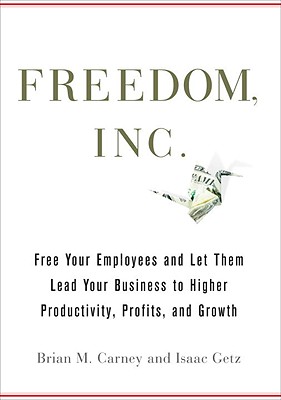 Please email or write store for pricing and availability information.
Special Request - May Not Be Available
Description
---
Free to succeed . . .
"Whether in troubled economic times or during years of prosperity, there is a proven way for companies to boost productivity, profits, and growth. Remarkably, it costs nothing whether cost is measured in terms of monetary resources or time and is simply based on the belief that, if only people can be free to act in the best interests of their company, the results will be tremendous. "Freedom, Inc." presents the evidence that this is not the Pollyannaish wish of a few dreamers, but a reality built by bottom-line-focused leaders. . . ."
The culture of freedom works and "Freedom, Inc." reveals the secrets of a successful business paradigm based on a trusting, nonhierarchical, liberated environment.
The visionary leaders profiled here performed near-miracles in driving their companies to unheard-of levels of success, often from unlikely or disheartening beginnings. Businesses as diverse as insurance company USAA, winemaker Sea Smoke Cellars, Gore & Associates, advertising agency The Richardson Group, Harley-Davidson, and Sun Hydraulics have had the insight and courage to challenge long-held management beliefs about human nature and employees and radically depart from the traditional command-and-control structures, rules, and policies. By freeing up the individual initiative and risk-taking instincts of every employee, these companies showed they could dramatically outperform their rivals in an array of fiercely competitive industries.
By listening to employees instead of telling them what to do, by treating them as equals and not limiting information through a trickle-down hierarchy, and by encouraging a culture in which employees have commitments (something chosen) as opposed to jobs (something imposed), these companies liberated their workers to fulfill their own individual potential, which has led to more productive, loyal, and engaged workers, as well as significant measurable profits and growth.
About the Author
---
BRIAN M. CARNEY is a London-based member of the editorial board of the "Wall Street Journal" and the editorial page editor of the "Wall Street Journal" Europe. In 2009 he won the prestigious Gerald Loeb Award for Commentary, and in 2003 he won the Bastiat Prize for Journalism for his writings on business and economic affairs. After majoring in philosophy at Yale, he earned a master s degree in philosophy from Boston University and worked at the Innovations in American Government program at Harvard University before joining the "Wall Street Journal" in 2000.

ISAAC GETZ is a professor at the top-ranked ESCP Europe Business School and holds Ph.D.s in psychology and management. He has been a visiting professor at Cornell, Stanford, and the University of Massachusetts. Dr. Getz conducts and publishes research on innovation, leadership, and corporate transformation for excellence and growth and speaks on these topics. His work has been featured in the "Wall Street Journal, Financial Times, " and many other media."
Praise For…
---
"Brian Carney and Isaac Getz have used their powerful concept of freedom to serve as a crucial foundation for their imaginatively framed ideas in the broader area of commerce. A most interesting and original work."
––James MacGregor Burns, author of the Pulitzer Prize and National Book Award winning Roosevelt: The Soldier of Freedom, 1940—1945

"Human energy and creativity are key to any successful enterprise–yet most organization theories unwittingly suppress the power of employees. With dozens of vivid stories, Freedom, Inc. shows how successful firms tap into the human spirit, building a culture of accomplishment and human fulfillment. A must-read for every manager and entrepreneur."
––Philip K. Howard, author of Life Without Lawyers and The Death of Common Sense

"I've never thought that any of the things I've done were radical. They just seemed natural. . . . My total focus is on our work. . . . What can I do to keep making the work better and better and better and better."
––Stan Richards, founder and head of The Richards Group

"If the [work] environment is right, then we do the product right and we make a ton of money and have a blast. . . . In this culture there is zero tension and there is absolute trust."
––Bob Davids, founder of Sea Smoke Cellars

"I had to make the jobs more meaningful. . . . If you enrich the jobs you enrich the people."
––Robert McDermott, former CEO of USAA