The McSweeney's Book of Politics and Musicals (Paperback)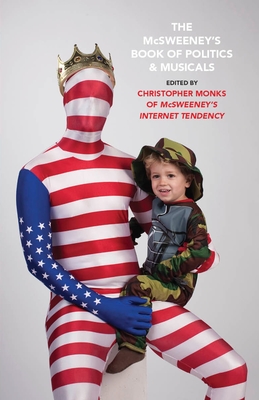 Please email or write store for pricing and availability information.
Special Request - May Not Be Available
Description
---
Ever since John Hancock broke into song after signing the Declaration of Independence, American politics and musicals have been inextricably linked. From Alexander Hamilton's jazz hands, to Chester A. Arthur's oboe operas, to Newt Gingrich's off-Broadway sexscapade, You, Me, and My Moon Colony Mistress Makes Three, government and musical theater have joined forces to document our nation's long history of freedom, partisanship, and dancers on roller skates pretending to be choo choo trains. To celebrate this grand union of entrenched bureaucracy and song, the patriots at McSweeney's Internet Tendency ("The Iowa Caucus of humor websites") offer this riotous collection (peacefully assembled ) of monologues, charts, scripts, lists, diatribes, AND musicals written by the noted fake-musical lyricist, Ben Greenman. On the agenda are . . . Fragments from PALIN THE MUSICAL Barack Obama's Undersold 2012 Campaign Slogans Atlas Shrugged Updated for the Financial Crisis Your Attempts to Legislate Hunting Man for Sport Reek of Class Warfare A 1980s Teen Sex Comedy Becomes Politically Uncomfortable Donald Rumsfeld Memoir Chapter Title Or German Heavy Metal Song? Noises Political Pundits Would Make If They Were Wild Animals and Not Political Pundits Ron Paul Gives a Guided Tour of His Navajo Art Collection Classic Nursery Rhymes, Updated and Revamped for the Recession, As Told to Me By My Father And much more.
About the Author
---
McSweeney's is a publishing company based in San Francisco. As well as running the daily humor website McSweeney's Internet Tendency, McSweeney's publishes McSweeney's Quarterly Concern, the Believer, Lucky Peach, Wholphin, Grantland Quarterly, and an ever-growing selection of books under various imprints.
Praise For…
---
"Only McSweeney's could combine politics and theater in such a strange, amusing way." —Los Angeles Times
 
"Pokes fun at all manner of political persuasion, often in a tone reminiscent of Mad magazine—that is, mangled lyrics—but minus a tune to follow. . . . Jolly good fun." —Leonard Kniffel, Booklist