The Upside: The 7 Strategies for Turning Big Threats Into Growth Breakthroughs (Hardcover)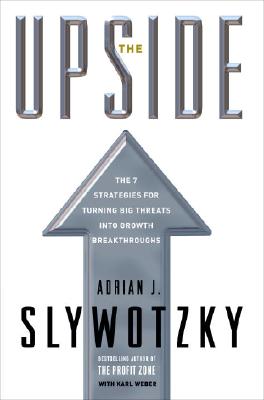 Please email or write store for pricing and availability information.
Special Request - May Not Be Available
Description
---
Today, when your fortunes can literally change overnight, the new strategic imperative is making your moment of maximum risk your moment of maximum opportunity. In The Upside, Adrian Slywotzky provides bold and original ideas for growth breakthroughs as well as the practical tools to use Monday morning, such as
How to change the odds for your next major initiative and create potential industry breakthroughs, as Toyota did with its expanding universe of Prius vehicles.
Shape and exploit risk, don t be shaped by it. Become a knowledge-intensive business and continuallyincrease the knowledge gap between yourself and rivals, as Coach and Tsutaya of Japan have convincingly done.
A category killer can t kill what's not in its category. When basketball legend Bill Russell faced a taller, stronger Wilt Chamberlain, he led the Celtics to victory by inventing a different game. The same thinking lets Target prosper in a Wal-Mart world and can help you outcompete the unbeatable rival in your own industry.
When you come to a fork in the road take it Only a fraction of companies survive when industries experience technological or strategic transitions. To be a survivor, learn the secret that enabled Microsoft to weather the advent of the Internet the art of the double bet.
Stuckinabusinessbox? Findthebiggerbox and then the biggest.When growth stagnates, capture more of your customer's dollars through demand innovation and big-box thinking, as companies from Continental AG and Ikea to Procter & Gamble have done.
Your competitors can also be your greatest enablers of profit. Stop competing yourself to death The key is knowing when to compete and when to collaborate, as Apple has shown with its revolutionary approach to the music business.
In the 1980s conventional wisdom was that you could have high quality or low cost, but not both until Japanese makers of cars and electronics showed otherwise. Now, high quality and low cost are required just to enter the marketplace. Today, we face a similar paradox when it comes to risk and reward. Rather than shrink from the high risk so integral to the tumultuous global economy, Adrian Slywotzky shows how it can be your greatest source of growth and future reward.
About the Author
---
ADRIAN J. SLYWOTZKY cited by Industry Week as promising to be what Peter Drucker was to much of the 20th century, the management guru against whom all others are measured is a director of Oliver Wyman. He is the author of the bestselling The Profit Zone (selected by BusinessWeek as one of the ten best books of 1998), Value Migration, and How to Grow When Markets Don t. He has also been published in the Harvard Business Review and the Wall Street Journal and has been a featured speaker at the Davos World Economic Forum, the Microsoft CEO Summit, the Forbes CEO Forum, and the Fortune CEO Conference.

KARL WEBER is a freelance writer and editor who has collaborated with Adrian Slywotzky on several books and worked with such authors as former president Jimmy Carter, Loews Hotels CEO Jonathan Tisch, UN ambassador Richard Butler, and representative Richard Gephardt."
Praise For…
---
"Every day this newspaper reports on winners and losers of the business world: those who speculated and won, and those who played it safe and lost. This running commentary seems to confirm what everyone knows: risk and reward are closely related.

"But what if the reality is rather different? That is one of the central arguments of Adrian Slywotzky's important new book. 'The conventional wisdom is that risk and reward go together — that to get great upside results, you need to accept big downside risks,' he writes. But risk and reward are not inextricably linked, he maintains. 'The leaders of today's most successful companies aren't risk takers, they're risk shapers.'"
—Financial Times, 9 May 2007

"The business environment has become increasingly hazardous. Over the past decade or so, Slywotzky points out, credit ratings have steadily deteriorated, swings in earnings have become more pronounced, and catastrophic market-cap slides have become more frequent. The half-life of a winning strategy has never seemed shorter. So, writes the author, taking smart advantage of risk will be the 'crucial discipline for the first decade of the 21st century.' . . .

"In the end, The Upside offers a persuasive case that managers must own up to an honest appraisal of strategic risks–both downside and upside. It's the difference between betting smart and just betting."
—Business Week, 28 May 2007

"While executives continue to get blindsided by technology disruption, that's only one of multiple threats they are now facing. There are defecting customers, shifting business landscapes, category-killing competitors, faltering projects, and stagnating sales and profits.

"But there's good news, too. Or so argues Slywotzky, director of the Oliver Wyman consulting firm and one of the shrewdest observers of the fast-changing world of commerce. He contends that an emerging discipline called strategic risk management can help forward-looking companies turn the most dangerous challenges to their advantage."
—Boston Globe, 3 June 2007

"Slywotzky's book is filled with fascinating examples of companies boldly but wisely doing extraordinary things. (IKEA is building houses!) I caught myself skipping ahead to discover outcomes and moving back and forth to contrast various examples. This is not a minor book. I suspect that it may well become a business classic."
—Execupundit, 8 June 2007

"In his latest, business writer and consulting firm director Slywotzsky (The Profit Zone) seeks a formula for managing risk as neat as a calculator equation and as powerful as, say, Steve Jobs turning an iMac design flaw (no CD burner) into perhaps the biggest consumer success of the digital age--the iPod. To do this, Slywotzky partitions the uncertainty of doing business into seven risk categories: project failure, customer drift, transition failure, competition, brand errosion, industry slippage and corporate stagnation. Using timely real-world examples (Toyota's Prius turnaround, Samsung's refurbished image), Slywotzky shows how confronting threats directly--from market competition to personal fear--can turn them into stepping stones to success."
—Publishers Weekly

"Successful businesses see risks down the road, plan for them--and dodge the bullets. Less agile firms ignore the threats and are torpedoed into oblivion.

"Potential risks include the failure of a big initiative, reduced margins industrywide, an unexpected new rival and the loss of core customers. Planning for these and other risks should be part of your ongoing strategy, says Adrian Slywotzky, co-author of the new book The Upside."
—Investor's Business Daily, 5 June 2007

"It's time to update conventional wisdom.

"For example, in the 1980s conventional wisdom said you could have high quality or low cost, but not both--until Japanese makers of cars and electronics showed otherwise. Now, high quality and low cost are required just to enter the marketplace.

"Today, a similar paradox involves the conventional wisdom on risks and rewards--that bigger rewards always require bigger risks. The challenge is to recognize that risk and reward are not inextricably linked, says management guru and author Adrian J. Slywotzky."
—Industry Week, July, 2007

"The Upside is all upside--quintessential clear thinking, Slywotzky at his best. Whether you are on the attack or worried about being attacked, this book shows you how to anticipate and capitalize on opportunities and threats others fail to see."
—Clay M. Christensen, Harvard Business School, author of The Innovator's Dilemma

"Converting risks into giant opportunities differentiates the leaders of the future. Adrian Slywotzky provides breakthrough thinking in this must-read book."
—Ram Charan, author of Know-How and coauthor of Execution

"The Upside shows ways to create growth breakthroughs from threats that are both practical and inspiring. This is a must-read book."
—Philip E. Rowley, CEO of AOL Europe

"Over the many years I have spent in the business world, I have consistently noted that one of the common characteristics of successful companies and entrepreneurs alike is that they are exceptionally skilled in managing risk, both pure financial risk and long-term strategic risks. The publication of The Upside is very timely indeed…it will make you think differently about strategic risk. It will help you recognize--and act to take advantage of –the growth opportunities concealed behind the major threats your business will face in the next several years."
—Dr. Clemens Börsig, Chairman of the Supervisory Board, Deutsche Bank AG; formerly CFO/Chief Risk Officer, Deutsche Bank AG