Without Precedent: The Inside Story of the 9/11 Commission (Paperback)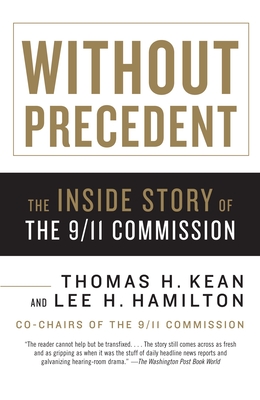 Please email or write store for pricing and availability information.
Special Request - May Not Be Available
Description
---
The untold story of how the 9/11 Commission overcame partisanship and bureaucracy to produce its acclaimed report. From the beginning, the 9/11 Commission found itself facing obstacles -- the Bush administration blocked its existence for months, the first co-chairs resigned right away, the budget was limited, and a polarized Washington was suspicious of its every request. Yet despite these long odds, the Commission produced a bestselling report unanimously hailed for its objectivity, along with a set of recommendations that led to the most significant reform of America's national security agencies in decades. This is a riveting insider's account of Washington at its worst -- and its best.
About the Author
---
Thomas H. Kean is a former governor of New Jersey (1982-1990) and from 1990 until last year the president of Drew University. He has served on numerous national committees and commissions and has worked tirelessly for over a quarter-century on behalf of a wide array of environmental and educational organizations. He lives in Bedminister, New Jersey. Lee H. Hamilton is president and director of the Woodrow Wilson International Center for Scholars. From 1965 through 1999 he was a congressman representing Indiana's Ninth District. During his tenure, he was chairman and ranking member of the House Committee on Foreign Affairs as well as the chair of the Joint Economic Committee and served on the Hart-Rudman Commission, whose 2001 report on national security first raised and examined the prospect of acts of terrorism against the U.S. prior to 9/11. He currently resides in Alexandria, Virginia.
Praise For…
---
"Terrific. . . an incisive overview about how our country makes national security policy."—Denver Post

"Compelling.... The issues the commission wrestled with–official incapacity to prevent disaster, the government's use and misuse of intelligence, presidential accountability–are still in the headlines, which makes this lucid, absorbing account of its work very timely." —Publishers Weekly

"Captivating.... Candid... Kean and Hamilton disclose disturbing information about breakdowns at the FBI, CIA, FAA, military commands and the White House that made it easier for terrorists to mount their attacks." —Philadelphia Star-Telegram