His Illegal Self (Vintage International) (Paperback)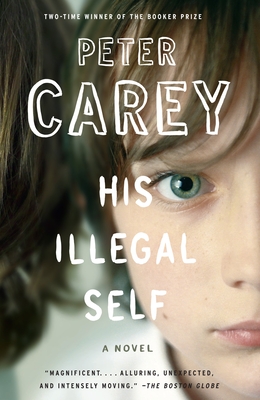 Please email or write store for pricing and availability information.
Special Request - May Not Be Available
Description
---
Seven-year-old Che Selkirk was raised in isolated privilege by his New York grandmother. The son of radical student activists at Harvard in the late sixties, Che has grown up with the hope that one day his parents will come back for him. So when a woman arrives at his front door and whisks him away to the jungles of Queensland, he is confronted with the most important questions of his life: Who is his real mother? Did he know his real father? And if all he suspects is true, what should he do? In this artful tale of a young boy's journey, His Illegal Self lifts your spirit in the most unexpected way.
About the Author
---
Peter Carey is the author of ten novels, and has twice received the Booker Prize. His other honors include the Commonwealth Writer's Prize and theMiles Franklin Literary Award. Born in Australia, he now lives in New York City.
Praise For…
---
"Magnificent. . . . Alluring, unexpected, and intensely moving." —The Boston Globe "Exhilarating. . . . Reading this novel is like peering at the human heart. . . . An adventure story for the modern, tormented soul." —The New York Review of Books "A beautiful new novel. . . . Carey's stark language imbues the narrative with suspense, and his characters feel absolutely real. He's crafted an unconventional love story that's a striking portrait of the counterculture's dregs."—People "Enthralling. . . . His close portrait of the relationship between one benighted woman and the child who depends on her is exquisite." —The New York Times Book Review "His Illegal Self develops the kind of emotional impact that renders it enriching and satisfying . . . Carey is still the master . . . The genius of the novel is his portrayal of Che."—Washington Post Book World"Carey's often beautiful novel, one of his best recent works, has the bruising tang of all his fiction . . . The result is brilliantly vital . . . On the second page, we [are] caught by a voice, and held for the next two hundred pages . . . Funny and forlorn."—James Wood, The New Yorker"Carey once again proves himself to be a master of perspective . . . Visceral and beautifully written . . . Carey reminds us of a time in America when people risked everything for a cause, for the dream of a better country. Ultimately, though, His Illegal Self is a love story–one between a young boy, longing for a love from his past, and a woman whose unexpected love for a boy forever alters her fate."—San Francisco Chronicle"Carey is a prose Pied Piper, a dazzling stylist whose work possesses mythic elements. Once he launches into a tale, he's always worth following . . . Carey enters fully into the character of Che, who is neither snarky nor cloying [but] utterly compelling . . . The story moves along at a thriller's pace."—Miami Herald"Reading this novel is like peering at the human heart, at the world itself, through the distorted precision of a magnifying glass–one carried in the pocket of a seven-year-old boy . . . One of the wonders of Carey's work is that his great, urgent narratives, so turbulent, so dark, so grand, are at the same time animated by such conscious and playful craft, as well as by a profound comic awareness . . . His Illegal Self, like his other work, is an adventure story for the modern, tormented soul."—Cathleen Schine, New York Review of Books"Carey is a thoroughly modern writer, smashing genre boundaries, ranging in tone from wild comedy to grim tragedy, viewing the past with a decidedly contemporary eye and firmly placing late 20th century adventures in social and cultural context. This breadth of experience and abilities enriches Carey's latest novel.'"–Los Angeles Times Book Review "Carey has a matchless imagination. His novels are hallucinogenic in their visual intensity and breathtaking in their Dickensian plot twists . . . The supreme gift to the reader is Carey's portrait of a scared little boy who becomes brave. [It's] the best reason to pick up this novel, sit down and not get up until it's done."–Seattle Times"Carey's gift for creating voices is so real that we can almost hear the words. This gift adds to our deep involvement with his characters, who are among the most sympathetic collection of ruffians, losers and damaged human beings in contemporary literature . . . He has once again created an elegant, touching and often funny story." –Cleveland Plain Dealer"His Illegal Self [left] me brimming with admiration . . . What's evident right from the start here is how vividly, and tenderly Carey has inhabited his central character . . . There are times when his ability to empathise with a small child recalls, and comes close to matching, David Copperfield . . . The result is a richly absorbing novel which can be relished for the beauties of its prose and the pertinence of its themes, as well as for the progressively taut pull that it exerts on the emotions."–Sunday Telegraph (U.K.) "His Illegal Self is a wonderful novel, full of hard-won truths, which nevertheless leaves you with a warm and fuzzy feeling of immense satisfaction ."–The Evening Standard (U.K.)"Che is as convincing a child as any I have found in the pages of a book: beady as a boy scout; innocent and yet so knowing; brimming with watery nostalgia for states he has never even known."–The Observer (U.K.)"Carey seems to invent himself fresh each time he publishes, finding a different (but always compelling and deeply idiosyncratic) narrative voice, filling each sentence with charm and skill, and utterly sucking a reader in. Here, he has done all that again . . . Carey's achievement here, though, is of a larger order as well, in the way he identifies, creates, rounds out and refines for us the character of Che."–Canberra Times (Australia)"A beautiful and emotionally compelling novel . . . There is in this book a fascinating and deeply intelligent evocation of late '60s, early '70s period detail, but at its core His Illegal Self is an ancient and magnificently eerie fairy tale, about a child wise beyond his years, stolen away to the forest, undergoing every kind of mortal trial, and surviving, in a surprising state of luminous grace."–O Magazine"A psychologically astute and diabolically suspenseful novel . . . Carey has a gift for bringing to creepy-crawly and blistering life Australia's jungle and desert wilds. His latest spectacularly involving and supremely well made novel of life on the edge begins in New York [and] ends up in Australia . . . Carey's unique take on the conflict between the need to belong and the dream of freedom during the days of rage over the Vietnam War is at once terrifying and mythic."–Booklist"Peter Carey is one of the great writers in English now. This book is further proof, a book in which he's created a little boy who is neither too precious nor too wise, a little boy on a sad hard trip with his eyes wide open, watching everything and everyone around him. He makes you think of your own past life and all you felt when you were a kid being played upon and moved about by the adults of the world. This book is another triumph, among Carey's other wonderful books. The man can write. He seems capable of anything."–Kent Haruf"Carey's mastery of tone and command of point of view are very much in evidence in his latest novel, which is less concerned with period-piece politics than with the essence of identity . . . This isn't the first fictional work to explore the militant radical underground of the late 1960s and early '70s, but it may well be the best."–Kirkus Reviews (starred)