Theft: A Love Story (Vintage International) (Paperback)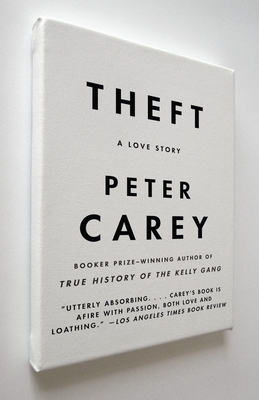 Please email or write store for pricing and availability information.
Special Request - May Not Be Available
Description
---
Michael "Butcher" Boone is an ex-"really famous" painter, now reduced to living in a remote country house and acting as caretaker for his younger brother, Hugh. Alone together they've forged a delicate equilibrium, a balance instantly destroyed when a mysterious young woman named Marlene walks out of a rainstorm and into their lives. Beautiful, smart, and ambitious, she's also the daughter-in-law of the late great painter Jacques Liebovitz. Soon Marlene sets in motion a chain of events that could be the making--or the ruin--of them all.
About the Author
---
Peter Carey is the author of nine novels, including the Booker Prize-winning Oscar and Lucinda and True History of the Kelly Gang. Born in Australia in 1943, he now lives in New York City.
Praise For…
---
"Utterly absorbing. . . . Carey's book is afire with passion, both love and loathing." –Los Angeles Times Book Review"Brilliant Peter Carey has written another marvelous novel. . . . Theft is witty, urbane, funny and profound down to its last searing line." –The Baltimore Sun"[A] very funny new novel [with an] ingeniously worked-out art-fraud plot. . . . Theft is the kind of novel only an abundantly gifted artist, and one serious about his craft, could produce."–—San Jose Mercury News"Peter Carey is a superb writer, whose prose is always active, and who infuses his characters, however eccentric, with a warmth that lets them live in our minds." –The New Yorker"Magnificent. . . . Hypnotically brilliant, entirely original." –The Washington Post Book World "Peter Carey's funny, rumbustious new novel takes on the contemporary art world. . . . Written with terrific verbal energy and a snide, lashing sense of humor, Theft is a marvelous caper, a wicked little love story and a fine mockery of an industry that probably deserves it." –The Economist"In a word, superb. . . . It's not just the story, which is a roller coaster, or the characters, each of whom is so memorable, but the sheer physicality of Carey's writing that makes Theft so good. Read it. You won't be disappointed." –The Plain Dealer "Opening a Peter Carey novel is a little like being seduced. . . . If you haven't already, you might want to introduce yourself to Peter Carey. Theft is a virtuoso inauguration, not to mention a great first date." –Pittsburgh Post-Gazette "Carey is a choral group; from novel to novel he soars or plunges from voice to voice, each with its differently piercing note and, for commonality, just a hint of disconcert. . . . In Theft Carey has loosed several different voices at once. Each is full-throated and vividly conceived. . . . Enticing, arresting." –The Boston Globe"Carey is best known for his (wonderful) historical novels, but he's in his glorious element when writing about the contemporary world, too. . . . He's a consummate storyteller with a wicked eye and a tremendous ventriloquist's gift." –The Atlantic Monthly "[Carey is a] brilliantly inventive writer. . . . [Theft] is an authentic love story about two brothers who can't stand themselves, and can't live without each other." –The Seattle Times"Full of compelling insights couched in fresh, sparkling prose, the aptly titled Theft makes the right moves at the right time. It's the rare novelistic gem that deserves to crack the divide between commercial success and critical acclaim." –St. Louis Post-Dispatch"On the surface Carey's [prose] pulls us forward in an atmosphere of antic noir. But the book turns out to be nearly as dense with themes, subplots, and embedded details as a more capacious and ambitious work like Oscar and Lucinda. . . . Impressive." –The New York Review of Books"Devilishly clever. . . . Features some of Carey's best writing to date. . . . Carey provides a vivid and beautiful portrait of how art is actually made–and how its vibrations are felt." –The Philadelphia Inquirer"A complete, compelling and satisfying tale." –Minneapolis Star Tribune"A tale of fame, infatuation and murder, thrillingly rendered in the feisty and fearless prose for which Carey is renowned." –Bloomberg.com"The plot of Theft is well crafted and engaging, but the real strength of the novel is in its characterizations. . . . It's Carey's genius that these two cranky misfits rule the day. . . . A wild and satisfying ride." –Rocky Mountain News"There are lots of novels that rhapsodize about great paintings, but this one makes you feel the tactile, unprettyfied glory of painting. . . . The prose almost throbs. [Carey] does this very hard thing–conveying the genius of one art form in another–so masterfully." –Salon"Marvelously enjoyable, wonderful." –The Sunday Times (London)"A screwball noir tale. . . . Carey is a loon from down under, a mad max who drives language and plot straight through the great barrier reef of the commonplace. . . . In this divine comedy of a novel, Carey gives his readers a rollicking lark of a story as well as a sense of eternity in a grain of sand." –Fresh Air, NPR"Magnificent. . . . Theft is a novel that will get right up your nose. Carey has produced a humane, gloriously Australian book of grand passion, bad breath and high mischief. It is a rudely brilliant, infuriatingly beautiful, belligerently profane work of art." –The Guardian (London)"A tale that falls somewhere between The Da Vinci Code and Of Mice and Men. . . . Carey indulge[s] all his brilliant ventriloquism, creating a voice quite as vivid as the mesmerizing first person of Ned Kelly in the Booker-winning True History of the Kelly Gang." –The Observer (London)"A funny, gorgeous steal of a book." –The Sunday Telegraph (London)