The Rain Before It Falls (Hardcover)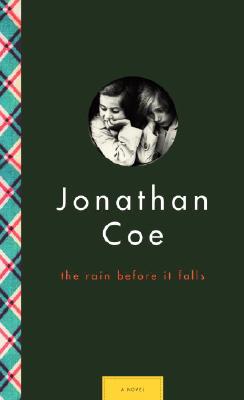 Please email or write store for pricing and availability information.
Special Request - May Not Be Available
Description
---
Following The Rotters' Club and its sequel, The Closed Circle, Jonathan Coe now offers his first stand-alone novel in a decade, a story of three generations of women whose destinies reach from the English countryside in World War II to London, Toronto, and southern France at the turn of the new century.
Evacuated to Shropshire during the Blitz, eight-year-old Rosamond forged a bond with her cousin Beatrix that augured the most treasured and devastating moments of her life. She recorded these memories sixty years later, just before her death, on cassettes she bequeathed to a woman she hadn't seen in decades. When her beloved niece, Gill, plays the tapes in hopes of locating this unwitting heir, she instead hears a family saga swathed in promise and betrayal: the story of how Beatrix, starved of her mother's affection, conceived a fraught bloodline that culminated in heart-stopping tragedy—its chief victim being her own granddaughter. And as Rosamond explores the ties that bound these generations together and shaped her experience all along, Gill grows increasingly haunted by how profoundly her own recollections—not to mention the love she feels for her grown daughters, listening alongside her—are linked to generations of women she never knew.
A stirring, masterful portrait of motherhood and family secrets, The Rain Before It Falls is also a meditation on the tapestries we weave out of the past, whether transcendent or horrific. Hailed by the Los Angeles Times for his "sustained, intricate brilliance," Jonathan Coe once again proves himself "an artist of character and of his characters' stories," here more astutely than ever before.
Praise For…
---
"A profoundly moving meditation on misfired relationships, Coe's elegaic seventh novel plumbs the depths of withheld love and emotional austerity among three generations of emotionally dysfunctional women." –James Urquhart, Financial Times

"Concentrated and controlled [with] a depth of human understanding...for the admiring reader, the question may be whether The Rain Before It Falls is a diversion for Jonathan Coe, or whether it quietly announces a new direction." –Frances Taliaferro, The Washington Post Book World

"A triumph…from it's cryptically beautiful title to its subtly riveting narrative, from its amazing narrative voice to its satisfying and moving conclusion." —Timothy Peters, San Francisco Chronicle

"A novel told in a simple, decent voice is as welcome as it is rare…Absorbing, graceful and melancholy." —Karen R. Long, Cleveland Plain-Dealer

"Dignified and sure…Skillfully layered and plotted." —The Atlantic Monthly

"A complex intergenerational mosaic of mothers and daughters." —The New Yorker

"Precise and considered, restrained but unblinking…[Coe's] tensest and most affecting work." —Matthew Peters, The Boston Globe

"Jonathan Coe's small masterpiece." —Regina Marler, New York Observer

"Quiet, elegiac, never straying into sentiment, [The Rain Before It Falls] is perhaps the most spare yet poetic of Coe's novels." --Anna Mundow, The Boston Globe

"Coe painstakingly builds a psychological mystery evoking the suspense and dread of books such as Ian McEwan's Atonement. This brief novel makes an emotionally overwhelming case that within ordinary women's lives there are profound reserves of beauty and despair, crumbled hopes and the purest love." —Kyle Smith, People

"Coe articulates a fierce, emotional current whose sweep catches the reader and doesn't let go until the very end." —Publishers Weekly