Fire and Rain: The Beatles, Simon and Garfunkel, James Taylor, CSNY, and the Lost Story of 1970 (Paperback)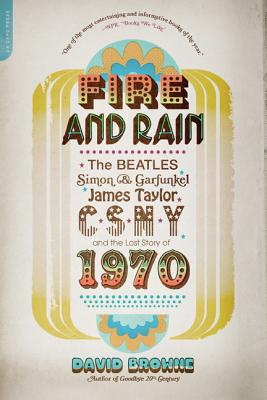 Please email or write store for pricing and availability information.
Special Request - May Not Be Available
Description
---
Set against a backdrop of world-changing historical and political events, Fire and Rain tells the extraordinary story of one pivotal year in the lives and music of four legendary artists, and reveals how these artists and their songs both shaped and reflected their times. Drawing on interviews, rare recordings, and newly discovered documents, acclaimed journalist David Browne "allows us to see—and to hear—the elusive moment when the '60s became the '70s in a completely fresh way" (Mark Harris, author of Pictures at a Revolution).

About the Author
---
David Browne is a contributing editor at Rolling Stone and the author of three previous books, including Goodbye 20th Century. He lives in New York City.
Praise For…
---
Named one of the "Best Rock Books of the Year" by Rolling Stone

Kirkus Reviews
"Through the lens of four fabulously successful musical acts, a Rolling Stone contributing editor looks at the moment 1960s idealism "began surrendering to the buzz-kill comedown of the decade ahead…A vivid freeze-frame of Hall of Fame musicians, some of whom would go on to make fine records, none ever again as central to the culture."

Parade
"This juicy, fascinating read transports you back to a turbulent year…Browne artfully describes the creation of these classic songs in a way that makes them seem brand-new."

New York Daily News
"Through rich anecdotes and incisive analysis…the book threads traces of politics, but music remains its worthy focus. The form of the book, told chronologically over four seasons, lends it the compacted, real-time drama of an episode of '24'."

New York Post
"Behind-the-scenes, fly-on-the-wall looks at [the artists] make it a worthwhile read."



Associated Press
"Fire and Rain: The Beatles, Simon & Garfunkel, James Taylor, CSNY, and the Lost Story of 1970 is a worthy addition to anyone's collection of such music histories…the nuanced account of the struggles inherent in making music is more than enough to satisfy, as are the delightful surprise connections and asides scattered throughout the book. . . . I couldn't help but be riveted by the account of this group of immensely talented people who also, when they weren't at each other's throats, seemed like they'd be cool to hang out with."

Entertainment Weekly
A "Best New Summer Read"

Chicago Reader
"Its principal task is to dive into the 60s hangover on a day-to-day level, describing the tensions that drove U.S./UK rock culture—emblematized by the four artists in the subtitle—toward the sweet, consoling embrace of Let It Be, Bridge Over Troubled Water, Sweet Baby James, and Deja Vu, … Browne renders this somnambulant period with such care that he makes it seem alive."

Mojo
"Highly readable … shifts between the key points smoothly. He unearths some little-told stories along the way."