John Williams's Film Music: <i>Jaws</i>, <i>Star Wars</i>, <i>Raiders of the Lost Ark</i>, and the Return of the Classical Hollywood Music Style (Wisconsin Film Studies) (Paperback)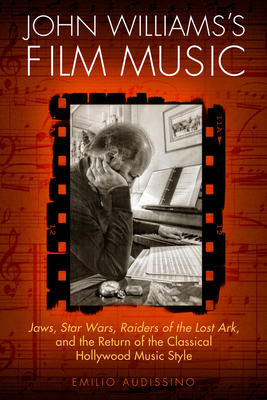 Please email or write store for pricing and availability information.
Special Request - May Not Be Available
Description
---
John Williams is one of the most renowned film composers in history. He has penned unforgettable scores for Star Wars, the Indiana Jones series, E.T. the Extra-Terrestrial, Jaws, Superman, and countless other films. Fans flock to his many concerts, and with forty-nine Academy Award nominations as of 2014, he is the second-most Oscar-nominated person after Walt Disney. Yet despite such critical acclaim and prestige, this is the first book in English on Williams's work and career.
            Combining accessible writing with thorough scholarship, and rigorous historical accounts with insightful readings, John Williams's Film Music explores why Williams is so important to the history of film music. Beginning with an overview of music from Hollywood's Golden Age (1933–58), Emilio Audissino traces the turning points of Williams's career and articulates how he revived the classical Hollywood musical style. This book charts each landmark of this musical restoration, with special attention to the scores for Jaws and Star Wars, Williams's work as conductor of the Boston Pops Orchestra, and a full film/music analysis of Raiders of the Lost Ark. The result is a precise, enlightening definition of Williams's "neoclassicism" and a grounded demonstration of his lasting importance, for both his compositions and his historical role in restoring part of the Hollywood tradition.

Best Special Interest Books, selected by the American Association of School Librarians

Best Books for General Audiences, selected by the Public Library Reviewers
About the Author
---
Emilio Audissino is a researcher at the University of Southampton, UK. He holds a PhD from the University of Pisa and has published many articles on Hollywood cinema, film style, and film music. Both his MA and PhD theses treated John Williams's film music.
Praise For…
---
"A much-needed work that captures the spirit and thinking of John Williams. Audissino is to be applauded for taking on such a large musical figure and for presenting him in the most wide-ranging manner. One gets the impression that he has tracked down every significant fact on Mr. Williams."—Vincent LoBrutto, author of Sound-On-Film

"Emilio Audissino should be commended for his passion and research of such a stellar composer as John Williams."—Larry Timm, author of The Soul of Cinema: An Appreciation of Film Music

"A compelling, well-researched investigation of John Williams's role in the Hollywood film music industry. . . . Audissino's ability to address both film and music scholars in one accessible and engaging text is one of the study's greatest strengths."—Notes: Quarterly Journal of the Music Library Association