Tattered Cover Holiday Hours:
Thanksgiving Day - November 26, ALL STORES CLOSED
West of Sunset: A Novel (Paperback)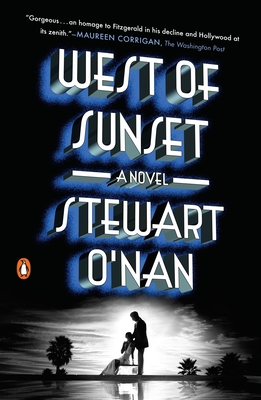 Please email or write store for pricing and availability information.
Special Request - May Not Be Available
Staff Reviews
---
      'There are no second acts in American lives' wrote F. Scott Fitzgerald. Perhaps not, though he nearly did have his own second act were it not for failing health.Stewart O'Nan's latest novel, West of Sunset, tells the story of Fitzgerald's final few years as a Hollywood screenwriter. But this is not the high flying Fitzgerald of the Gatsby days, or the years after spent chasing Zelda around Paris. In this chapter of his life we find Fitzgerald nearly broke, Zelda confined to a sanitarium, and daughter Scottie off at boarding school. Though only in his early 40's, this Fitzgerald has had too many late nights, too many cigarettes, and his efforts to quit drinking mostly end in failure. Through connections, however, he is given a chance to go to Hollywood and write for the movies.As a contract screenwriter, Fitzgerald finds himself much lower on the totem pole than he is used to. The actors, directors, and especially the producers run the town. You can be hired one day, fired the next, or be easily replaced by someone's relative or friend. Still, he begins carving out some kind of life for himself, even finding a steady girlfriend in gossip columnist Sheilah Graham (who has quite a story of her own). But with Zelda's deteriorating mental health and his own drinking problem, it's a life of "boats against the current", as he wrote so well in The Great Gatsby.As I was reading this interesting novel, I thought of the character Hubbell Gardner from the movie "The Way We Were". Hubbell writes a story about a bright young man similar to himself. "In a way he was like the country he lived in; everything came too easily to him." Fitzgerald may have felt like that after success at such a young age, and it's fascinating to read about him reflecting back to those days while looking forward to a very uncertain future. Are there no second acts in American lives? If not, he sure came close. ~ Pete                                                                                         
— Pete is our Union Station Tattered Cover manager, a writer, an artist, and an insatiable reader
January 2015 Indie Next List
---
"This novel begins after F. Scott Fitzgerald and his wife Zelda have streaked across the Jazz Age sky like bright, shiny shooting stars. Scott is in Hollywood working as a script doctor and shakily holding on to sobriety; Zelda is in a mental hospital clinging to sanity just as tenuously. Unaccustomed to the workaday world, Scott struggles to prove his worth in Hollywood by showing up to work on time, paying his bills, and living a life of quiet desperation. Gone are the days of wine and roses; Scott must now learn to live as if there is a tomorrow. O'Nan offers a subtle portrait of an American icon as an ordinary man attempting to redefine himself after nearly losing it all."
— Kerry Spaulding, University Book Store, Mill Creek, WA
Description
---
A "mesmerizing and haunting" (The Boston Globe) novel of F. Scott Fitzgerald's last years in Hollywood

In 1937, F. Scott Fitzgerald was a troubled, uncertain man whose literary success was long over. In poor health, with his wife consigned to an asylum and his finances in ruin, he struggled to make a new start as a screenwriter in Hollywood.

Those last three years of Fitzgerald's life are the focus of Stewart O'Nan's graceful and elegiac novel West of Sunset. With flashbacks to Fitzgerald's glamorous Jazz Age past, the story follows him as he arrives on the MGM lot, falls in love with brassy gossip columnist Sheilah Graham, begins work on The Last Tycoon, and tries to maintain a semblance of family life with the absent Zelda and their daughter, Scottie. The Golden Age of Hollywood is brought vividly to life through the novel's romantic cast of characters, from Dorothy Parker and Ernest Hemingway to Humphrey Bogart. Written with striking grace and subtlety, this is a wise and intimate portrait of a man trying his best to hold together a world that's flying apart.
About the Author
---
Stewart O'Nan is the author of fourteen previous novels. He was born and lives with his family in Pittsburgh.
Praise For…
---
Praise for West of Sunset

"O'Nan's adroitness with atmosphere and period detail makes Fitzgerald's dreams of creating worthy work, even with his best days behind him, absorbing and poignant." – The New Yorker

"[The] grim yet undeniably fascinating last act of Fitzgerald's life is the subject of Stewart O'Nan's gorgeous new novel. . .West of Sunset is a pretty fine Hollywood novel, too, but it's an even finer novel about a great writer's determination to keep trying to do his best work."—Maureen Corrigan, The Washington Post

"A mesmerizing and haunting novel. . .O'Nan delivers – whole-body – the sensation that you are deep inside a living, breathing, suffering consciousness. . .Another triumph of the novel surfaces in O'Nan's wily insinuation into Fitzgerald's creative life, how it breathes through his everyday existence.  Movingly and believingly, the manner in which a writer works – thinks, processes, assimilates, envies – is given life.   And that is ultimately what makes the book so special."—The Boston Globe
 
"[An] almost unbearably bittersweet portrait of the once-great novelist F. Scott Fitzgerald's sad yet glittering final years in Hollywood. . .the repartee gleams with malicious wit."—USA Today
 
"Engrossing. . .O'Nan skillfully pulls us into Fitzgerald's gilded and yet familiar world.  He brings the Hollywood legends to life. By the end, they feel like friends. . .A story well-told about interesting people in interesting times."—The Chicago Tribune

"There's a certain romance to the tortured genius mythology, but Stewart O'Nan makes quick work of dispelling it in this beautifully written historical novel which follows Fitzgerald's stint as a screenwriter during the 1930s, captures that era of Hollywood well, offering juicy scenes with Humphrey Bogart, Dorothy Parker, Ernest Hemingway, and other Fitzgerald friends and hangers-on, while lending witty dialogue to his affair with gossip columnist Sheilah Graham, a doomed romance that's worthy of a classic film."—Entertainment Weekly

"Just as O'Nan succeeded in drawing readers inside the heads of such ordinary people as the elderly widow Emily in Emily, Alone, or Manny DeLeon, the hapless chain-restaurant manager in Last Night at the Lobster, he inhabits Fitzgerald's very being and authentically depicts the writer's fluctuating mind-sets during the final years of his life…an intimate portrayal of a flawed man who never gave up."—The Philadelphia Inquirer

"O'Nan, an accomplished, award-winning writer who has clearly done his biographical homework, polishes this saga to a seductive sheen, populates it with persuasive incarnations of Dorothy Parker, Humphrey Bogart, Ernest Hemingway, and others, and takes us to a very dark place indeed."—Elle

"West of Sunset is a rich, sometimes heartbreaking journey through the disintegration of an American legend. O'Nan captures the fire and frailty of F. Scott Fitzgerald with an understated grace that would have made Fitzgerald himself stand up and applaud."—Dennis Lehane
 
"An achingly nuanced love story and one of the best biographical novels to come along in years.  O'Nan's great achievement here is in so convincingly inhabiting the character of Scott Fitzgerald and of the people surrounding him during his descent into the clarifying depths of 1930s Hollywood."—T.C. Boyle
 
"Our contemporary master Stewart O'Nan – the king of the quotidian – has changed his brush stroke and given us a picture of another American master, F. Scott Fitzgerald, in the last years of his life.  This is an amazing book, book one great writer about another, just an amazement."—Elizabeth Strout

"O'Nan is an incredibly versatile and charming writer. This novel, which imagines F. Scott Fitzgerald's troubled time in Hollywood (with cameos by Dorothy Parker, Bogie, and Hemingway), takes up (like much of O'Nan's work) that essential conundrum of grace struggling with paucity. One brilliant American writer meditating on another--what's not to love?"—George Saunders