The Boy Detective: A New York Childhood (Hardcover)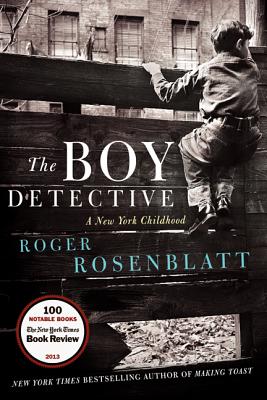 Please email or write store for pricing and availability information.
Special Request - May Not Be Available
Staff Reviews
---
"I love Roger Rosenblatt (and fear him a bit, he's rather ferocious at
times, though not so much in this new book).  This latest book is a
memoir, made up of short vignettes (some just a sentence or two, others a
page or so) that jump all around his boyhood but going into a bit of
his adult years as well.  He tells nostalgic, sappy sorts of things and
he spews New York history of such breadth that it's amazing he can
remember it all.  He is far less grumpy than usual in this book, though
there are a few tirades (always very intellectual, of course).  He also
shows so many more aspects of his personality, which I very much
enjoyed.  This is the kind of book that you can absorb minute to minute,
one short piece at a time, or swallow hours of giant gulps.  Both are
satisfying ways to enjoy this unusual book.  And if you happen to be a
NYC lover, you'll adore it as much as I do." ~Jackie
— Jackie is arguably the most prolific reader/book-blogger in the universe
Description
---
The Washington Post hailed Roger Rosenblatt's Making Toast as "a textbook on what constitutes perfect writing," and People lauded Kayak Morning as "intimate, expansive and profoundly moving." Classic tales of love and grief, the New York Times bestselling memoirs are also original literary works that carve out new territory at the intersection of poetry and prose. Now comes The Boy Detective, a story of the author's childhood in New York City, suffused with the same mixture of acute observation and bracing humor, lyricism and wit.
Resisting the deadening silence of his family home in the elegant yet stiflingly safe neighborhood of Gramercy Park, nine-year-old Roger imagines himself a private eye in pursuit of criminals. With the dreamlike mystery of the city before him, he sets off alone, out into the streets of Manhattan, thrilling to a life of unsolved cases.
Six decades later, Rosenblatt finds himself again patrolling the territory of his youth: The writing class he teaches has just wrapped up, releasing him into the winter night and the very neighborhood in which he grew up. A grown man now, he investigates his own life and the life of the city as he walks, exploring the New York of the 1950s; the lives of the writers who walked these streets before him, such as Poe and Melville; the great detectives of fiction and the essence of detective work; and the monuments of his childhood, such as the New York Public Library, once the site of an immense reservoir that nourished the city with water before it nourished it with books, and the Empire State Building, which, in Rosenblatt's imagination, vibrates sympathetically with the oversize loneliness of King Kong: "If you must fall, fall from me."
As he walks, he is returned to himself, the boy detective on the case. Just as Rosenblatt invented a world for himself as a child, he creates one on this night—the writer a detective still, the chief suspect in the case of his own life, a case that discloses the shared mysteries of all our lives. A masterly evocation of the city and a meditation on memory as an act of faith, The Boy Detective treads the line between a novel and a poem, displaying a world at once dangerous and beautiful.
Praise For…
---
"With the beautiful, lyrical writing and thoughtful reflection for which he is known, Rosenblatt offers beautifully rendered memories of childhood and ongoing curiosity about the city he so obviously loves."

"Memoir, urban travelogue or summing up of a career grounded in the written word, Roger Rosenblatt's The Boy Detective is an elegant and wise journey through an incomparable city and a meaning-filled life."

"… the memoir is, at its heart, a valentine to the New York City of the '50s and today, and to the author's favorite detective stories and films. . . No matter where you're from, his story resonates."

"A hallmark of memoir is the self now reflecting on the self then. This book pulls off the high wire feat of illuminating that double identity and giving readers the mental atmospheres of both narrators, the rascal back then and the reflective adult today…deliciously satisfying.

"Funny, intelligent, page-turning, this memoir doesn't just describe a 1940s childhood in New York City; rather, it ruminates on the life of an artist born in and shaped by its streets."

"Rosenblatt's writing is honest, yet it produces a magical world unto itself…"

"THE BOY DETECTIVE is filled with curves and knuckleballs and the occasional spitter. Hey, pal, have fun catching."

"That Roger Rosenblatt's THE BOY DETECTIVE has no table of contents will make perfect sense to readers who follow the meandering path that constitutes his charming memoir of growing up around Gramercy Park. Categorizing his musings would be too confining."

"The book is rich with recollections and with the lush wanderings of memory and imagination. In combination they draw the reader into one of the most entertaining, thoughtful and deeply moving minds among nonfiction writers today… [a] quiet, triumphant ambulation, a characteristically eloquent and multiply rewarding book."

"The Boy Detective: A New York Childhood is different, impressionistic, whimsical, and deliciously stuffed with description, commentary, asides about books, religion, movies, friendship."

"Roger Rosenblatt's evocative memoir, The Boy Detective, also challenges easy categorization. His book combines a walking tour around vanished Manhattan with a meditation, not only on the classic mystery fiction he loves, but also on those larger metaphysical mysteries that defy even the shrewdest detective's reasoning."

"Readers who believe a journey is worth more than the destination will find a kindred spirit in Rosenblatt, who is generous company during his wanderings."

"…beautifully evocative essay - at once a memoir and a meditation on the form itself."