Kind of Kin (Hardcover)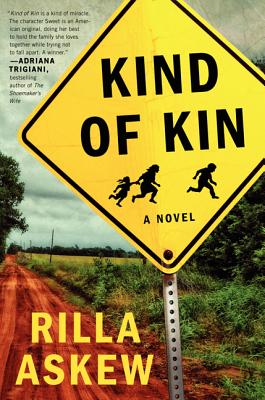 Please email or write store for pricing and availability information.
Special Request - May Not Be Available
January 2013 Indie Next List
---
"The nature of this wonderful novel set in small-town Oklahoma is like its characters -- raucous, messy, uncertain, and foolishly brave. After a surprise immigration raid on Mexicans that scoops up even some respected citizens, everyone struggles to understand where they stand and how to act. This is a large, kind-hearted story of less than perfect folks caught in a maelstrom while still trying to abide by their ethical and spiritual beliefs. Askew's story is a most timely look at who is welcome into our lives and how we express and share compassion even when times are tough and language is a barrier."
— Sheryl Cotleur, Copperfield's Books, Sebastopol, CA
Description
---
In Kind of Kin by award-winning author Rilla Askew, when a church-going, community-loved, family man is caught hiding a barn-full of illegal immigrant workers, he is arrested and sent to prison. This shocking development sends ripples through the town—dividing neighbors, causing riffs amongst his family, and spurring controversy across the state.
Using new laws in Oklahoma and Alabama as inspiration, Kind of Kin is a story of self-serving lawmakers and complicated lawbreakers, Christian principle and political scapegoating.
Rilla Askew's funny and poignant novel explores what happens when upstanding people are pushed too far—and how an ad-hoc family, and ultimately, an entire town, will unite to protect its own.
About the Author
---
Rilla Askew received a 2009 Arts and Letters Award from the American Academy of Arts and Letters. She is the author of four novels, and has been nominated for the PEN/Faulkner Award and the Dublin IMPAC Prize, and is a three-time recipient of the Oklahoma Book Award.
Praise For…
---
"Kind of Kin is a kind of miracle. The character Sweet is an American original, doing her best to hold the family she loves together while trying not to fall apart. A winner."
— Adriana Trigiani, bestselling author of The Shoemaker's Wife

"Wonderful . . . Askew's unflinching portrait of a family whipsawed from within and without is a story for our time. It's proof of Askew's flat-out genius that Kind of Kin is merciless, yet strangely full of mercy."
— Ben Fountain, author Billy Lynn's Long Halftime Walk

"I loved it!!! I stayed up until 4 in the morning … I couldn't stop thinking about it. That is just one of the magical things about Rilla's writing…A brilliant portrait of the world today. I just felt hopeful when I was finished."
— Diane Welsh, Barnes & Noble, Cedar Rapids, IA

Passionate, solid, and fair. . . Askew's characters, whose viewpoints are all over the political map, are well-imagined, thoughtful, and treated with a kindness that is often lacking in the ongoing discussion of this 'hot button' topic. It deserves great applause."
— Emily Russo, Greenlight Bookstore, Brooklyn, NY

"Kind of Kin is beautiful, funny, politically alive and savvy. Askew does character like no American writer and her nuanced vision of the relationship between the Big Picture and the lives of regular Americans is unrivaled."
— Paul Ingram, Prairie Lights, Iowa City, IA

"The nature of this wonderful novel is, like the characters, raucous, messy, uncertain and foolishly brave. Askew's story is brilliant and a most timely look at who is welcome into our lives and how we express and share compassion even while times are tough and language is a barrier."
— Sheryl Cotleur, Book Passage, Corte Madera, CA

"Askew writes a very compelling family drama that features a very hot subject these days-immigration, illegal and otherwise. Religion, civil rights, extended families, and the economic struggles of blue collar families all come into play in this multi-layered novel of life in Oklahoma."
— Jackie Blem, Tattered Cover Book Store, Denver, CO

"Bracing, startling, snort-out-loud funny, heart-rending, Kind of Kin addresses family function and dysfunction, religion, immigration. [Rilla Askew] suggests a very subversive thought. Perhaps we are all a kind of kin. No matter your politics, you will not soon forget this generous work of art."
— Luis Alberto Urrea, author of Queen of America

"Compelling...this novel is rich, rewarding, and humane."
— Publishers Weekly

"Askew deftly weaves together a narrative that foregrounds a number of important contemporary issues: religion, immigration, the economy and the effect of all of these on family life."
— Kirkus Reviews

"Vividly authentic . . . Askew has crafted an uncannily real cast of characters . . . A winner for book clubs...Askew's sensitive and humanizing treatment of this hot-button issue is sure to provoke thought and discussion no matter what readers' political leanings may be."
— Shelf Awareness

"A brilliant evocation of Heraclitus's axiom that character is fate-an ironic evocation she both confirms and turns on its head…Askew immerses us in the frightening dynamics of every situation while illustrating the focused moral prescience of a novelist of superb acumen."
— World Literature Today

"A brilliant evocation of Heraclitus's axiom that character is fate-an ironic evocation she both confirms and turns on its head…Askew immerses us in the frightening dynamics of every situation while illustrating the focused moral prescience of a novelist of superb acumen."
— Jewish Book World

"Askew's novel delivers the unexpected. It has moments both funny and sublime."
— Denver Post

"The end result is a novel as ambitious as it is complex: Askew deftly weaves multiple points of view into a narrative that's spacious, messy and, above all, honest."
— Kansas City Star

"What might have been a political polemic or a partisan pitch in the hands of a lesser writer, Rilla Askew's fourth novel....personalizes [immigration]...exploring with a deft hand and an unflinching moral vision the gray areas of an argument so often presented in black and white."
— New York Times Book Review

Kind of Kin is about how we are all connected and how we might transcend barriers of race and fear. Askew's astonishing ending, which, like life, is messy and incomplete, and so filmic, you might find yourself casting the characters.
— San Francisco Chronicle

"Intelligent and gripping...Askew's strength as a novelist is just this; through an accretion of believable detail and judgment-free descriptions, she creates characters in whose fate you can't help but become invested."
— Minneapolis Star Tribune

"Askew deftly weaves these storylines together to create an engaging read."
— Tulsa World

"Written in the rawboned, heartfelt and often funny prose that has defined much of her [Askew's] earlier acclaimed works on the Great Plains…Extraordinary novel."
— Huffington Post

"Kind of Kin is equally full of grace, humor and much love for Oklahoma and its people. A contemporary classic, this novel is an ideal choice for book clubs and anyone with a love of character-driven, lyrically written and issues-oriented fiction."
— Tulsa Book Review

"Kind of Kin does not disappoint. In fact, it is so good, so cogent and poignant and dead-on perspective, I would very much like to make it required reading for anyone who harbors strong opinions on immigration policy, on either side of the metaphorical border."
— Dallas News

"Askew has created a realistic and compassionate reflection of the people who populate our neighborhoods and our nation today."
— Seattle Times