Showdown: The Inside Story of How Obama Fought Back Against Boehner, Cantor, and the Tea Party (Hardcover)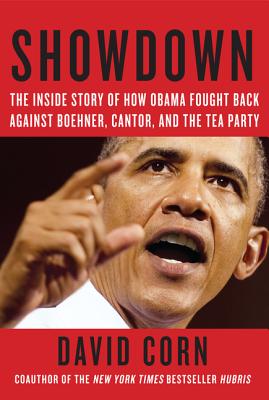 Please email or write store for pricing and availability information.
Special Request - May Not Be Available
Description
---
Veteran journalist David Corn--Washington Bureau Chief for Mother Jones magazine and New York Times bestselling author of Hubris (with Michael Isikoff) and The Lies of George W. Bush--now brings us Showdown, the dramatic inside story of Barack Obama's fight to save his presidency. With Bob Woodward-esque insight and narrative flair, Corn takes readers into the White House and behind the political scenes during the beleaguered president's pivotal third year, and explores the most earth-shaking events of the Obama presidency--from the game changing 2010 elections to the Arab Spring, the debt ceiling battle with Congressional Republicans, the killing of Osama bin Laden and beyond.

Praise For…
---
"A great book - the real inside story. If you want to understand the Obama White House and how Washington works, you have to read it."
-Chris Matthews

"Best account yet of how Obama strategizes."
-Jefferson Morley, Salon.com

"A dramatic behind-the-scenes account of the decision making that occured within the Obama White House following the disastrous-for-Democrats 2010 midterm election... shows how Obama got his groove back in time for the 2012 campaign."
-Huffington Post

"Through the lens of policy battles, you get a remarkably vivid pen portrait of Obama himself and how he thinks."
-Kevin Drum, Mother Jones

"Fine book about how the Obama administration maneuvered to it's advantage in the face of the catastrophic loses of the 2010 midterm elections."
-Charles P. Pierce, Esquire

"Why did Obama and Democrats pivot so hard towards deficit reductions, and away from job creation after the 2010 elections? We now have a book that sheds some fresh light on what drove this pivot. ... Corn reports on a number of behind the scene discussions...illuminating."
-Greg Sargent, the Washington Post

" Showdown focuses on key moments of Obama's presidency."
-Mackenzie Weinger, Politico.com

"Insta-history of Obama... good."
-David Weigel, Slate.com

"Showdown chronicles the administration over the past two years."
-USA Today

"Veteran Washington journalist Corn highlights the Obama presidency's most important and dramatic events ... the book brings a different perspective just as Obama fights for re-election."
-Publishers Weekly