Buying Gift Cards is easy! Simply hover over 'SHOP', select 'Gift Cards', and complete your details.
Free shipping over $75.00 on all Media Mail eligible orders.
We Only Know So Much: A Novel (Paperback)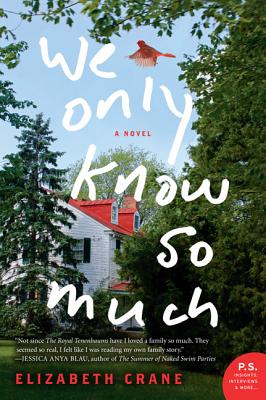 Email or call for price. Handling fee may apply.
Available to Order - Usually Arrives in Our Store in 4 to 7 Days
Description
---
A funny and moving debut novel that follows four generations of a singularly weird American family, all living under one roof, as each member confronts a moment of crisis in a narrative told through a uniquely quirky, charming, and unforgettable voice. Acclaimed short story writer Elizabeth Crane, well known to public radio listeners for her frequent and captivating contributions to WBEZ Chicago's
Writer's Block Party
, delivers a sublime, poignant, and often hilarious first novel, perfect for fans of Jessica Anya Blau's
The Summer of Naked Swim Parties
and Heather O'Neill's
Lullabies for Little Criminals
.
"Crane has a distinctive and eccentric voice that is consistent and riveting." —New York Times Book Review

About the Author
---
Elizabeth Crane is the author of the novel We Only Know So Much and three collections of short stories. Her stories have been featured on NPR's Selected Shorts. She is a recipient of the Chicago Public Library 21st Century Award, and her work has been adapted for the stage by Chicago's Steppenwolf Theatre Company. A feature film adaptation of We Only Know So Much will be released in 2016.
Praise For…
---
"At last a novel from Elizabeth Crane! With her expert humorist's eye for detail, she gives us a playful, passionate story of longing, heartbreak, and of the gargantuan human will. You won't be able to stop reading."
— Deb Olin Unferth, author of Revolution

"Not since The Royal Tenenbaums have I loved a family so much. The Copelands of WE ONLY KNOW SO MUCH are wonderfully eccentric, hilariously not self-aware and strangely adorable. They seemed so real, I felt like I was reading my own family story."
— Jessica Anya Blau, author of The Summer of Naked Swim Parties and Drinking Closer to Home

"This is the kind of book that inspires a person to see the beauty in the ordinary, to stop concentrating on others' failings long enough to see their spark and maybe rediscover his or her own."
— Susan Henderson, author of Up from the Blue

"Crane delivers a unique and dizzying tale that delves into the emotional life of a family teetering on the brink of everything. . . . The beauty in Crane's novel is her sweep from acid commentary to heartfelt portrayal of real-life loves and losses."
— Kirkus Reviews

"Crane's novel is filled with deliciously idiosyncratic characters, humorous and distinct narration, and a whole lot of personality. Each character's emotional growth is just enough to satisfy, without being overbearing. . . . Crane's summer novel has undeniable heart."
— Publishers Weekly

"This is an irresistible and winsome read. A truly astute tale of love neglected and reclaimed, family resiliency, spiritual inquiries, and personal metamorphoses."
— Booklist (starred review)

"A beautiful, warmhearted, ferociously honest debut that will pull you in with its chorus of true voices and catch you off guard with its playful, restless edginess."
— Patrick Somerville, author of The Cradle and This Bright River

"What I know for sure is this: Elizabeth Crane understands family. The simple pleasures, the daily outrage, the constant burying of secrets. Be careful what you say to your children -- they are listening. A funny and remarkable first novel."
— Marcy Dermansky, author of Bad Marie and Twins

"Its style is literary, with an edge: The point of view is wicked, the characters prickly, the language not quite quotable here. I can't wait to read past the first chapter."
— Los Angeles Times

"The Copelands would feel right at home in a Noah Baumbach movie. . . . Our narrator is an omniscient 'We' who reports the goings-on of the family with the breathless glee of an incurable gossip."
— Entertainment Weekly

"Like any good story writer, she had me in the first two paragraphs. . . . A treat to read. The characters are crisp and enjoyable; the narrator is smart and witty."
— IOWA PRESS-CITIZEN