FREE shipping on book orders over $75.00 (Media Mail within USA)
Gift Cards are easy! Hover over SHOP on the bar above and select Gift Cards from the drop down menu.
Quick tip: If a book is listed as "On our Shelves" - call the store for quickest pick up.
The Notes: Ronald Reagan's Private Collection of Stories and Wisdom (Hardcover)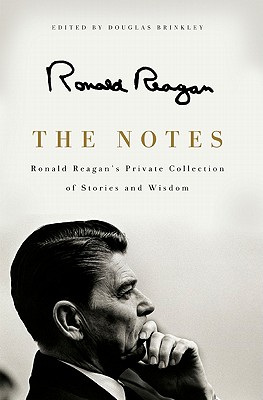 Please email or write store for pricing and availability information.
Special Request - May Not Be Available
Description
---
Ronald Reagan left behind a legacy that America willnever forget. Now, in this one-of-a-kind collection of his most intimatethoughts, his favorite quotations by others, and his own most collectiblejokes, all culled from a newly disclosed set of personal notecards he keptthroughout his life and career, fans and admirers of the fortieth presidentwill find a unique window of insight into the soul of an American icon. Editedby Douglas Brinkley, editor of #1 NewYork Times bestseller The ReaganDiaries, this indispensible Reagan retrospective is perfect for fathers,graduates, and anyone looking to find inspiration in the thoughts and musingsof a great American leader.
About the Author
---
Ronald Reagan was the 40th President of the United States.
Praise For…
---
"Reading these diaries, Americans will find it easier to understand how Reagan did what he did for so long: by steady work, and a steadfast commitment to the job at hand. . . . They paint a portrait of a president who was engaged by his job and had a healthy perspective on power."
— Jon Meacham, Newsweek

"The chief executive who emerges from these pages has a capacious attention to and knowledge of this country and the world. . . . Reagan the diarist is at home with himself, unself-consciously comfortable. . . . Two things run through the diaries like a thread: One is a kind of gee-whiz everyman's delight in finding himself in such interesting and enjoyable circumstances; the other is his love for and reliance on Nancy."
— Tim Rutten, The Los Angeles Times

"These are amusing and enlightening diaries. . . . I quite simply couldn't put them down."
— Christopher Hitchens, The Times

"It's amazing what nuggets of information you can unearth deep within a book as jampacked as The Reagan Diaries."
— Walter Pincus, The Washington Post

"The book offers a window into the mind of the nation's 40th president and displays the effort he made behind the scenes to hone his performance as a speechmaker and storyteller driving home a conservative political philosophy."
— USA Today

"This volume provides an illuminating glimpse into Reagan's mind. . . . The entries show the directness of Reagan's thought and his uncanny ability to make a point."
— The Daily

"These notes are wonderful things. . . . Although a few recent books have proclaimed to have finally uncovered the real Reagan, there's a chance we'll never get any closer than in these scribbles, which reveal so much."
— Christopher Buckley, Bloomberg News

"Now with the discovery of his note cards, we can better appreciate just how hard Reagan himself labored to be clear and convincing—and, yes, sometimes funny—to his many audiences."
— The American Spectator

"This is a book to return to often and sample the collected wisdom found there that buttressed a remarkable man's vision."
— The Washington Times