Waiting for Sunrise (Hardcover)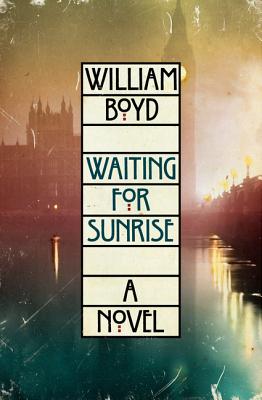 Please email or write store for pricing and availability information.
Special Request - May Not Be Available
May 2012 Indie Next List
---
"Lysander Reif, a young man undergoing psychoanalysis in Vienna in 1913, is slowly drawn into a web of espionage and danger when his lover accuses him of rape and the British Embassy steps in to rescue him from years in an Austrian prison. Who is betraying the British war plans to its enemies? Are Reif's superiors trying to frame him? The twists and turns of Boyd's plot will keep readers guessing until the very end!"
— Susan Taylor, Market Block Books, Troy, NY
Description
---
From one of our most celebrated and imaginative writers comes a spellbinding novel about deception, betrayal, psychoanalysis, and the mysteries of the human heart. William Boyd follows his critically acclaimed novels A Good Man in Africa, Brazzaville Beach, and Ordinary Thunderstorms with a razor-sharp, incandescent thriller in Waiting for Sunrise. A provocative exploration of the line between consciousness and reality is nested within a tense, rollercoaster plotline following as a young English actor ensnared in a bewildering scandal with an enigmatic woman in early twentieth-century Vienna. Sophisticated, page-turning, and unforgettable, Boyd's Waiting for Sunrise is a triumph of literary fiction from one of the most powerful, thought-provoking writers working today.

Praise For…
---
"It's ages since I read a novel that offers such breathlessly readable narrative enjoyment, such page-by-page storytelling confidence and solidity. Boyd has a positive genius for pace and description."
-The Independent

"Always a smooth and expert storyteller, Boyd effortlessly combines historical detail with a sexy, galloping narrative that proves irresistible."
-People (4 stars)

"Boyd retrofits a genre full of familiar devices and character types with finer textures and deeper psychology than it typically boasts. . . . Waiting for Sunrise manages to conjure an atmosphere of genuine disorientation that most spy novels gesture toward and few, if any, attain."
-Laura Miller, Salon

"Boyd is a born story teller whose clear, taut prose never gets in the way of his characters and their unpredictable fates."
-The Wall Street Journal

"Thoroughly entertaining. . . . Waiting for Sunrise has the pace of a spy thriller, with code-cracking and double-crossing aplenty."
-The New Yorker

"Sex, psychiatry and Vienna on the eve of World War I - those are promising ingredients for a novel. And William Boyd makes the most of them. . . . Boyd's narrative moves briskly, and his local color is deftly done."
-The Seattle Times

"As ever with Boyd there is an effortlessness to the prose and a piercing acuity to the period detail and evocation of place, along with thrilling set pieces. . . .[This book] proves that rarest of beasts: a tantalizingly experimental work that is also an immensely satisfying page-turner."
-The Telegraph

"This is the sort of novel you finish, then begin again to revisit your favourite bits. . . . More than anything Waiting for Sunrise is a gleeful celebration of storytelling -- sly, clever, frequently hilarious, always involving. . . . This is the literary event of the year."
-The Times (UK)

"A page-turner. . . . A thinking person's thriller."
-Good Housekeeping

"Waiting for Sunrise retains a consistent intrigue and a splendidly intricate plot. . . . The denouement plays out with characteristic suspense and masterful design. . . . [Boyd has] a truly remarkable imagination."
-The Huffington Post

"A literary thriller that genuinely thrills, a plot-driven novel assembled by a master of plotting. The deftness with which Boyd knits together a complex cast of characters is immaculate. . . . It demonstrates yet again this writer's unrivalled versatility and consistency."
-The Financial Times

"Superb. . . . To read a William Boyd novel is to open a bottle of wine, light a fire, sit back in your favourite armchair and trust that the master practitioner will take you on an intriguing and unpredictable journey. He's done it again."
-The Spectator (UK)

"Fans of previous Boyd novels will find themselves on gratifyingly familiar ground in Waiting for Sunrise. . . . Few contemporary writers are able to evoke the ambiance and drama of our recent past as forcefully as Boyd. . . . Boyd's prose is often radiant."
-The Washington Post Book World

"An evocative mix of sex, spies, and psychoanalysis. . . . Fans of the author will love and recognize all the hallmarks of Boyd's best books."
-CNN.com

"A tantalizing, fast-paced spy novel. . . . As seductive as it is, Waiting for Sunrise is no bodice-ripper. It's a brainteaser, charged with uncertainty and danger, electric with restraint."
-The New York Times Book Review

"Powerfully entertaining. . . . Boyd's ability to evoke a sense of time and place is unmatched. . . . He has been perfecting the craft of globetrotting entertainment for the past three decades."
-The Richmond Times-Dispatch

"A thoughtfully plotted story, whose twists and turns reveal the price its characters pay in trust. . . . Boyd is a nimble and entertaining writer."
-The Philadelphia Inquirer

"Waiting for Sunrise does the neat trick of evolving from a historical romance into a seat-of-the-pants spy thriller. . . . This is Boyd's stage, on which he is a virtuoso."
-The San Antonio Express-News

"The narrative in this novel is almost seamless. . . . This atmospheric novel is elegantly crafted by a London writer who serves up a rich portrayal of human psychology and a plot that is both engaging and imaginative."
-The Tucson Citizen