The Burlesque Handbook (Hardcover)
TatteredCover.com Has New Hours!
We will be accepting orders Tuesdays at 10am through Saturdays at 5pm
You will still be able to browse books and add them to your shopping cart, but you will not be able to complete an order beginning at 5pm (MDT) on Saturdays, and until 10am on Tuesdays.
---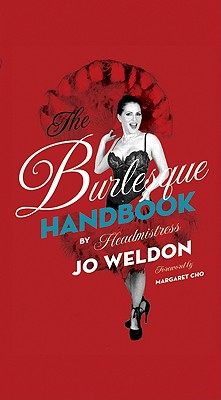 Please email or write store for pricing and availability information.
Special Request - May Not Be Available
Description
---
"Jo Weldon is the gold-standard for New Burlesque. I am proud to call her my friend, and unashamed to admit she's my idol." — Lily Burana, author of Strip City: A Stripper's Farewell Journey Across America
From one of the stars of the New Burlesque scene, Jo Weldon, comes a definitive, easy-to-use, and indispensable guide to the art form, with a foreword by superstar comedian and burlesque enthusiast Margaret Cho. Fans of Dita Von Teese—as well as performers of every stripe—will love the helpful advice and feisty attitude of The Burlesque Handbook.
About the Author
---
Jo Weldon is an expert in the study of contemporary burlesque, women's issues, and fashion. Her writings and transcripts of lectures on the history of leopard print have been published in Mental Floss, Time Out New York, and the New York Times. As headmistress of the New York School of Burlesque, she teaches weekly classes and tours internationally, teaching and performing. Weldon combines years of professional experience as an adult entertainer with a deep understanding of women's issues. She has presented media analyses of women's rights in conferences around the country and lobbied at the U.N. for inclusion of diverse perspectives in human rights initiatives. She lives in New York City. You can find more of her work, and more about leopard print, at www.joweldon.com.
Praise For…
---
"Jo Weldon is the gold-standard for New Burlesque. A learned burly-q historian, a skilled and gracious teacher, and a breathtaking, world-class performer, she's everything you could want in a shimmy queen. I am proud to call her my friend, and unashamed to admit she's my idol."
— Lily Burana, author of Strip City: A Stripper's Farewell Journey Across America and head bombshell of Operation Bombshell: The Burlesque School for Military Wives

"That's Jo Weldon – and she's perfect!"
— Leighton Meester, star of Gossip Girl

"Jo is one of the true champions of the burlesque world….Hearing her speak, seeing her teach, and marveling at the way she has been the driving force behind successful events is a real pleasure for me!"
— Catherine D'Lish, Two-Time Miss Exotic World, Creative Director for Dita Von Teese

"When you need an academic diatribe about the importance of burlesque in a gorgeous package served with sex appeal, intelligence and love, that's Jo! This woman is passionate about burlesque and can recreate the sex appeal of the genre lost long ago."
— Dirty Martini, Muse to Karl Lagerfeld, Voted #1 Burlesque Performer in the World 2010

"When Jo performed at Exotic World, I'd never been so mesmerized by a woman sitting on a chair. That's the mark of a true performance!"
— Immodesty Blaize, Miss Exotic World 2007 and the UK's Premier Burlesque Performer

"Jo is not only one of the most classically elegant dancers ever to grace the Slipper Room Stage, but in my humble opinion, she is also one of the sexiest performers I've ever known."
— James Habacker, Artistic Director, The Slipper Room NYC

"Why she's willing to make the secrets of her fantastic skills available to the public is beyond me, but if I were you, I'd buy this book quick, before she changes her mind."
— Jonny Porkpie, author of The Corpse Wore Pasties, creator of Pinchbottom Burlesque