Parish Priest: Father Michael McGivney and American Catholicism (Paperback)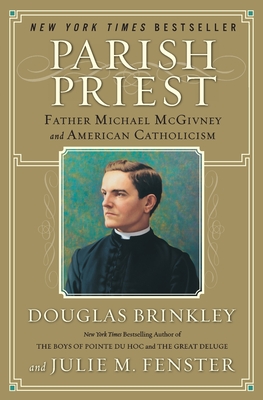 Email or call for price. Handling fee may apply.
Available to Order - Usually Arrives in Our Store in 4 to 7 Days
Description
---
The first commercial, in-depth biography of the American-born Roman Catholic priest who may well be declared a saint. . . . "Delightful. . . . No magisterial biography emanating a suffocating aura of pomp and self-importance, this book is as low-key and as uplifting as Father Michael McGivney himself."—Calgary Herald
"Father McGivney's vision remains as relevant as ever in the changed circumstances of today's Church and society."—Pope John Paul II
In a time of discrimination and poverty for Catholics across America, Father Michael McGivney (1852-1890), began a legacy of hope that continues to this day. Called to action in 1882 by his sympathy for these suffering people, this dynamic yet tenderhearted man—the son of Irish immigrants— founded the Knights of Columbus, an organization that has saved countless families from destitution.
At heart, Father McGivney was the model of an American parish priest: Beloved by children, trusted by adults, and regarded as a "positive saint" by the elderly in his New Haven, CT, parish—a truly holy man whose life and works are still celebrated today.
About the Author
---
Douglas Brinkley is the Katherine Tsanoff Brown Chair in Humanities and Professor of History at Rice University, a CNN Presidential Historian, and a contributing editor at Vanity Fair.  In the world of public history, he serves on boards, at museums, at colleges, and for historical societies. The Chicago Tribune dubbed him "America's New Past Master." The New-York Historical Society has chosen Brinkley as its official U.S. Presidential Historian. His recent book Cronkite won the Sperber Prize, while The Great Deluge: Hurricane Katrina, New Orleans, and the Mississippi Gulf Coast received the Robert F. Kennedy Book Award. He was awarded a Grammy for Presidential Suite and is the recipient of seven honorary doctorates in American studies. His two-volume, annotated Nixon Tapes recently won the Arthur S. Link–Warren F. Kuehl Prize. He is a member of the Century Association, the Council on Foreign Relations, and the James Madison Council of the Library of Congress. He lives in Austin, Texas, with his wife and three children.
 www.douglasbrinkley.com
Julie M. Fenster is an award-winning author and historian, specializing in the American story. In 2006 her book Parish Priest, written with coauthor Douglas Brinkley, was a New York Times bestseller for seven weeks. She also wrote Ether Day: The Strange Tale of America's Greatest Medical Discovery and the Haunted Men Who Made It, which won the prestigious Anesthesia Foundation Award for Best Book. Fenster is the author of six other books, including Race of the Century: The Heroic True Story of the 1908 New York to Paris Auto Race and The Case of Abraham Lincoln: A Story of Adultery, Murder, and the Making of a Great President.