Up in Honey's Room (Mass Market Paperbound)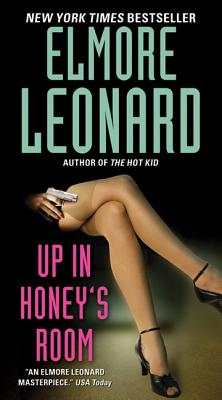 Please email or write store for pricing and availability information.
Special Request - May Not Be Available
Description
---
Sweet Honey Deal's not sure what compelled her to marry Walter Schoen, possibly the most boring man on Earth. So she quickly rectified the situation by leaving the dour German-born butcher to start a new life. A good thing, too, now that America's at war with Adolf Hitler and Walter's loyalty to his adopted country was always questionable. Even better, now U.S. Marshal Carl Webster wants to come up to Honey's room for an official "chat" . . . and for something more intimate, if Honey has anything to say about it.
The feds' legendary "Hot Kid," Carl's hunting two German POWs who escaped from an Oklahoma internment camp. Maybe Honey's estranged hubby knows something. Maybe Honey knows something. Maybe Carl can stay faithful to his wife. Or maybe they're all about to get tangled up--along with a sultry Ukrainian spy and her transvestite manservant--in a nutty assassination plot that can't possibly succeed . . .
Praise For…
---
"Combines everything we love about Leonard's works--big guns, morally clueless murderers, sexy dames and handsome lawmen. A masterpiece."
-USA Today

"When you read Elmore Leonard, you enter Mr. Leonard's world. A trip like that is its own kind of vacation."
-New York Times

"Reading UP IN HONEY'S ROOM is like dancing with the stars and Elmore Leonard's the star."
-Washington Post

"Bullets fly, but as with most ELmore Leonard novels, things really move when the dialogue gets going. Grade A."
-Christian Science Monitor

"Proof that (Leonard) is at the top of his game."
-Seattle Times

"The dialogue flows as fast and smooth as any words ever uttered in the service of a story."
-Booklist (starred review)

"Elmore Leonard is still at the top of his game."
-Philadelphia Inquirer

"It's the cast of characters that makes readers keep turning the pages."
-Richmond Times-Dispatch

"Leonard's writing--line by line--is as sharp as ever."
-Publishers Weekly

"With Dashiell Hammett-type wit (Leonard) has once again created characters who live far beyond their storylines."
-Boston Globe

"Honey Deal is hot, hot, hot. Classic Leonard."
-Toronto Sun

"No American author has a better ear for dialogue. Leonard is as straight a shooter as his hot-kid hero."
-Newsday

"A best-selling bet. Dead-perfect dialogue, deadpan humor and dead-on vivid characters typical of Leonard."
-Cleveland Plain Dealer

"The wisecracks and sexy patter and vivid characters are what make Leonard a guy we're always happy to see."
-St. Petersburg Times

"The kind of delicious drama that will keep you coming back for more."
-Buffalo News

"A great summer read."
-Pittsburgh Post-Gazette

"UP IN HONEY'S ROOM is a fun read. Leonard's gift for dialogue is as shiny as ever."
-Vancouver Sun

"As usual, (Elmore Leonard) tells his story in his flawlessly colloquial prose style, with pitch-perfect dialogue.
-Associated Press

"So compulsive, so entertaining, so satisfying. Dialogue as imaginative, unpredictable and witty as we have come to expect from Leonard."
-The Times (London)

"Action-packed and pricelessly funny."
-The Age (Melbourne, Australia)

"The pacing is fast. The dialogue is dead-on. This is vintage Leonard."
-Poughkeepsie Journal