A Dirty Job (Hardcover)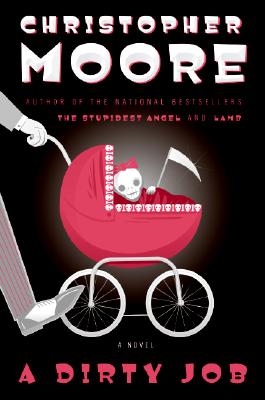 Please email or write store for pricing and availability information.
Special Request - May Not Be Available
Staff Reviews
---
       This book unveils the life of Charlie Asher after the passing of his wife and the discovery of a large green suited man standing over her. Learn and laugh with Charlie as he deals with being an owner of a thrift store, and a worker for death. Along the way he is thrown into the most dangerous situations of battling sewer demons and raising a daughter whose pets keep mysteriously dying, until of course she gets some dogs from the underworld. This book is not all jokes though, for along this gripping plot you'll find Charlie Asher understanding the biggest conundrum of all: what is death and how do you deal with it? I rated this book so high for its magnificent combination of humor, mind boggling mystery, while still maintaining a serious approach on the philosophy of death." ~Cole
— Cole is always reading. You can trust what he says.
Description
---
Charlie Asher is a pretty normal guy. A little hapless, somewhat neurotic, sort of a hypochondriac. He's what's known as a Beta Male: the kind of fellow who makes his way through life by being careful and constant -- you know, the one who's always there to pick up the pieces when the girl gets dumped by the bigger/taller/stronger Alpha Male.
But Charlie's been lucky. He owns a building in the heart of San Francisco, and runs a secondhand store with the help of a couple of loyal, if marginally insane, employees. He's married to a bright and pretty woman who actually loves him for his normalcy. And she, Rachel, is about to have their first child.
Yes, Charlie's doing okay for a Beta. That is, until the day his daughter, Sophie, is born. Just as Charlie -- exhausted from the birth -- turns to go home, he sees a strange man in mint-green golf wear at Rachel's hospital bedside, a man who claims that no one should be able to see him. But see him Charlie does, and from here on out, things get really weird. . . .
People start dropping dead around him, giant ravens perch on his building, and it seems that everywhere he goes, a dark presence whispers to him from under the streets. Strange names start appearing on his nightstand notepad, and before he knows it, those people end up dead, too. Yup, it seems that Charlie Asher has been recruited for a new job, an unpleasant but utterly necessary one: Death. It's a dirty job. But hey, somebody's gotta do it.
Christopher Moore, the man whose Lamb served up Jesus' "missing years" (with the funny parts left in), and whose Fluke found the deep humor in whale researchers' lives, now shines his comic light on the undiscovered country we all eventually explore -- death and dying -- and the results are hilarious, heartwarming, and a hell of a lot of fun.
Praise For…
---
"Makes you laugh in the face of death."
-Rocky Mountain News

"[Moore] is superb in this mock epic of death and love. Smart people will be enormously amused."
-Library Journal (starred review)

"My top pick for laugh-out-loud reading . . . dark, dark, dark and funny, funny, funny."
-Sarasota Herald-Tribune

"Hilarious yet poignant."
-Hartford Courant

"Outlandishly funny."
-Syracuse Post-Standard

"One of the antic Moore's funniest capers yet."
-Kirkus Reviews

"Dizzyingly inventive and hypnotically engaging, A DIRTY JOB is . . . like no other book I've ever read."
-Gregory Maguire, author of Wicked and Son of a Witch

"[A] wonderful, whacked-out yarn."
-Publishers Weekly

"Moore's signature tossed-off humor is in full effect, and it's easy to care about his warm, lumpy, honest characters."
-Entertainment Weekly

"To keep a straight face while reading this book, one would have to be dead already ... Grade: A."
-Rocky Mountain News

"[Moore's] most speculative, tripped-out and deeply felt book to date."
-The Oregonian (Portland)

"A bravura mix of the familiar and the hilariously original."
-Denver Post

"[A DIRTY JOB] will keep a smile on your face long after you put it down."
-Cleveland Plain Dealer

"Outstanding . . . The dialogue follows a zany illogic worthy of the Marx brothers."
-Washington Post Book World

"Death, of course, is not usually a funny subject, but in the hands of Christopher Moore it sure is."
-Hartford Courant