Buying Gift Cards is easy! Simply hover over 'SHOP', select 'Gift Cards', and complete your details.
Free shipping over $75.00 on all Media Mail eligible orders.
The Boys of Pointe du Hoc: Ronald Reagan, D-Day, and the U.S. Army 2nd Ranger Battalion (Paperback)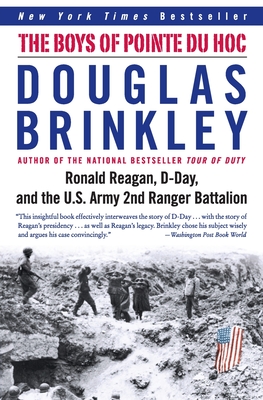 Email or call for price. Handling fee may apply.
Available to Order - Usually Arrives in Our Store in 4 to 7 Days
Description
---
The 100-foot promontory known as Pointe du Hoc -- where six big German guns were ensconced -- was the number one target of the heavy U.S. and British warships poised in the English Channel on D-Day morning. Facing arguably the toughest task to befall U.S. forces during the war, the brave men of the Army 2nd Ranger Battalion boldly took control of the fortified cliff and set in motion the liberation of Europe.
Based upon recently released documents, here is the first in-depth, anecdotal remembrance of these fearless Army Rangers. Acclaimed author and historian Douglas Brinkley deftly moves between events four decades apart to tell two riveting stories: the making of Ronald Reagan's historic 1984 speeches about the storming of the Normandy coast and the actual heroic event that inspired them and helped to end the Second World War.
About the Author
---
Douglas Brinkley is the Katherine Tsanoff Brown Chair in Humanities and Professor of History at Rice University, a CNN Presidential Historian, and a contributing editor at Vanity Fair.  In the world of public history, he serves on boards, at museums, at colleges, and for historical societies. The Chicago Tribune dubbed him "America's New Past Master." The New-York Historical Society has chosen Brinkley as its official U.S. Presidential Historian. His recent book Cronkite won the Sperber Prize, while The Great Deluge: Hurricane Katrina, New Orleans, and the Mississippi Gulf Coast received the Robert F. Kennedy Book Award. He was awarded a Grammy for Presidential Suite and is the recipient of seven honorary doctorates in American studies. His two-volume, annotated Nixon Tapes recently won the Arthur S. Link–Warren F. Kuehl Prize. He is a member of the Century Association, the Council on Foreign Relations, and the James Madison Council of the Library of Congress. He lives in Austin, Texas, with his wife and three children.
 www.douglasbrinkley.com
Praise For…
---
"Brinkley knows there is sometimes a theater to war and always to its remembrance."
— Publishers Weekly

"Compelling reading."
— New Orleans Times-Picayune

"Riveting."
— Chicago Tribune

"The Boys of Pointe du Hoc are needed today.... An important and entertaining book."
— Bill O'Reilly, host of The O'Reilly Factor

"Brinkley knows there is sometimes a theater to war and always to its remembrance."
— Chris Matthews, host of Hardball and author of Kennedy and Nixon

"In this jewel of a book, Douglas Brinkley proves his skills as a master storyteller."
— Doris Kearns Goodwin, author of No Ordinary Time

"A gripping account of the Rangers who scaled Pointe du Hoc; and a bold, even brilliant treatment of Reaganesque stagecraft."
— Richard Norton Smith, Executive Director, Abraham Lincoln Presidential Library

"In this fascinating new study, Douglas Brinkley... sheds fresh light on the making of a crucial presidential moment."
— Jon Meacham, author of Franklin and Winston

"A powerful tale that celebrates, and explores, the patriotism and pride inspired by America's brave soldiers."
— Walter Isaacson, author of Benjamin Franklin

"Both the novice and D-Day historian will want to read The Boys of Pointe du Hoc."
— JoAnna McDonald, author of The Liberation of Pointe du Hoc