Buying Gift Cards is easy! Simply hover over 'SHOP', select 'Gift Cards', and complete your details.
Free shipping over $75.00 on all Media Mail eligible orders.
Tour of Duty: John Kerry and the Vietnam War (Paperback)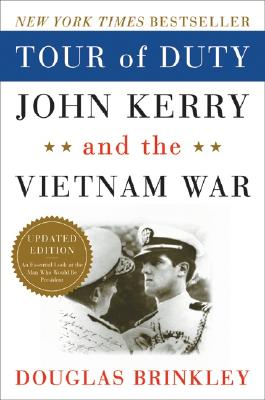 Email or call for price. Handling fee may apply.
Available to Order - Usually Arrives in Our Store in 4 to 7 Days
Description
---
One of our most acclaimed historians explores the decorated military service of one of America's most intriguing politicians—the leading Democratic presidential candidate for 2004—and its profound effects on his career and life
In Tour of Duty, Brinkley explores Senator John Kerry's career and deftly deals with such explosive issues as U.S. atrocities in Vietnam and the bombing of Cambodia. Using new information acquired from the recently released Nixon tapes, Brinkley reveals how White House aides Charles Colson and H.R. Haldeman tried to discredit Kerry. Refusing to be intimidated, Kerry started running for public office, eventually becoming a U.S. Senator from Massachusetts.
Covering more than four decades, this is the first full-scale definitive account of Kerry's journey from war to peace. In writing this riveting, action-packed narrative, Brinkley has drawn on extensive interviews with virtually everyone who knew Kerry well in Vietnam. Kerry also relegated to Brinkley his letters home from Vietnam and his voluminous "war notes" journals, notebooks, and personal reminiscences written during and shortly after the war. This material was provided without restriction, to be used at Brinkley's discretion, and has never before been published.
About the Author
---
Douglas Brinkley is the Katherine Tsanoff Brown Chair in Humanities and Professor of History at Rice University, a CNN Presidential Historian, and a contributing editor at Vanity Fair.  In the world of public history, he serves on boards, at museums, at colleges, and for historical societies. The Chicago Tribune dubbed him "America's New Past Master." The New-York Historical Society has chosen Brinkley as its official U.S. Presidential Historian. His recent book Cronkite won the Sperber Prize, while The Great Deluge: Hurricane Katrina, New Orleans, and the Mississippi Gulf Coast received the Robert F. Kennedy Book Award. He was awarded a Grammy for Presidential Suite and is the recipient of seven honorary doctorates in American studies. His two-volume, annotated Nixon Tapes recently won the Arthur S. Link–Warren F. Kuehl Prize. He is a member of the Century Association, the Council on Foreign Relations, and the James Madison Council of the Library of Congress. He lives in Austin, Texas, with his wife and three children.
 www.douglasbrinkley.com