The goal of Hue-Man Experience at Tattered Cover is to help individuals, organizations and businesses that want to learn more about underrepresented titles and authors, have a trustworthy brand to source relevant material. Hue-Man Experience will source from all major and independent publishers, as well as conducting its own efforts to locate local talent. Within Tattered Cover's organization, Hue-Man Experience will focus on identifying, curating and recommending diverse authors, writers and artists, to ensure thoughtful representation from Black, Indigenous and People of Color throughout its stores.
---
DECEMBER 2022 Hue-Man RECOMMENDATIONS ►►►
HAPPY HOLIDAYS!
With the holiday season in full swing and the end of the year just around the corner,
there is no better time to give the gift of a noteworthy 2022 release.
---
FINDING ME: A MEMOIR
By Viola Davis

► As I wrote Finding Me, my eyes were open to the truth of how our stories are often not given close examination. We are forced to reinvent them to fit into a crazy, competitive, judgmental world. So I wrote this for anyone running through life untethered, desperate and clawing their way through murky memories, trying to get to some form of self-love. For anyone who needs reminding that a life worth living can only be born from radical honesty and the courage to shed facades and be . . . you.

Finding Me is a deep reflection, a promise, and a love letter of sorts to self. My hope is that my story will inspire you to light up your own life with creative expression and rediscover who you were before the world put a label on you.

THE LIGHT WE CARRY: OVERCOMING UNCERTAIN TIMES
By Michelle Obama

► In an inspiring follow-up to her critically acclaimed, #1 bestselling memoir Becoming, former First Lady Michelle Obama shares practical wisdom and powerful strategies for staying hopeful and balanced in today's highly uncertain world.

THE VIOLIN CONSPIRACY
By Brendan Slocumb

► Ray McMillian is a Black classical musician on the rise - undeterred by the pressure and prejudice of the classical music world - when a shocking theft sends him on a desperate quest to recover his great-great-grandfather's heirloom violin. On the eve of the most prestigious musical competition in the world, he must battle all those around him who claim ownership over his prized possession, as he seeks to fulfill his dreams.

MOON WITCH, SPIDER KING
By Marlon James

► The highly anticipated sequel to the award-winning Black Leopard, Red Wolf , Moon Witch, Spider King is the second book of the Dark Star trilogy. In this sequel, Sogolon the Moon Witch gives her version of events from how she plotted and fought to track down the missing boy, intertwined with the story of her century-long feud with the Aesi, making it a fascinating read for anyone who loved the first fantastical novel.

MEMPHIS
By Tara M. Stringfellow

► Unfolding over seventy years through a chorus of unforgettable voices that move back and forth in time, Memphis paints an indelible portrait of inheritance, celebrating the full complexity of what we pass down, in a family and as a country: brutality and justice, faith and forgiveness, sacrifice and love.

THE LAST SUSPICIOUS HOLDOUT: STORIES
By Ladee Hubbard

► The thirteen gripping tales In The Last Suspicious Holdout, deftly chronicle poignant moments in the lives of an African American community located in a "sliver of southern suburbia." The stories provide a stunning testament to the enduring resilience of Black people as they navigate the "post-racial" period.

BLACK PANTHER WAKANDA FOREVER: THE COURAGE TO DREAM
By Frederick Joseph

► The Courage to Dream tells the story of Assata, a young Wakandan who hopes to become one of the Dora Milaje, the warriors who protect Wakanda. But because of Assata's disability, she lets go of her dream.

Assata's light shows through all the same, introducing her to surprising friends: the princess Shuri, the warrior Okoye, and the powerful M'Baku. But only Assata can give herself what she's missing: the courage to dream.

NIGHTCRAWLING
By Leila Mottley

► Kiara and her brother, Marcus, are scraping by in an East Oakland apartment complex optimistically called the Regal-Hi. Both have dropped out of high school, their family fractured by death and prison. But while Marcus clings to his dream of rap stardom, Kiara hunts for work to pay their rent--which has more than doubled--and to keep the nine-year-old boy next door, abandoned by his mother, safe and fed. One night, what begins as a drunken misunderstanding with a stranger turns into the job Kiara never imagined wanting but now desperately needs: nightcrawling. Her world breaks open even further when her name surfaces in an investigation that exposes her as a key witness in a massive scandal within the Oakland Police Department.

HALF-BLOWN ROSE
By Leesa Cross-Smith

► An irresistible story of a woman remaking her life after her husband's betrayal leads to a year of travel, art, and passion in Paris, from the award-winning author of This Close to Okay.
---
NOVEMBER 2022 Hue-Man RECOMMENDATIONS ►►►
BLACK COOKING
As the holidays approach what better time to reflect on and celebrate our rich cultural culinary contributions? Far from one dimensional, the authors of hundreds of cookbooks spanning generations show the range, intellect and ingenuity of Black chefs and Black culinary traditions across the diaspora. Here are some recommendations that capture the limitless genius — and tastiness — of Black cooking.
---
KOSHERSOUL: THE FAITH AND FOOD JOURNEY OF AN AFRICAN AMERICAN JEW
By Michael W. Twitty
► Michael W. Twitty, the noted culinary and cultural historian makes the case in this delightful smorgasbord that Blackness and Judaism can coexist in harmony. He demonstrates how this is manifested in the foods and traditions from both cultures that Black Jews incorporate into their daily lives. By serving up a hefty helping of heart and wit, Twitty's book offers important insight into the journeys of Black Jews.
JUSTICE OF THE PIES
By Maya-Camille Broussard
► In Justice of the Pies, Maya-Camille Broussard shares more than 85 recipes for sweet and savory pies and other mouthwatering creations that put her social mission–based bakery on the map, including her famous Salted Caramel Peach Pie, as well as hearty renditions like the Fig + Pig Quiche. Maya-Camille also tells the stories of heroes outside the kitchen: luminaries who strive for social justice and equity, and shares recipes they've inspired. Maya-Camille's bakery was launched in honor of her father, who was a criminal defense attorney and had a deep love of baking pie. Through her bakery she proves that good work and delicious decadence can go hand in hand.

► The breakout star of Food Network's hit show Delicious Miss Brown celebrates the Gullah/Geechee culinary traditions of her family in this spectacular cookbook featuring 125 original mouthwatering recipes and gorgeous four-color photos. In this, her first cookbook, Kardea shares her multi-generational "passed down" recipes and innovative takes on Gullah classics. The Way Home is an unabashed love letter to her family's roots, packed with dishes that combine West African herbs, spices, and grains with traditional Southern cooking.
BETWEEN HARLEM AND HEAVEN
By JJ Johnson and Alexander Smalls with Veronica Chambers
► Between Harlem and Heaven presents a captivatingly original cuisine; Afro-Asian-American cooking, packed with unique and delicious layers of flavor. More than just a cookbook. Smalls and Johnson take us on a culinary journey through space and time that started more than 400 years ago on the shores of West Africa. Through inspiring recipes that have survived the Middle Passage to seamlessly embrace Asian influences, this book is a testimony to the fact that food transcends borders.
GHETTO GASTRO PRESENTS BLACK POWER KITCHEN
By Jon Gray, Pierre Serrao, Lester Walker, Osayi Endolyn
► Part cookbook. Part manifesto. Created with big Bronx energy, Black Power Kitchen combines 75 mostly plant-based, layered-with-flavor recipes with immersive storytelling, diverse voices, and striking images and photographs that celebrate Black food and Black culture. Ghetto Gastro offers an awakening of what Black food was, is, and inspires larger conversations about race, history, food inequality, and how eating well can be a pathway to personal freedom and self-empowerment.
JUBILEE
By Toni Tipton-Martin
► James Beard award winner Tipton-Martin lays out a comprehensive account of African American recipes and foodways. Through her more than 100 recipes and stories, we cook along with pioneering figures, from enslaved chefs to middle- and upper-class writers and entrepreneurs. Jubilee presents techniques, ingredients, and dishes that show the roots of African American cooking, deeply beautiful, culturally diverse and fit for celebration.
---
SEPTEMBER 2022 Hue-Man RECOMMENDATIONS ►►►
BACK TO SCHOOL
Highly Anticipated Books to Check Out as You Head into the Fall
---
UNDER THE SKIN: THE HIDDEN TOLL OF RACISM ON AMERICAN LIVES AND ON THE HEALTH OF OUR NATION
By Linda Villarosa
► Linda Villarosa lays bare the forces in the American health-care system and in American society that cause Black people to "live sicker and die quicker" compared to their white counterparts. Today's medical texts and instruments still carry fallacious slavery-era assumptions that Black bodies are fundamentally different from white bodies. Study after study of medical settings show worse treatment and outcomes for Black patients. Black people live in dirtier, more polluted communities due to environmental racism and neglect from all levels of government. And, most powerfully, Villarosa describes the new understanding that coping with the daily scourge of racism ages Black people prematurely.
Linda Villarosa will visit Tattered Cover Colfax on Tuesday, September 13 at 6pm.
Don't miss this event! CLICK HERE for more info!
Want to know more? Check out Linda's interview with her mother, Clara Villarosa in Shelf Awareness here!
THE TRAYVON GENERATION
By Elizabeth Alexander
► The Trayvon Generation expands the viral essay that spoke so resonantly to the persistence of race as an ongoing issue at the center of the American experience. Alexander looks both to our past and our future with profound insight, brilliant analysis, and mighty heart, interweaving her voice with groundbreaking works of art by some of our most extraordinary artists. At this crucial time in American history when we reckon with who we are as a nation and how we move forward, Alexander's lyrical prose gives us perspective informed by historical understanding, her lifelong devotion to education, and an intimate grasp of the visioning power of art.
► In a world that would be allegorical if it weren't saturated in harsh truths, Cato and William meet at Placid Hall, a plantation in an unspecified part of the American South. Subject to the whims of their tyrannical and eccentric captor, Cannonball Greene, they never know what harm may befall them: inhumane physical toil in the plantation's quarry by day, a beating by night, or the sale of a loved one at any moment. It's that cruel practice—the wanton destruction of love, the belief that Black people aren't even capable of loving—that hurts the most. But as the group learns what freedom might truly mean, they reimagine what life and love they could have in a story that shines a brutal light upon America's shameful history.
YINKA, WHERE IS YOUR HUZBAND?
By Lizzie Damilola Blackburn
► This romantic comedy follows Yinka, who has an education, a great job, a balanced life, and a bright future, but no husband — a constant pressure she feels from her family and friends. Though she believes she will find love when the time is right. This fresh, uplifting story of an unconventional heroine who bravely asks the questions we all have about love. Wry, moving, irresistible, this is a love story that makes you smile but also makes you think--and explores what it means to find your way between two cultures, both of which are yours.
BLACK CAKE
By Charmaine Wilkerson
► We can't choose what we inherit. But can we choose who we become?
In present-day California, Eleanor Bennett's death leaves behind a puzzling inheritance for her two children, Byron and Benny: a black cake, made from a family recipe with a long history, and a voice recording. Charmaine Wilkerson's debut novel is a story of how the inheritance of betrayals, secrets, memories, and even names can shape relationships and history. Deeply evocative and beautifully written, Black Cake is an extraordinary journey through the life of a family changed forever by the choices of its matriarch.
SOUTH TO AMERICA
By Imani Perry
► With meticulous research and a personal narrative, Dr. Imani Perry retraces the landscape of the American South and demonstrates how Southern history is inextricably linked to America's present and therefore must be deeply understood in order to understand America. This is the story of a Black woman and native Alabaman returning to the region she has always called home and considering it with fresh eyes. Her journey is full of detours, deep dives, and surprising encounters with places and people. She renders Southerners from all walks of life with sensitivity and honesty, sharing her thoughts about a troubling history and the ritual humiliations and joys that characterize so much of Southern life.
---
JUNE 2022 Hue-Man RECOMMENDATIONS ►►►
SEE ME!
LGBTQIA+ Books You Need to Know
This month takes a look into the minds and hearts of less well-known authors who capture the complexity, beauty and story of Black, queer folks. Whether in memoirs or through fictional protagonists, these books highlight the unique lives and struggles of Black, queer individuals, reminding us of the importance of love, community, and representation regardless of sexual or gender identity.

Additionally, this month's list also celebrates Father's day, the experience of vulnerability and beauty of
parenting through the lens of Black fatherhood.
---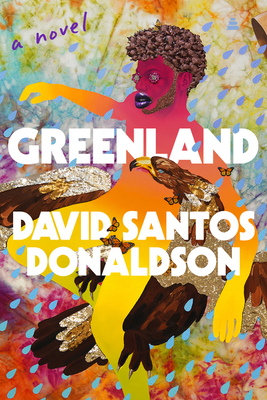 GREENLAND
By David Santos Donaldson
► A dazzling, debut novel-within-a-novel in the vein of The Prophets and Memorial, about a young author writing about the secret love affair between E.M. Forster and Mohammed el Adl--in which Mohammed's story collides with his own, blending fact and fiction.
ALL BOYS AREN'T BLUE
By George M. Johnson
► In a series of personal essays, prominent journalist and LGBTQIA+ activist George M. Johnson explores his childhood, adolescence, and college years in New Jersey and Virginia. From the memories of getting his teeth kicked out by bullies at age five, to flea marketing with his loving grandmother, to his first sexual relationships, this young-adult memoir weaves together the trials and triumphs faced by Black queer boys.

► From National Book Award finalist Akwaeke Emezi comes a companion novel to the critically acclaimed PET that explores both the importance and cost of social revolution--and how youth lead the way.

BLACK BOY OUT OF TIME: A MEMOIR
By Hari Ziyad
► Heartwarming and heart-wrenching, radical and reflective, Hari Ziyad's vital memoir is for the outcast, the unheard, the unborn, and the dead. It offers us a new way to think about survival and the necessary disruption of social norms. It looks back in tenderness as well as justified rage, forces us to address where we are now, and, born out of hope, illuminates the possibilities for the future.
BLACK GIRL, CALL HOME
By Jasmine Mans
► With echoes of Gwendolyn Brooks and Sonia Sanchez, Mans writes to call herself—and us—home. Each poem explores what it means to be a daughter of Newark, and America—and the painful, joyous path to adulthood as a young, queer Black woman. Black Girl, Call Home is a love letter to the wandering Black girl and a vital companion to any woman on a journey to find truth, belonging, and healing.
THE ESSENTIAL JUNE JORDAN
By June Jordan
► Written over the span of several decades―from Some Changes in 1971 to Last Poems in 2001­―Jordan's poems are at once of their era and tragically current, with subject matter including racist police brutality, violence against women, and the opportunity for global solidarity amongst people who are marginalized or outside of the norm. In these poems of great immediacy and radical kindness, humor and embodied candor, readers will (re)discover a voice that has inspired generations of contemporary poets to write their truths.
FILTHY ANIMALS
By Brandon Taylor
► One of the breakout literary stars of 2020, Brandon Taylor has been hailed by Roxane Gay as "a writer who wields his craft in absolutely unforgettable ways." With Filthy Animals he renews and expands on the promise made in Real Life, training his precise and unsentimental gaze on the tensions among friends and family, lovers and others. Psychologically taut and quietly devastating, Filthy Animals is a tender portrait of the fierce longing for intimacy, the lingering presence of pain, and the desire for love in a world that seems, more often than not, to withhold it.
THE PROPHETS
By Robert Jones, Jr.
► With a lyricism reminiscent of Toni Morrison, Robert Jones, Jr., fiercely summons the voices of slaver and enslaved alike, from Isaiah and Samuel to the calculating slave master to the long line of women that surround them, women who have carried the soul of the plantation on their shoulders. As tensions build and the weight of centuries—of ancestors and future generations to come—culminates in a climactic reckoning, The Prophets fearlessly reveals the pain and suffering of inheritance, but is also shot through with hope, beauty, and truth, portraying the enormous, heroic power of love.
••••• FATHER'S DAY •••••
DEAR BLACK MEN
by Jewel Guy
► Dear Black Men is a self-reflective journal and healing tool. It gives Black men the opportunity to reflect and express their feelings within these pages without interruption or judgment. It is an opportunity for Black men to feel heard and understood. The purpose is to create empathy while dispelling the lies, assumptions, and uncommunicated expectations that are often placed on Black men. Simply put, Dear Black Men is a mirror. Are you open to being vulnerable?

HAIR LOVE
By Matthew A. Cherry
► Tender and empowering, Hair Love is an ode to loving your natural hair -- and a celebration of daddies and daughters everywhere. A perfect gift for special occasions including Father's Day, birthdays, baby showers, and more!

POP: A CELEBRATION OF BLACK FATHERHOOD
By Carol Ross
► In 51 visually stunning, emotionally compelling portraits, acclaimed photographer Carol Ross presents a hopeful, heartwarming, and caring view of black fatherhood in the United States. In an era that pays little positive attention to black fathers, Ross' inspirational perspective on the relationships between black men and their children is vitally important and long overdue.
---

MAY 2022 Hue-Man RECOMMENDATIONS ►►►
LET'S TALK ABOUT IT
Books About Emotional Health, Wellness and Self Care
SET BOUNDARIES, FIND PEACE
By Nedra Glover Tawwab
► Licensed counselor, sought-after relationship expert, and one of the most influential therapists on Instagram Nedra Glover Tawwab demystifies this complex topic for today's world. In a relatable and inclusive tone, Set Boundaries, Find Peace presents simple-yet-powerful ways to establish healthy boundaries in all aspects of life. Rooted in the latest research and best practices used in cognitive behavioral therapy (CBT), these techniques help us identify and express our needs clearly and without apology--and unravel a root problem behind codependency, power struggles, anxiety, depression, burnout, and more.
I'M TELLING THE TRUTH, BUT I'M LYING: ESSAYS
By Bassey Ikpi
► In I'm Telling the Truth, But I'm Lying, Bassey Ikpi breaks open our understanding of mental health by giving us intimate access to her own. Exploring shame, confusion, medication, and family in the process, Bassey looks at how mental health impacts every aspect of our lives—how we appear to others, and more importantly to ourselves—and challenges our preconception about what it means to be "normal." Viscerally raw and honest, the result is an exploration of the stories we tell ourselves to make sense of who we are—and the ways, as honest as we try to be, each of these stories can also be a lie.


HEAVY: AN AMERICAN MEMOIR
By Kiese Laymon
► Heavy is a "gorgeous, gutting…generous" (The New York Times) memoir that combines personal stories with piercing intellect to reflect both on the strife of American society and on Laymon's experiences with abuse. By attempting to name secrets and lies he and his mother spent a lifetime avoiding, he asks us to confront the terrifying possibility that few in this nation actually know how to responsibly love, and even fewer want to live under the weight of actually becoming free.
MY GRANDMOTHER'S HANDS
By Resmaa Menakem

► In this groundbreaking work, therapist Resmaa Menakem examines the damage caused by racism in America from the perspective of body-centered psychology. He argues this destruction will continue until Americans learn to heal the generational anguish of white supremacy, which is deeply embedded in all our bodies. My Grandmother's Hands is a call to action for all of us to recognize that racism is not about the head, but about the body, and introduces an alternative view of what we can do to grow beyond our entrenched racialized divide.

INVISIBLE MAN, GOT THE WHOLE WORLD WATCHING YOU: A YOUNG BLACK MAN'S EDUCATION
By Mychal Denzel Smith

► In Invisible Man, Got the Whole World Watching, Mychal Denzel Smith chronicles his own personal and political education during these tumultuous years, describing his efforts to come into his own in a world that denied his humanity. Smith unapologetically upends reigning assumptions about black masculinity, rewriting the script for black manhood so that depression and anxiety aren't considered taboo, and feminism and LGBTQ rights become part of the fight. The questions Smith asks in this book are urgent–for him, for the martyrs and the tokens, and for the Trayvons that could have been and are still waiting.
THE UNAPOLOGETIC GUIDE TO BLACK MENTAL HEALTH: NAVIGATE AN UNEQUAL SYSTEM, LEARN TOOLS FOR EMOTIONAL WELLNESS, AND GET THE HELP YOU DESERVE
By Rheeda Walker
► In The Unapologetic Guide to Black Mental Health, psychologist and African American mental health expert Rheeda Walker offers important information on the mental health crisis in the Black community, how to combat stigma, spot potential mental illness, how to practice emotional wellness, and how to get the best care possible in system steeped in racial bias.
This breakthrough book will help you:
Recognize mental and emotional health problems

Understand the myriad ways in which these problems impact overall health and quality of life and relationships

Develop psychological tools to neutralize ongoing stressors and live more fully

Navigate a mental health care system that is unequal
•••••••••• MOTHER'S DAY GIFT GUIDE •••••••••••
► Brit Bennett's debut novel tells the story of a young woman growing up without a mother and having to deal with her own pregnancy lacking this strong maternal presence. Set in Southern California, the New York Times Best Seller follows Nadia Turner, a rebellious seventeen-year-old whose mother commits suicide six months before the novel begins. To deal with the grief of her mother's passing, Nadia strikes up a romance with the pastor's son. The romance ultimately culminates in a pregnancy and subsequent cover up.
WHAT WE LOSE
By Zinzi Clemmons

► Clemmons informs readers about the contemporary issues affecting Black mothers in America when one loses their maternal figure. What We Lose chronicles a young woman as she deals with her mother's passing to cancer, falls in love and the process of becoming a mother herself.
DEAR IJEAWELE, OR A FEMINIST MANIFESTO IN FIFTEEN SUGGESTIONS
By Chimamanda Ngozi Adichie
► After receiving a letter from a new mother asking for guidance on how to raise a feminist, Chimamanda Ngozi Adichie penned this book. Providing fifteen pieces of advice, Adichie guides readers on the best ways to raise a young, independent woman. Adichie is best known for her bestselling book, We Should All Be Feminists, which encourages a more inclusive definition of feminism in the 21st-century.
THE THREE MOTHERS
By Anna Malaika Tubbs
► In her groundbreaking and essential debut The Three Mothers, scholar Anna Malaika Tubbs celebrates Black motherhood by telling the story of the three women who raised and shaped some of America's most pivotal heroes. The book documents the lives of three Black mothers whose passions and intellects shaped some of America's most famous Civil Rights activists. It highlights the essential lives of Alberta King, Louise Little and Berdis Baldwin, analyzing how Black women resist racism, mother, and are the backbone of our nation.
---
APRIL 2022 RECOMMENDATIONS ►►►
BLACK ROOTS
Books by Environmentalists and about Environmental Justice and Nature (Earth Day)
What does nature and the natural environment mean to us as Black individuals? The answer is a journey of reliance, resistance, resilience and reconciliation. It is a history of Black peoples' deep connection to the land -- this relationship an integral part of our story, our culture, our belonging. Our people have always worked with the land, agriculture deeply entrenched in our livelihoods. We find deep connection to the earth through food, whether grown in abundance or for survival. We followed the stars to freedom, our music -- jazz, blues, soul -- narrates the sounds of the trees, the movement of water and the feeling of sunlight on our bodies. Land has been taken from us, we have been dispersed across continents, regularly navigating environmental racism, having language of nature being used to oppress, and vice versa. And yet, so much of our continued fight for liberation is based out of our access to nature, the attainment of our own spaces, cultivating deep relationships and learnings from the soil, plants, and animals -- finding freedom together.
---
This month, we are lucky to share a video from New York Times Magazine award-winning writer, Linda Villarosa, as she
highlights two particularly important books on the April Hue-Man Experience List. Linda Villarosa is the daughter of
Hue-Man Experience founder and monthly book list curator, Clara Villarosa.
---
FARMING WHILE BLACK
By Leah Penniman
► Some of our most cherished sustainable farming practices have roots in African wisdom. Yet, discrimination and violence against African-American farmers has led to their decline from 14 percent of all growers in 1920 to less than 2 percent today, with a corresponding loss of over 14 million acres of land. Further, Black communities suffer disproportionately from illnesses related to lack of access to fresh food and healthy natural ecosystems. Soul Fire Farm, cofounded by author, activist, and farmer Leah Penniman, is committed to ending racism and injustice in our food system. Through innovative programs such as the Black-Latinx Farmers Immersion, a sliding-scale farmshare CSA, and Youth Food Justice leadership training, Penniman is part of a global network of farmers working to increase farmland stewardship by people of color, restore Afro-indigenous farming practices, and end food apartheid.
Farming While Black, extends Penniman's work by offering the first comprehensive manual for African-heritage people ready to reclaim their rightful place of dignified agency in the food system. This one-of-a-kind guide provides readers with a concise "how-to" for all aspects of small-scale farming.
WE ARE EACH OTHER'S HARVEST
By Natalie Baszile
► In this impressive anthology, Natalie Baszile brings together essays, poems, photographs, quotes, conversations, and first-person stories to examine black people's connection to the American land from Emancipation to today. As Baszile reveals, black farming informs crucial aspects of American culture—the family, the way our national identity is bound up with the land, the pull of memory, the healing power of food, and race relations. She reminds us that the land, well-earned and fiercely protected, transcends history and signifies a home that can be tended, tilled, and passed to succeeding generations with pride. We Are Each Other's Harvest elevates the voices and stories of black farmers and people of color, celebrating their perseverance and resilience, while spotlighting the challenges they continue to face. Luminous and eye-opening, this eclectic collection helps people and communities of color today reimagine what it means to be dedicated to the soil.

ALL WE CAN SAVE
Edited by Ayana Elizabeth Johnson & Katharine K. Wilkinson
► All We Can Save illuminates the expertise and insights of dozens of diverse women leading on climate in the United States—scientists, journalists, farmers, lawyers, teachers, activists, innovators, wonks, and designers, across generations, geographies, and race—and aims to advance a more representative, nuanced, and solution-oriented public conversation on the climate crisis. These women offer a spectrum of ideas and insights for how we can rapidly, radically reshape society.
Intermixing essays with poetry and art, this book is both a balm and a guide for knowing and holding what has been done to the world, while bolstering our resolve never to give up on one another or our collective future. We must summon truth, courage, and solutions to turn away from the brink and toward life-giving possibility. Curated by two climate leaders, the book is a collection and celebration of visionaries who are leading us on a path toward all we can save.
DUMPING IN DIXIE
By Robert D. Bullard
*LINDA VILLAROSA HIGHLIGHT*
► To be poor, working-class, or a person of color in the United States often means bearing a disproportionate share of the country's environmental problems. Starting with the premise that all Americans have a basic right to live in a healthy environment, Dumping in Dixie chronicles the efforts of five African American communities, empowered by the civil rights movement, to link environmentalism with issues of social justice. In the third edition, Bullard, the father of Environmental Justice, speaks to us from the front lines of the movement about new developments in environmental racism, different organizing strategies, and success stories in the struggle for environmental equity.
WASTE
By Catherine Coleman Flower
*LINDA VILLAROSA HIGHLIGHT*
► Catherine Coleman Flowers, a 2020 MacArthur "genius," grew up in Lowndes County, Alabama, a place that's been called "Bloody Lowndes" because of its violent, racist history. Once the epicenter of the voting rights struggle, today it's Ground Zero for a new movement that is also Flowers's life's work—a fight to ensure human dignity through a right most Americans take for granted: basic sanitation. Too many people, especially the rural poor, lack an affordable means of disposing cleanly of the waste from their toilets and, as a consequence, live amid filth.
In this inspiring story of the evolution of an activist, from country girl to student civil rights organizer to environmental justice champion at Bryan Stevenson's Equal Justice Initiative, Flowers shows how sanitation is becoming too big a problem to ignore as climate change brings sewage to more backyards—not only those of poor minorities.
ROOTED IN THE EARTH
By Dianne D. Glave
► In Rooted in the Earth, environmental historian Dianne D. Glave overturns the stereotype that a meaningful attachment to nature and the outdoors is contrary to the black experience. In tracing the history of African Americans' relationship with the environment, emphasizing the unique preservation-conservation aspect of black environmentalism, and using her storytelling skills to re-create black naturalists of the past, Glave reclaims the African American heritage of the land. This book is a groundbreaking, important first step toward getting back into nature, not only for personal growth but for the future of the planet.
•••••••••• CHILDREN'S BOOKS •••••••••••
THE IMPOSSIBLE GARDEN
By Mélina Mangal
► Jayden and a new friend bring nature to the city in this timeless story about a community garden. Amidst all the buildings, people, and traffic in his neighborhood, Jayden sees nature everywhere: the squirrels scrounging, the cardinals calling, and the dandelions growing. But Mama doesn't believe there's nature in the city. So Jayden sets out to help Mama see what he sees. With the help of his friend Mr. Curtis, Jayden plants the seeds of a community garden and brings together his neighbors--and Mama--to show them the magic of nature in the middle of the city.
WHERE'S RODNEY?
By Carmen Bogan
► Where's Rodney? highlights the importance of outdoors experiences for children whose strengths don't always shine in a traditional classroom setting. Rodney is thrilled to touch tree bark and feel rain on his skin, experiences he could have in the city, but he only knows one park. Without being heavy-handed, the book gives the impression that there is no safe place for him to experience nature at home. The book was published in partnership with Yosemite Conservancy, and the epilogue explains how readers can go about visiting a county, state, or national park. Beautiful illustrations by Coretta Scott King award-winner Floyd Cooper capture the park's majesty and Rodney's joy.
ALICIA AND THE HURRICANE/ALICIA Y EL HURACAN
By Leslea Newman
► Bestselling author Lesléa Newman offers a tender and timely story of a Puerto Rican child facing a hurricane and her concern for the beloved coquíes of her home island. Alicia and the Hurricane is a tender look at the resilience of people, and native creatures, whose lives have been disrupted by a natural disaster. With love and support, family and friends come together to share, rebuild, and fill Alicia's heart with hope.
---
MARCH 2022 RECOMMENDATIONS ►►►

SHEROES: BLACK FEMALE TRAILBLAZERS
---
HOW WE GET FREE
By Keeanga-Yamahtta Taylor
► The Combahee River Collective, a path-breaking group of radical black feminists, was one of the most important organizations to develop out of the antiracist and women's liberation movements of the 1960s and 70s. In this collection of essays and interviews edited by activist-scholar Keeanga-Yamahtta Taylor, founding members of the organization and contemporary activists reflect on the legacy of its contributions to Black feminism and its impact on today's struggles.
ASSATA: AN AUTOBIOGRAPHY
By Assata Shakur
► This intensely personal and political autobiography belies the fearsome image of JoAnne Chesimard long projected by the media and the state. With wit and candor, Assata Shakur recounts the experiences that led her to a life of activism and portrays the strengths, weaknesses, and eventual demise of Black and White revolutionary groups at the hand of government officials. The result is a signal contribution to the literature about growing up Black in America that has already taken its place alongside The Autobiography of Malcolm X and the works of Maya Angelou.
INTIMATIONS: SIX ESSAYS
By Zadie Smith
► Written during the early months of lockdown, Intimations explores ideas and questions prompted by an unprecedented situation. What does it mean to submit to a new reality--or to resist it? How do we compare relative sufferings? What is the relationship between time and work? In our isolation, what do other people mean to us? How do we think about them? What is the ratio of contempt to compassion in a crisis? When an unfamiliar world arrives, what does it reveal about the world that came before it?
Suffused with a profound intimacy and tenderness in response to these extraordinary times, Intimations is a slim, suggestive volume with a wide scope, in which Zadie Smith clears a generous space for thought, open enough for each reader to reflect on what has happened--and what should come next.
ANGELA DAVIS: AN AUTOBIOGRAPHY
By Angela Y. Davis
► Angela Davis has been a political activist at the cutting edge of the Black Liberation, feminist, queer, and prison abolitionist movements for more than 50 years. First published and edited by Toni Morrison in 1974, An Autobiography is a powerful and commanding account of her early years in struggle. Davis describes her journey from a childhood on Dynamite Hill in Birmingham, Alabama, to one of the most significant political trials of the century: from her political activity in a New York high school to her work with the U.S. Communist Party, the Black Panther Party, and the Soledad Brothers; and from the faculty of the Philosophy Department at UCLA to the FBI's list of the Ten Most Wanted Fugitives. Told with warmth, brilliance, humor and conviction, Angela Davis's autobiography is a classic account of a life in struggle with echoes in our own time.

VICE PRESIDENT KAMALA HARRIS: HER PATH TO THE WHITE HOUSE
By Malaika Adero
► When Kamala Harris became vice president of the United States, she made history as the first woman, first Black person, first South Asian American, and first Caribbean American to hold the office. This stunning book covers Harris's life from her childhood in Berkeley to her Howard College years, charting the many firsts she has carried with her throughout her legal and senatorial careers. It also explores Harris's presidential campaign, her family (her husband, Doug Emhoff, is the first Second Gentleman and the first Jewish vice presidential spouse), the inauguration and her first months in the White House, and includes sidebars giving historical context to Black and female representation in government. Harris's inspiring journey is brought to life with 120 photographs, quotes, highlights from notable speeches, and insightful commentary from Malaika Adero.
A GOOD CRY: WHAT WE LEARN FROM TEARS AND LAUGHTER
By Nikki Giovanni
► As energetic and relevant as ever, Nikki offers an intimate, affecting, and illuminating look at her personal history and the mysteries of her own heart. In A Good Cry, she takes us into her confidence, describing the joy and peril of aging and recalling the violence that permeated her parents' marriage and her early life. She pays homage to the people who have given her life meaning and joy: her grandparents, who took her in and saved her life; the poets and thinkers who have influenced her; and the students who have surrounded her.
THE SOURCE OF SELF-REGARD: SELECTED ESSAYS, SPEECHES, AND MEDITATIONS
By Toni Morrison
► These pages give us her searing prayer for the dead of 9/11, her Nobel lecture on the power of language, her searching meditation on Martin Luther King Jr., her heart-wrenching eulogy for James Baldwin. She looks deeply into the fault lines of culture and freedom: the foreigner, female empowerment, the press, money, "black matter(s)," human rights, the artist in society, the Afro-American presence in American literature. And she turns her incisive critical eye to her own work (The Bluest Eye, Sula, Tar Baby, Jazz, Beloved,Paradise) and that of others.

ON GIRLHOOD: 15 STORIES FROM THE WELL-READ BLACK GIRL LIBRARY
By Glory Edim
► At times heartbreaking and at times hilarious, these stories boldly push past flat stereotypes and powerfully convey the beauty of Black girlhood. In bringing together an array of influential authors—past and present—whose work remains timeless, Glory Edim has created an indispensable compendium for every home library and a soul-stirring guide to coming of age.
Featuring stories by Jamaica Kincaid, Toni Morrison, Dorothy West, Rita Dove, Camille Acker, Toni Cade Bambara, Amina Gautier, Alexia Arthurs, Dana Johnson, Alice Walker, Gwendolyn Brooks, Edwidge Danticat, Shay Youngblood, Paule Marshall, and Zora Neale Hurston.

I PUT A SPELL ON YOU: THE AUTOBIOGRAPHY OF NINA SIMONE
By Nina Simone
► James Baldwin used to tell Nina Simone, "This is the world you have made for yourself, now you have to live in it." Simone has created for herself a world of magnificent peaks. Often compared to Billie Holiday and Edith Piaf, Simone is known as one of the greatest singers of her generation. She has recorded forty-three albums, ranging from blues to jazz to folk, and her hits like "I Loves You, Porgy," "My Baby Just Cares for Me," "I Put a Spell on You," and "Mississippi Goddam" have confirmed her as an enduring force in popular music. Her song "Young, Gifted, and Black" became the anthem for the Civil Rights Movement and thrust her beyond international stardom into the center of activism. But such worlds as Simone's are not without their grim valleys: disastrous marriages, arrest and the threat of imprisonment, mental breakdown, poverty, and attempted suicide. She has survived these trials and continues to perform throughout Europe and the United States. With undiminished passion and in her unconquerable voice, this is Nina Simone's powerful memoir of her tempestuous life.
---
FEBRUARY 2022 RECOMMENDATIONS ►►►

BLACK POWER, BLACK PRIDE
These Black history month selections represent our collective past, present and future.
They include iconic historical books and contemporary works - both of which teach and inform. These words soothe the soul but also steel our gaze as
we look ahead passionately and unflinchingly to shape our world to come.
---
► "The word 'love' is most often defined as a noun, yet we would all love better if we used it as a verb," writes bell hooks as she comes out fighting and on fire in All About Love. Here, at her most provocative and intensely personal, renowned scholar, cultural critic and feminist bell hooks offers a proactive new ethic for a society bereft with lovelessness--not the lack of romance, but the lack of care, compassion, and unity. People are divided, she declares, by society's failure to provide a model for learning to love.
As bell hooks uses her incisive mind to explore the question "What is love?" her answers strike at both the mind and heart. Razing the cultural paradigm that the ideal love is infused with sex and desire, she provides a new path to love that is sacred, redemptive, and healing for individuals and for a nation. All About Love is a powerful, timely affirmation of just how profoundly her revelations can change hearts and minds for the better.
THE DEAD ARE ARISING: THE LIFE OF MALCOLM X
By Les Payne
► An epic biography of Malcolm X finally emerges, drawing on hundreds of hours of the author's interviews, rewriting much of the known narrative. Les Payne, the renowned Pulitzer Prize-winning investigative journalist, embarked in 1990 on a nearly 30-year-long quest to interview anyone he could find who had actually known Malcolm X - all living siblings of the Malcolm Little family, classmates, street friends, cellmates, Nation of Islam figures, FBI moles and cops, and political leaders around the world. His goal was ambitious: to transform what would become more than a hundred hours of interviews into an unprecedented portrait of Malcolm X, one that would separate fact from fiction.
WE ARE EACH OTHER'S HARVEST
By Natalie Baszile
► In this impressive anthology, Natalie Baszile brings together essays, poems, quotes, conversations, and first-person stories to examine Black people's connection to the American land from Emancipation to today. In the 1920s, there were over one million Black farmers; today there are just 45,000. Baszile explores this crisis, through the farmers' personal experiences. In their own words, middle-aged and elderly Black farmers explain why they continue to farm despite systemic discrimination and land loss. The "Returning Generation" - young farmers, who are building upon the legacy of their ancestors, talk about the challenges they face as they seek to redress issues of food justice, food sovereignty, and reparations.
BLACK BIRDS IN THE SKY
By Brandy Colbert
► A searing new work of nonfiction from award-winning author Brandy Colbert about the history and leågacy of one of the most deadly and destructive acts of racial violence in American history: the Tulsa Race Massacre.


THE WORLD ACCORDING TO FANNIE DAVIS
By Bridgett M. Davis
► A daughter's moving homage to an extraordinary parent, The World According to Fannie Davis is also the suspenseful, unforgettable story about the lengths to which a mother will go to "make a way out of no way" to provide a prosperous life for her family - and how those sacrifices resonate over time. This original, timely, and deeply relatable portrait of one American family is essential listening.
DELICIOUS FOODS
By James Hannaham
► Held captive by her employers--and by her own demons--on a mysterious farm, a widow struggles to reunite with her young son in this uniquely American story of freedom, perseverance, and survival.
ANOTHER COUNTRY
By James Baldwin
► Set in Greenwich Village, Harlem, and France, among other locales, Another Country is a novel of passions--sexual, racial, political, artistic--that is stunning for its emotional intensity and haunting sensuality, depicting men and women, blacks and whites, stripped of their masks of gender and race by love and hatred at the most elemental and sublime.
HOW LONG 'TIL BLACK FUTURE MONTH?
By N. K. Jemisin
► Spirits haunt the flooded streets of New Orleans in the aftermath of Hurricane Katrina. In a parallel universe, a utopian society watches our world, trying to learn from our mistakes. A black mother in the Jim Crow South must save her daughter from a fey offering impossible promises. Three-time Hugo Award winner and NYT bestselling author N. K. Jemisin challenges and delights readers with thought-provoking narratives of destruction, rebirth, and redemption that sharply examine modern society in her first collection of short fiction, which includes never-before-seen stories.

FOUR HUNDRED SOULS
By Ibram X. Kendi and Keisha N. Blain
► A powerful work by Kendi and Blain, Four Hundred Souls assembles 90 different perspectives of Black people beginning in 1619 throughout 400 years of slavery and racism in a one-volume "community" history of African Americans.
HITTING A STRAIGHT LICK WITH A CROOKED STICK: STORIES FROM THE HARLEM RENAISSANCE
By Zora Neale Hurston
► A magnificent collection of Neale Hurston's writing on racism, classism, sexism, gender and migration. A classical piece that challenges our perspective of Black folks and our culture.
---
JANUARY 2022 RECOMMENDATIONS ►►►
REFLECTION AND INTENTION
January marks the beginning of a new year, and whether you decided to set a resolution, or not,
this month is the perfect time to reflect on the past year and go into the next one with intention.
Dive into one of these reads for inspiration! The sky is the limit.
---
► As bell hooks uses her incisive mind to explore the question "What is love?" her answers strike at both the mind and heart. Razing the cultural paradigm that the ideal love is infused with sex and desire, she provides a new path to love that is sacred, redemptive, and healing for individuals and for a nation. The Utne Reader declared bell hooks one of the "100 Visionaries Who Can Change Your Life." All About Love is a powerful, timely affirmation of just how profoundly her revelations can change hearts and minds for the better.
► "Brilliant . . . To read this book is to become more human."—Claudia Rankine, author of Citizen
Binding these essays together is Hong's theory of "minor feelings." As the daughter of Korean immigrants, Cathy Park Hong grew up steeped in shame, suspicion, and melancholy. She would later understand that these "minor feelings" occur when American optimism contradicts your own reality—when you believe the lies, you're told about your own racial identity. Minor feelings are not small, they're dissonant—and in their tension Hong finds the key to the questions that haunt her.
THE AFROMINIMALIST'S GUIDE TO LIVING WITH LESS
By Christine Platt

► Beautifully illustrated with original black-and-white prints and line drawings, The Afrominimalist's Guide to Living With Less is a testament to the idea that anyone can be a minimalist and a warm invitation to a life curated with intention, perfect for readers of Joshua Fields Millburn and Ryan Nicodemus (The Minimalists), Marie Kondo, Joshua Becker, and Courtney Carver.

I TAKE MY COFFEE BLACK
By Tyler Merritt
► Tyler Merritt's video "Before You Call the Cops" has been viewed millions of times. He's appeared on Jimmy Kimmel and Sports Illustrated and has been profiled in the New York Times. The viral video's main point—the more you know someone, the more empathy, understanding, and compassion you have for that person—is the springboard for this book. By sharing his highs and exposing his lows, Tyler welcomes us into his world in order to help bridge the divides that seem to grow wider every day.

By turns witty, insightful, touching, and laugh-out-loud funny, I Take My Coffee Black paints a portrait of black manhood in America and enlightens, illuminates, and entertains—ultimately building the kind of empathy that might just be the antidote against the racial injustice in our society.

► At times heartbreaking and at times hilarious, these stories boldly push past flat stereotypes and powerfully convey the beauty of Black girlhood. In bringing together an array of influential authors—past and present—whose work remains timeless, Glory Edim has created an indispensable compendium for every home library and a soul-stirring guide to coming of age.
Featuring stories by Jamaica Kincaid, Toni Morrison, Dorothy West, Rita Dove, Camille Acker, Toni Cade Bambara, Amina Gautier, Alexia Arthurs, Dana Johnson, Alice Walker, Gwendolyn Brooks, Edwidge Danticat, Shay Youngblood, Paule Marshall, and Zora Neale Hurston.