La Edad de los Milagros = The Age of Miracles (Paperback)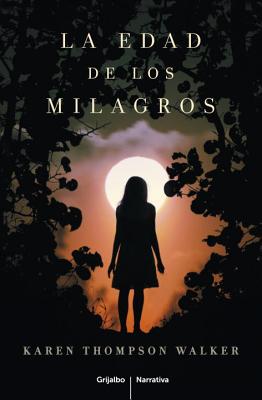 Description
---
Julia tiene once años y vive una plácida existencia en la soleada California con su familia cuando las noticias informan de algo que cambiará el mundo por completo: es, simplemente, el principio del fin del mundo visto a través de los ojos de una niña.
"No había imágenes que mostrar en televisión. No había heridos. No había muertos. Al principio fue una catástrofe casi invisible."

La que habla es Julia. Tiene once años y hasta hace muy poco tiempo solo nos habría contado cosas del colegio, de sus padres, de la complicidad con su única amiga, de ese chico, Seth, que le provoca un hormigueo especial. Pero hoy tiene algo diferente que decirnos. Hoy, ella y su familia se han despertado con una alarmante noticia: la rotación de la tierra de pronto se ha ralentizado, y los días y las noches han empezado a alargarse. Pronto los relojes no servirán de nada. El mundo está cambiando, y aunque ni ella ni nadie saben lo que va a pasar a partir de ahora, todos intuyen que el futuro será distinto. Extraño. Perturbador. Aceptar la realidad y aferrarse a la vida, tal cual Julia la conoce, es la única manera de sobrevivir.
A través de la voz inocente de una niña que lucha por su felicidad, Karen Thompson Walker consigue sumergirnos en ese presente sin futuro, inquietante y extrañamente cotidiano, y nos hace cómplices de sus anhelos y de sus miedos, de sus preguntas y de sus esperanzas.

"La novela que ha revolucionado el panorama editorial internacional." The Guardian.

"Un impactante debut literario. Julia es una narradora perfecta. Una historia tan perturbadora como plausible." Publishers Weekly.
About the Author
---
Karen Thompson Walker se graduo en las universidades de UCLA y de Columbia.

Anteriormente se desempeno como editora en la prestigiosa editorial estadounidense Simon & Schuster, y escribio"La edad de los milagros"por las mananas, antes de acudir al trabajo. Nacida y criada en San Diego, California, actualmente vive en Brooklyn, Nueva York, con su esposo."La edad de los milagros"es su primera novela y su exitoso debut literario, que ya habia revolucionado a la comunidad editorial internacional, incluso antes de su publicacion. Los derechos de traduccion han sido adquiridos en mas de treinta paises."