Corazon Tan Blanco = A Heart So White (Paperback)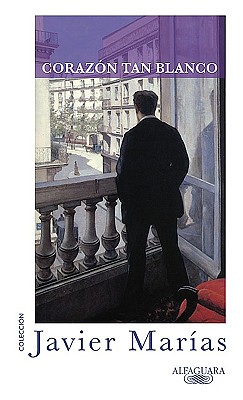 Description
---
Una novela hipnotica sobre el secreto y su conveniencia posible, sobre el matrimonio, el asesinato y la instigacion, sobre la sospecha, el hablar y el callar y la persuasion: sobre los corazones tan blancos que poco a poco se van tinendo y acaban siendo lo que nunca quisieron ser.
No he querido saber, pero he sabido que una de las ninas, cuando ya no era nina y no hacia mucho que habia regresado de su viaje de bodas, entro en el cuarto de bano, se puso frente al espejo, se abrio la blusa, se quito el sosten y se busco el corazon con la punta de la pistola...
Este es el ya legendario comienzo de un clasico contemporaneo, Corazon tan blanco, cuyo protagonista y narrador, Juan Ranz, prefiere siempre no saber, consciente de lo peligroso que resulta escuchar: los oidos no tienen parpados, y lo que les llega ya no se olvida.
Traductor e interprete de profesion, es el ahora el recien casado, y en su propio viaje de novios, en La Habana, asomado al balcon, es confundido por una desconocida que espera en la calle, y sin querer escucha una conversacion de hotel. A partir de entonces presentimientos de desastre envolveran su matrimonio. Pero la clave de ese malestar quiza este en el pasado, pues su padre hubo de casarse tres veces para que el pudiera nacer.
Resenas:
Como siempre con Javier Marias, las aventuras mas divertidas y apasionantes se desarrollan paralelamente con el analisis mas exacto e intelectual Liberation
La escritura muestra una astucia tremenda y un grado diabolico de paciencia... Alcanza la precision de un miniaturista Le Nouvel Observateur
Tan singular como brillante... Una novela entretenida e inteligente The Washington Post
Marias atrapa con su suspense narrativo y con sus habilidosos relatos The Independent on Sunday
Javier Marias es un asombrosamente habil constructor de novelas, un ingenio de la trama y de los inmensos enredos que hay en la vida interior de sus personajes Der Spiegel
Uno de los mayores autores vivos del mundo. No puedo nombrar a un solo escritor contemporaneo que se aproxime a su calidad... Una novela genial, una gran obra maestra Marcel Reich-Ranicki
ENGLISH DESCRIPTION
A contemporary classic, Corazon tan blanco tells the story of Juan Ranz, an interpreter and translator who lives in fear of the underlying danger of listening: once you hear something it there to stay. While on his honeymoon in Havana, he accidentally hears a hotel conversation. As of that moment, his marriage will be filled with foreboding. A hypnotic novel about marriage, murder and suspicion, instigation and persuasion, secrets and the convenience they afford--about white hearts blackened bit by bit until they become what they never wanted to be.