Los Litigantes (Hardcover)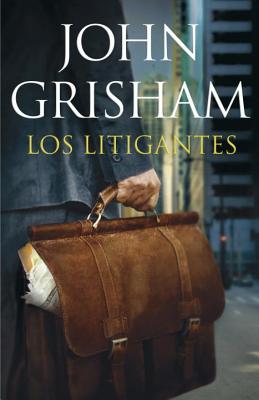 Please email or write store for pricing and availability information.
Description
---
En un barrio degradado del sur de Chicago se encuentra el bufete de abogados Finley & Figg. Defienden a algun conductor borracho, tramitan divorcios sencillos y sobre todo buscan clientes en los pasillos de urgencias de los hospitales cercanos. Desde hace veinte anos se ganan mal la vida juntos y discuten a diario como un matrimonio. Pero todo esto cambiara con la llegada de David Zinc, un joven abogado totalmente quemado de su experiencia en un gran bufete prestigioso. Se topa con ellos el dia en que decide que no aguanta ni un minuto mas y se marcha de su oficina para emborracharse hasta caer redondo en la puerta de Finley & Figg. Cuando recobra la sobriedad, les pide trabajo. Ahora que son tres abogados les llega el caso mas importante de sus vidas, un caso con el que podrian ganar una fortuna, pero en el que ninguno de ellos tiene ni la experiencia ni los conocimientos para afrontar. ENGLISH DESCRIPTION The partners at Finley & Figg often refer to themselves as a boutique law firm. Boutique, as in chic, selective, and prosperous. Oscar Finley and Wally Figg are none of these things. They are a two-bit operation of ambulance chasers who bicker like an old married couple. Until change comes their wayor, more accurately, stumbles in. After leaving a fast-track career and going on a serious bender, David Zinc is sober, unemployed, and desperate enough to take a job at Finley & Figg. Now the firm is ready to tackle a case that could make the partners richwithout requiring them to actually practice much law. A class action suit has been brought against Varrick Labs, a pharmaceutical giant with annual sales of $25 billion, alleging that Krayoxx, its most popular drug, causes heart attacks. Wally smells money. All Finley & Figg has to do is find a handful of Krayoxx users to join the suit. It almost seems too good to be true . . . and it is.
About the Author
---
John Grisham (Jonesboro, Arkansas, 1955) se dedico a la abogacia antes de convertirse en un escritor de exito mundial. Desde que publico su primera novela en 1988, ha escrito casi una por ano. Todas, sin excepcion, han sido best sellers y muchas se han convertido en excelentes guiones cinematograficos. Aparte de las novelas, es tambien autor de los relatos reunidos bajo el titulo"Siete vidas," de un libro de no ficcion, "El proyecto Williamson: una historia real," asi como de una serie de novelas juveniles sobre el joven abogado y detective Theodore Boone. John Grisham es directivo del Innocence Project en Nueva York y Mississippi, una organizacion dedicada a la reforma penal y a la exoneracion, a traves de pruebas de ADN, de individuos inocentes condenados por asesinato. Vive con su esposa y sus dos hijos entre Virginia y Mississippi."