The Fallen Star: The Nocturnals Book 3 (Paperback)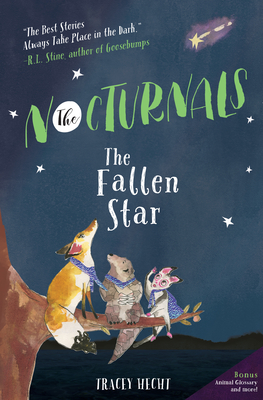 Description
---
"The best stories always take place in the dark " -- R.L. Stine
The valley awakens one evening to discover that a meteor has landed and all the forest's pomelo fruits have been mysteriously poisoned. As Dawn, Tobin and Bismark set out to investigate, animals begin to fall ill and they encounter Iris, a strange aye-aye, who claims monsters from the moon are to blame. The Nocturnal Brigade suspects a more earthly explanation and must quickly find answers, and the cure, before the poison threatens to harm them all

In The Fallen Star, the third book in the critically acclaimed middle grade series, The Nocturnals, the adventures of three unlikely friends--Dawn, a serious fox, Tobin, a sweet pangolin, and Bismark, a loud-mouthed sugar glider--continue with captivating plot twists and plenty of humor.
Bonus full color illustrations at the start of each chapter
About the Author
---
Tracey Hecht is a writer and entrepreneur who has written, directed and produced for film. She splits her time between Oquossoc, Maine and New York City. Kate Liebman is an artist who lives and works in New York City. She graduated from Yale University, contributes to the Brooklyn Rail, and has shown her work at multiple galleries. She grew up in Santa Monica, California.