Ten-Minute Bento (Paperback)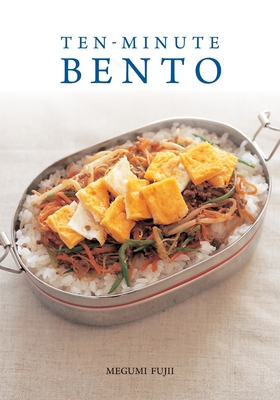 $14.95
Usually Ships in 1-5 Days
Description
---
Everyday millions of Japanese people, young and old, leave their homes with a bento in hand. Bento (boxed lunches) are handmade every morning packed with tender-loving care to give their recipients a warm-hearted well-needed boast to finish off the day.
In her first English-language release, TV chef and nutritionist Megumi Fujii has prepared 72 mouth-watering box lunch recipes that are easy to make but are over-flowing with the hearty-goodness that is essential in every Japanese bento. Her Ten-minute bento will not rely on visual designs seen on Flickr streams or on blogs. Instead she focuses on sharing everyday Japanese dishes created to satiate hunger and satisfy an ever expanding Japanese palette.
Featured dishes:
Mushroom Hamburg Steak
Easy Korean Bibimbap
Colorful Eggs & Ham
Yuzu Chicken
Avocado Salad Sandwich
Open-face Spring Roll Bento
Chicken Cutlet Bento
Beef Bowl Bento
Chicken Teriyaki Bento
Salads
Radish & Buckwheat Noodle Salad
French Toast Salad
Chinese-style Noodle Salad
Desserts
Cheesecake Balls
Petite Muffins.
About the Author
---
Megumi Fujii was born in August 1966 in the Tokyo suburbs of Kanagawa. A graduate of the Kagawa Nutrition University Fujii has been a food coordinator for Japanese television programming. She has since gone to produce meals and recipes for books, magazines, TV, and special events. Throughout her extensive career on TV and in print, Ms. Fujii has compiled more than 40 cookbooks and is regarded as one of the most beloved culinary experts in Japan, with books covering everything from European desserts to organic dining to intricate Japanese holiday meals. Ms. Fujii is currently a regular on Nippon TV's cooking program 3 Minute Cooking. Her website address is http: //www.fujiimegumi.jp/"