A Caring Man (Hardcover)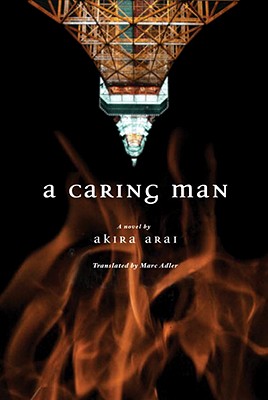 Description
---
Tokyo, 2011. An unknown terrorist group has destroyed an iconic landmark in the Japanese capital, signaling the start of a series of attacks that the group's enigmatic leader promises will culminate in a "Final Event" -- a massacre of unprecedented proportions. With no leads to work with aside from the ingeniously devised detonators used in the first bombing, the Tokyo Metropolitan Police is forced to contemplate the grim possibility of international terrorists targeting Japan, but one detective has a hunch that the perpetrators are to be found much closer to home
Part psychological thriller, part fantasy horror, A Caring Man is film producer and author Akira Arai's richly imagined exploration ofviolence and social ennui -- tale filled with compellingly drawn characters that offers a unique glimpse into the dark heart of modern Japanese society.
About the Author
---
Akira Arai is an author and journalist currently based out of the trendy, almost bohemian, neighborhood of Shimokitazawa in western Tokyo. A regular columnist for KERSOL Magazine, Mr. Arai writes with a focus on the modern arts and film. Better known around the globe as film producer and writer Seiichi Tsukuda. As an early player in the Saison Group's cinema expansion in the early 80's, Arai went on to develop and open a number of movie theaters in the greater Tokyo area. He then went on to launch Japanese film studio Kinetique in 1995. As a Kinetique producer Arai funded motion picture films such as Vincent Gallo's Buffalo '66 (1998) and Brown Bunny (2003), Bill Murray and Sharon Stone's Broken Flowers (2006) as well as the indie animated feature TAMALA 2010 (2002). To this day Arai splits his time evenly doing film and prose. In 2007 he produced an indie film shot primarily in the narrow arcade shopping center within his Shimokitazawa neighborood.A Caring Man is his first book in more than 15 years and it won the 2009 Golden Elephant Award for Interantional Genre Fiction.
Praise For…
---
"From its structure to its theme and execution, everything about this novel is modern. It is entertainment in its purest form, and the perfect thematic match for our times. It deserves to win a literary prize." -- Kanjiro Sakura, producer of Inception

"For those who enjoy psychological, suspenseful thrillers "A Caring Man" by Akira Arai is well-written, cerebral, dark, intense and an entertaining read from beginning to end...Uncompromising and shocking, "A Caring Man" is recommended!" --J-ENT!