Unions for Beginners (Paperback)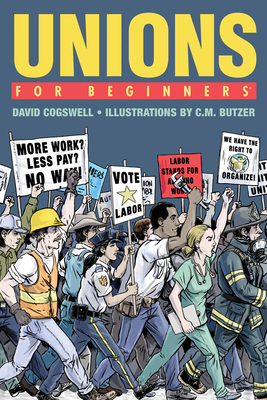 $16.99
Usually Ships in 1-5 Days
Description
---
Do you appreciate your forty-hour, five-day workweek? Appreciate having a safe working environment? Unions made this all possible in one way or another. Unions bring value to all sectors of a society. As the champion of people power versus corporate power, unions help to spread the benefits of production throughout a society. Regardless of the state of the economy, there is the timeless struggle of workers trying to gain or retain their rights. However, a vast amount of Americans (including union members) are unaware of the full history of unions and how they have impacted the American workplace today. Unions For Beginners provides an introduction to that essential history.
Written and illustrated in the user-friendly, accessible style of the For Beginners series, Unions For Beginners presents the epic story of the labor movement in a simple, memorable way. The role of unions in empowering working people to rise above unfair payment and work conditions to become full-fledged participants in the American dream they helped to build is told in vibrant detail. Unions For Beginners presents the history of unions and the labor movement, the principles underlying union organizing, the decline of unions in the shadow of the rising corporate state, and the resurgence in the 21st century of union activism.
About the Author
---
David Cogswell is a writer based in Hoboken, N.J. He has written thousands of articles on business, travel, politics, and the arts for various print and online publications, including "Online Journal," "Democratic Underground," "Bushwatch," "Indymedia.org," "Fortune.com," "Travel Weekly," the "Hudson Current" and the "Jersey Journal." He's the author of "Existentialism For Beginners," "Zinn For Beginners" and "Chomsky For Beginners," and has contributed pieces to a number of political books, including "Fortunate Son: The Making of an American President," by J.H. Hatfield; "Ambushed: The Hidden History of the Bush Family" by Toby Rogers; and "America's Autopsy Report," by John Kaminski. The author lives in Hoboken, NJ.
Praise For…
---
"As David Cogswell reminds us, America's economy boomed when union membership was at its height and descended into stagnant wages and underemployment as unions eroded. The author doesn't entirely dismiss the corruption and lack of fair play that characterized some unions. However, he argues that, in balance, those organizations promoted a social ethic as well as prosperity, buoying the wellbeing of members and non-members alike." -- The Milwaukee Express

"Organized labor surged in the twentieth century, but not everyone understands their purpose in the modern day. Unions for Beginners discusses the role of unions in the American workforce as well as its history. David Cogswell provides a comprehensive introduction of what unions do for the modern worker, telling their history, and their place in today's corporate world that may be leading to their decline. Unions for Beginners is an intriguing modern history lesson, well worth considering for history and social issues collections." -- Midwest Book Review

"[Unions for Beginners] is still recommended for everyone. It's recommended for those interested in the less well known parts of American history, it's recommended for union members who are unfamiliar with their history, and it's recommended for part of the explanation as to how America got into its present financial mess."-- Paul Lappen, Midwest Book Review