The Coxon Fund (Paperback)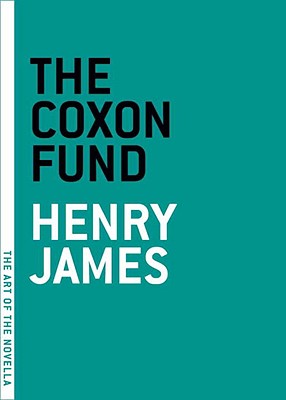 Description
---
The greater the windbag the greater the calamity.
Henry James examines one of his favorite topics—the artist's place in society—by profiling a "genius" who just can't seem to support himself. A dazzling intellectual and brilliant speaker, Mr. Saltram has become the most sought-after houseguest in England. But, as his intellectual labors slacken, it beomes harder and harder to get him to leave.
A wry, edgy comedy about the fine line between making art...and freeloading. The Coxon Fund shows off a gift that is rarely appreciated about Henry James: he can be wickedly funny.
The Art of The Novella Series

Too short to be a novel, too long to be a short story, the novella is generally unrecognized by academics and publishers. Nonetheless, it is a form beloved and practiced by literature's greatest writers. In the Art Of The Novella series, Melville House celebrates this renegade art form and its practitioners with titles that are, in many instances, presented in book form for the first time.
About the Author
---
Henry James was born in New York City in 1843, the son of theologian Henry James, Sr., and brother of philosopher William James. He entered Harvard Law School at nineteen but soon quit to write and travel in Europe - to Paris, for example, where he met Flaubert, Turgenev, George Eliot, and Zola. Settling in London in 1876, he gained international fame with Daisy Miller, which scandalized Victorian society and sold thousands of copies. Never again would he equal its popularity, but his increasingly sophisticated and meticulously observed works, such as "The Golden Bowl," " ""The Wings of A Dove" and "The Ambassadors," established him as the first master of psychological fiction. He died in England in 1916.
Praise For…
---
"I wanted them all, even those I'd already read."
—Ron Rosenbaum, The New York Observer

"Small wonders."
—Time Out London

"[F]irst-rate…astutely selected and attractively packaged…indisputably great works."
—Adam Begley, The New York Observer

"I've always been haunted by Bartleby, the proto-slacker. But it's the handsomely minimalist cover of the Melville House edition that gets me here, one of many in the small publisher's fine 'Art of the Novella' series."
—The New Yorker

"The Art of the Novella series is sort of an anti-Kindle. What these singular, distinctive titles celebrate is book-ness. They're slim enough to be portable but showy enough to be conspicuously consumed—tiny little objects that demand to be loved for the commodities they are."
—KQED (NPR San Francisco)

"Some like it short, and if you're one of them, Melville House, an independent publisher based in Brooklyn, has a line of books for you... elegant-looking paperback editions ...a good read in a small package."
—The Wall Street Journal