Everyone Eats! (Board Books)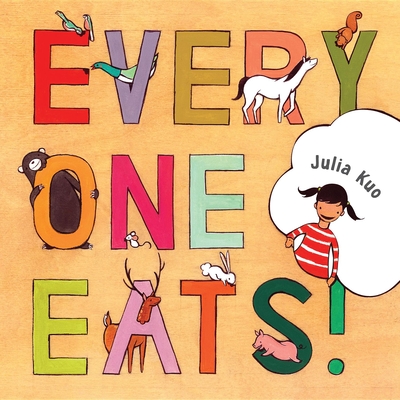 $9.95
Usually Ships in 1-5 Days
Description
---
From rabbits to birds and mice, this board book features a variety of cute creatures and the scrumptious food they eat. All the things the animals eat, carrots, berries and seeds can also be eaten by toddlers. With illustrations painted on wood, the book uses cute animals to teach young children about the importance of healthy eating.
About the Author
---
Julia Kuo is a freelance illustrator working out of Cleveland for most of the year and Taipei over the winter. Notable clients include the New York Times, Universal Music Group, Capitol Records, Little Brown and Co., American Greetings, and the Journey Group. She has created cover art for children's books, record label covers, wedding invitations and most recently iPhone app designs and NYTimes editorial illustrations.
Praise For…
---
Praise for Julia Kuo's illustration work for "Clara Lee and the Apple Pie Dream"
"Clara Lee thinks, speaks, and acts just like the third grader she is in this charming early chapter book. Black-and-white drawings, some full page and some spot art, feature the child, her dilemmas, and her successes. Fans of Clementine will enjoy this endearing character and will eagerly await a follow-up story." - School Library Journal
"Julia Kuo's cover art for Clara Lee and the Apple Pie Dream sparkles as brightly as Clara Lee's personality. The colors just pop! Her interior art brings the story and its characters to life. She does a phenomenal job of capturing the characters' personalities and what they are thinking and feeling in their facial expressions." -  Cyrenagasse blogger