Get Healthy Now!: A Complete Guide to Prevention, Treatment and Healthy Living (Hardcover)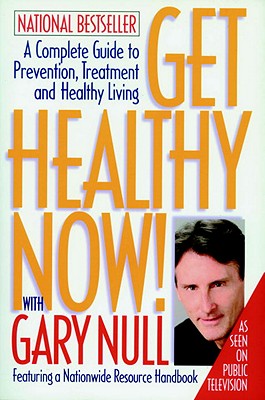 Description
---
This comprehensive guide to healthy living offers a wide range of alternative approaches to help you stay healthy. These may be approaches your conventionally trained doctor wasn't taught in medical school. Some are supported by thousands of years of use in other societies, some have been discovered or refined in recent years. When used correctly, they may improve your health--or even save your life--as the better alternative to drugs, surgical intervention and other standard Western techniques.
Get Healthy Now! with Gary Null is your ABC of basic and enhanced nutrition, detoxification, prevention, treatment, exercise, beauty, and longevity, with special sections on women's health issues, and health areas of special concern to men. Get Healthy Now! also features more than 200 pages of alphabetical, state-by-state listings of alternative health practitioners nationwide.
About the Author
---
Nutritionist and natural-living advocate GARY NULL is one of America's leading health and fitness writers. The author of dozens of books and hundreds of medical articles, Null's film documentaries on the politics of health have won awards around the world, and his daily and weekly radio broadcasts educate millions on nutrition-based approaches to wellness and disease prevention.