Do I Kneel or Do I Bow?: What You Need To Know When Attending Religious Occasions (Paperback)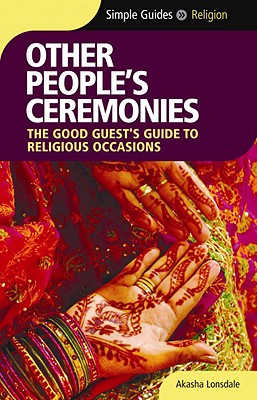 Description
---
THIS BOOK WILL HELP YOU
to understand the backgrounds to the key festivals, ceremonies,
and practices of the major world religions
to participate in the main holidays and festivals of the
different religious calendars
to know what to expect and how to behave when invited to attend a
Protestant, Catholic, Christian Orthodox, Jewish, Muslim, Hindu,
Sikh, or Buddhist service
to join in the family celebrations of friends from different backgrounds
In today's multicultural society we are increasingly likely to meet and become friends with people from different religious backgrounds, and to find ourselves attending an unfamiliar ceremony. When this happens, there can be few of us who know exactly what to expect, or are confident about how to behave. To be invited into someone's personal religious world is a special honor. How should one respond appropriately? What are the dos, don ts and taboos? What should one wear? What should one not wear? What is going on? Should one sit or stand? Should one stand back or join in? Bring a gift? If so, what? In short, what kind of behaviour is expected of a good guest?
This straightforward and accessible guide takes the reader through the basics. The book is divided into eight religions Protestant, Catholic, Christian Orthodox, Jewish, Muslim, Hindu, Sikh, and Buddhist. Within each religion there are separate sections: the historical background; an outline of the core principles and values; the major festivals; regular worship; and special family celebrations and ceremonies.
Armed with this basic information, you will feel relaxed enough to enjoy the occasion and perhaps inspired to discover more about the spiritual world view of another cultural tradition.
ACCESS THE WORLD S RELIGIONS
"Simple Guides: Religions" is a series of concise, accessible introductions to the world's major religions. Written by experts in the field, they offer an engaging and sympathetic description of the key concepts, beliefs and practices of different faiths.
Ideal for spiritual seekers and travellers alike, "Simple Guides "aims to open the doors of perception. Together the books provide a reliable compass to the world's great spiritual traditions, and a point of reference for further exploration and discovery. By offering essential insights into the core values, customs and beliefs of different societies, they also enable visitors to be aware of the cultural sensibilities of their hosts, and to behave in a way that fosters mutual respect and understanding.
About the Author
---
AKASHA LONSDALE is an Interfaith Minister. Her two-year seminary training in London included instruction in the major religions and sacred traditions of the world, and her vocation brings her into frequent contact with people of every faith and none. She has practiced as a psychotherapist, both privately and within Britain s National Health Service. Her corporate background was in senior human resource management. She is an effective and experienced executive coach, trainer, seminar speaker, and EAP counsellor, specializing in Emotional Intelligence and Stress Management. She has written for a variety of publications, and her book How to Do Life Powerful Pointers for Powerful Living became one of the most popular self-help titles in the United Kingdom. Akasha Lonsdale brings to Other People s Ceremonies an informed, sensitive, and enlightened approach born of wide knowledge personal experience, and psychological insight."